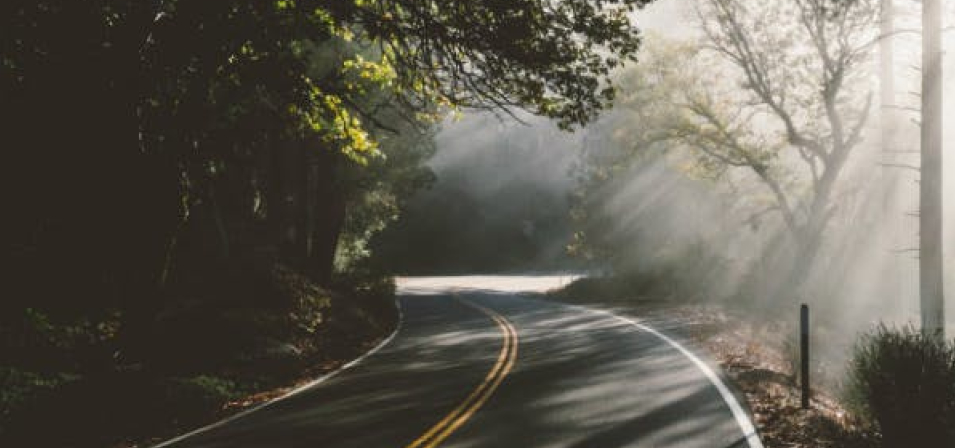 The supreme crisis of every human life comes at the moment when the Holy Spirit convicts you to repentance. When you accept that conviction, it leads you to saving faith and eternal life. When you reject it, you are left to continue to your way to the grave and the unending darkness of eternity separated from God's love.
The Scriptures make it clear that even in this life it is possible for a man or woman to come to a point where the Spirit of God will never again draw you to repentance, and where all hope is lost before you enter eternity.
To illustrate what I am saying and wrote in my previous post, let me contrast it with the life of one African leader whose name most of us have heard but whose spiritual life very few of us have studied.
Idi Amin's rise to power did not come through one event; rather, Idi Amin began climbing the ladder of political ranks nearly two decades before he took over Uganda. He was trained and used by the British as a military deputy to help maintain their grasp on the colony.
Early in his political career, in the late 1950s when he was one of only two African officers in the army, he was charged with brutal actions the Turkana, a nomadic Kenyan tribe. These charges were conveniently forgotten when Uganda gained independence from Britain in March of 1962.
Under the new Ugandan government, Milton Obote was elected Prime Minister in April. Six months later Sir Edward Mutesa of Buganda was selected by Parliament to be Head of State and President of the country. These presiding officials selected Idi Amin to be Uganda's representative when the Congo Rebellion broke out in 1965. In 1966, shortly after the rebellion ended, Amin and Prime Minister Obote were both charged with receiving a share of the thousands of dollars looted from the Congo.
Infuriated with the charge made by a Buganda supporter, Obote suspended the constitution, ousted Sir Edward Mutesa from the regional power possessed by Buganda. He also wrote the Common Man's Charter, which envisaged an end to capitalism, foreign economic control, and labor inequities. In its place, Obote planned a new order based on collectives and state control of industry and trade.
The country did well under Obote. After independence from Britain, medical services tripled, primary and secondary education reached out over most of the country, and Makerere University had twice as many students.
The GDP (gross national product) increased by more than ten percent over the 1962 figures. But, after Obote nationalised eighty-five companies, foreign capital began to be withdrawn, and other problems surfaced. Violent robbery reached an unprecedented pitch, and unemployment was increasing while earnings fell.
So when Major General Amin staged his coup on January 25, 1971, while Obote was in Singapore at the British Commonwealth Prime minister's Conference, he was a hero by Ugandans and by most of the world.
On swearing-in day Britain recognized Amin's government, a lead soon to be followed around the world. The ceremony, at Kololo airstrip, took place to the sound of a twenty-one-gun salute, traditional drums, horns and ecstatic applause. Amin stood in an open car without the usual escort of motorcycles and police cars.
Holding a Bible in his right hand, Amin swore he would 'truly exercise all functions of the Head of Government and do right to all manner of people without fear, favour, or ill will.'
Idi Amin Dada appointed himself head of state, minister of defence, and commander-in-chief of the armed forces. He had become dictator over Uganda, a country of ninety-one thousand square miles, or about the size of the United Kingdom at that time, but with one-fifth as many people, a population of almost twelve million.
Journalists Joseph Kamau and Andrew Cameron wrote in their book, Lust to Kill:
Three weeks after the takeover, seventy army officers and more than two thousand men had died. Within three months ten thousand civilians had been slaughtered. Crocodiles basked beneath the Karuma Falls Bridge, the Bridge of Blood, spanning the river Nile. They grew both fat and lazy. Idi Amin Dada cancelled elections and filled his prisons. The honey moon was over. Uganda turned to the horror of Amin's lust to kill.
Fortunately, the courage of many Christian preachers was at times tremendous. Mrs Mary Davies, who worked with her husband at 150-bed Ngora hospital in Teso District, tells of Archbishop Erica Sabiti.
In 1966 he was elected as first African archbishop, with his province stretching across one thousand miles to Rwanda, Burundi, and Boga-Zaire. He preached in Ngora church at the fiftieth anniversary celebration of the founding of this Church of Uganda hospital which was started by the Church Missionary Society.
Here Mrs Davies recalls:
The church was packed to the doors, and except for about six of us expatriates, it was a completely Ugandan congregation. In his sermon the archbishop talked about African culture.' What is our culture?' he asked. 'It was fear, superstition, and darkness. The missionaries made us what we are now. They came to us at great sacrifice to themselves, to bring us the light of our Lord Jesus. We thought that was a very brave statement to make to such a large congregation of Ugandans, because even then, Amin's spies were everywhere.
Mr and Mrs. Davies, from Huddersfield, England, eventually left their hospital work for home. In January, 1978, they returned to give short-time help at the hospital. Things had deteriorated in every material sense, but people were flocking to the churches' says Mrs Davis. 'In Teso, a poor district at best, giving had increased tenfold.'
The Meeting with Evangelist T.L.Osborn
The year was 1973. Amin, just two years into his reign, was flying in for a courtesy visit with the district commissioner of this lakeside town Kisumu. When Amin's transport touched down the side of the crowd, a puzzled America woman and Silas Owiti, a Kenyan pastor, hurried over to greet the Ugandan president. "What is president Amin doing at a seminar for Christian preachers?" they thought curiously.
The woman was Mrs. Daisy Osborn, wife of American evangelist T.L. Osborn. Rev Osborn had been teaching five thousand African pastors and preachers how to present the gospel more effectively. He had then lined up in tidy rows for a photograph to be taken. Meanwhile, a tiny reception committee was waiting for the president at Kisumu Airport, his real destination.
They shuffled impatiently, wondering what had happened to their VIP. President Amin still had not discovered he was at the wrong place. The evangelist stood bemused, as Amin strode toward the platform to join him.
Little did Amin know that Rev. Osborn had been praying for many months to meet him personally, to present him with the claims of Jesus Christ on his life. Soon it was explained to Amin that he was attending a Bible teaching seminar. Continuing the meeting, T.L. Osborn prayed. The president remarked emotionally, "I feel like Moses standing on holy ground."He then addressed the crowd in his faltering English.
"President Amin said he felt the Ugandan people needed the same message of Jesus were giving these people in Kenya, "recalls Mrs Osborn.
Following his speech, Amin was enthusiastically cheered by the large audience, which was amazed at his presence in the evangelical meeting. The "Life President" shook hands with Rev. Osborn and his wife, then departed as abruptly as he had arrived.
The American evangelist concluded the seminar, still puzzled by the strange incident. Almost immediately a messenger arrived with an invitation for the couple to dine with Amin at the New Kisumu Hotel. Daisy Osborn remembers well her astonishment at this second meeting with the unpredictable Ugandan president.
"First he invited us to come to Uganda to conduct a seminar similar to the one we led in Kenya," she says. "President Amin assured us we could be very welcome and asked when we could come. To see if he was really sincere about this, we encouraged him to send us an official invitation. He promised to do so.
"Later we learned Amin had announced on radio and television that we were coming for a crusade. During the broadcast he made an edict that everyone in Kampala would have to attend the meetings." Unfortunately the Osborns waited in vain for an official invitation.
The Agonizing Decision of Salvation
After the meal, Rev. Osborn, never a man to pull punches, spiritually challenged the former Ugandan heavyweight boxing champion. "For forty-five minutes Amin listened as my husband shared with him the message of the gospel," says Mrs Osborn. "He stood by the side of the table at attention like a soldier the whole time. The message was very direct. It all centred around the supernatural ability of Jesus to transform a life.
Tears began to roll down the dictator's deep black face as he listened to the evangelist and his wife. When they were finished he walked unsteadily to where American missionary Mary Dodwitz was sitting with her twin sister.
"Everyone stood up as he left the Osborns. For some reason he just stepped over and shook his hands," says Mrs Dodwitz, a missionary from Florida."There was a real charisma about the man. His eyes were tear-stained and he was obviously very moved by what he had heard. We had great hopes he would be saved.
Amin might have been so close to salvation like Felix and Agrippa but declined the offer of God's mercy.  Instead he had an emotional experience rather than a genuine repentance which leads to salvation through faith in Jesus Christ.
Just like Judas experienced intense anguish and remorse because he had betrayed his Master, Amin did not experience true repentance; he did not change his mind or his course.
In spite of the opportunity of salvation presented to him by the Osborns, he deliberately committed himself to a course from which there could be no return. He had passed "the place of repentance."
What a terrible and solemn lesson for all of us! It is possible for a man, by stubborn and wilful continuance in his own way, to come to a place of no turning back-a place where the door of repentance has by his own wilfulness, been forever slammed shut behind him.
The Osborns felt this meeting was a crossroad for Amin. "At the time, we felt he could go one of two ways." Says Mrs. Osborn. "He could have accepted Christ and become another Saul of Tarsus. We are sorry at how things turned out-not unhappy he was removed, but for all that happened in those eight years."
Like Saul, he became a persecutor of the church. He ruled over Uganda with unprecedented brutality. This was not the only time Amin was confronted with the message of Christ love. Ugandan and European believers attempted to present the way of salvation to him.
Bishop Festo Kivengere, who had to flee the country for his country for his life, became the world-wide spokesman on behalf of the suffering church. He explains:
I knew President Amin quite well. He had heard the gospel, and in many ways appreciated it. The president told the bishops he had been taught all about Jesus Christ when he was young. He said some of his closet relatives were 'born again' the meaning of these terms were not unfamiliar to him.
Just like Paul told King Agrippa that he understood about these things well enough, likewise Amin was well acquainted with this offer of salvation.
Miss Loan Hall conversed with the president when he opened a school where she was headmistress at Bweranyangi, in West Ankole. She later became home secretary of the Ruanda Mission Church Missionary Society CMS in London, England.
Miss Hall says:
I walked around the school with the president and over lunch related to him the tremendous effect Ugandan Christians had on me. I told him this had changed my life and really given a new dimension to me spiritually. 'Here at the school we begin with morning prayers,' I said. 'The prayers in the evening are led by the students.' 'Good,' said Amin as he turned to me. 'I want you to continue with that.' He seemed to keep up a dual role by saying one thing and doing another. It was hard to believe I was speaking to the same man I knew was committing such atrocities.
Besides T.L. Osborn, another American to witness to Idi Amin was Dr. Ralph Wilkerson, pastor of the large Melodyland Church, close to Disneyland in California. As time was fast running out for the president in 1978, Dr Wilkerson, who believed had been called to minister to world leaders, paid a desperate visit to Uganda in an attempt to win him to Christ.
He spent many hours talking to Amin in private and was even invited by the dictator to appear on Uganda Television to 'pray for the nation' This he did, but Dr Wilkerson declined to go into details of the meetings they had, saying they had been confidential between him and the president.
One of Amin's severest critics, Dr. George Kanyeihamba, who was leader of the Uganda Human Rights organization based in London, and who during Yusuf Lule's short term as president was Attorney-General does believe that Amin had a change of heart near the end of his reign. He says:
The change came about as Arab aid began to dry up. Amin had seen the church not so much as a threat to his person, but to his policies. When Arab countries, especially Saudi Arabia, either reduced or abandoned aid, he more or less said, 'If you can't beat them you might as well join them,' and he started giving gifts to the church.
Dr Kanyeihamba, cited a gift from Amin toward a proposed twelve–story Church of Uganda House in Kampala as a centenary memorial and means of income.
"I am told that Amin gave a considerable contribution to the building of the place. He also gave gifts to the archbishop of the Roman Catholic Church for their centenary celebrations in 1979. So he was a mixed up man."
Although the president gave a sympathetic ear to his American visitor and gave conscious-easing gifts, the merciless killing machine continued.
Final Thoughts
God gives every man or woman an opportunity to receive His amazing grace, even the most sinful man or woman. As we've already seen, Paul tried to persuade king Agrippa, but failed. A prophecy that one will stand before a king or president does not mean that the king will be converted. Maybe the Lord had indeed sent Evangelist T.L Osborn and Dr. Ralph Wilkerson to witness to Amin, but the president did not recieve their testimony about Jesus who died for his sins.
Nevertheless, God cannot violate our choice or will and the longer I live the more I am convinced it is a greater thing to influence a man's will; a man whose will is set against God; to have that will broken and brought into subjection to God's will or, in other words, it is a greater thing to have power over a living, sinning, God hating man, than to quicken the dead.
Recommended reading: