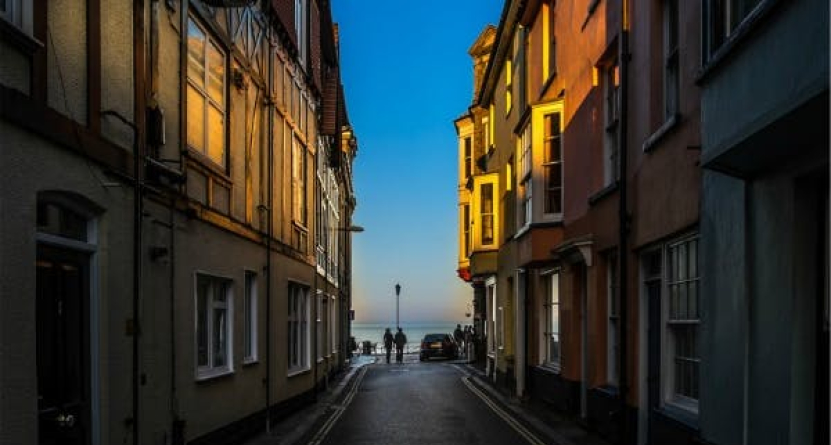 The apostle Paul preached to philosophers, Pharisees, rulers, soldiers, sorcerers, sailors, slaves to Felix, Festas, Agrippa, and most likely to Caesar himself-the head of the most powerful and most enduring empire that the world has ever seen. Remember the Lord had called him as His chosen instrument to take His message to the Gentiles and to kings, as well as to the people of Israel (Acts 9:15).
Acts 24 describes a trial when Paul appeared before the Roman governor Felix. From a worldly perspective his life was a success story. He was born a slave, later freed and eventually worked his way up to Governor of Judea. The Roman historian Tacitus said, He exercised the authority of a king, with a spirit of a slave."He was also a cruel and covetous politician who took bribes. He lived a life of orgies, parties, and luxury.
Felix, like Herod Antipas (Mark 6:17-18), had taken another man's wife Drusilla who ironically came from a very wicked bloodline. She was a daughter of Herod Agrippa I, the one who had the Apostle James put to death.  It was her great grandfather, another Herod, who attempted to kill the baby Jesus by having all the infants in Bethlehem slain in cold blood. Like his grandfather and uncle before him, and his son after him, Herod Agrippa I came close to the truth but also missed it.
Drusilla was said to be the most beautiful woman on earth at that time. She was married first at the age of 14, and then one day Felix laid his eyes on her and had to have her…so he plotted, planned, and schemed to steal her away from her husband, whom she eventually divorced.  As she walks into the courtroom, all eyes must have been on her.
In this trial, Felix became interested in Paul's preaching until he started reasoning the obligations of righteousness, self-control, and the judgment to come; thus showing the oppressive judge and his mistress, their need of repentance, forgiveness, and of the grace of the gospel. The text tells us:
As he reasoned with them about righteousness and self-control and the coming Day of Judgment, Felix became frightened. "Go away for now," he replied. "When it is more convenient, I'll call for you again" (Acts 24:25 NLT).
The Devil's Best Plan
Someone told a story of the devil summoning his evil forces to consider how best to keep the world on his side.
One demon said, "Send me. I will tell them that there is no God."
Satan replied, "They will never believe you. Most of them know that there is a God."
Another said, "Send me. I'll tell them that there is no heaven or hell." Satan shook his head, "That will never do. They know that there is life after death." Then a third spoke, "Send me.
I'll tell them there is a God, a heaven, and a hell, but there's no hurry to decide." "Ah," said Satan with satisfaction, "that is the best plan!" He was sent out into the world to spread this lie. That demon was surely at work in the case of Felix.
Felix, had been governor for six years and was well acquainted with the Christians "the Way" (Acts 24:22), but he probably liked to keep things in the realm of safe intellectual discussions.
Trembling in the Presence of an Unseen Judge
The Philippian jailer and the Jews Peter preached to in Acts 2 trembled with the same conviction, but responded differently. They repented and accepted the will of God in their inner selves instead of rejecting it. Felix could have gotten saved in this moment, but he didn't.
Instead Felix became alarmed and terrified and said, go away for the present; when I have a convenient opportunity, I will send for you (Acts 24:25). For Felix to repent of his sin, he would have had to turn his back on his entire way of life.
A prospect of the judgment to come was enough to make the proud heart of a Roman governor to tremble. Felix trembled in the presence of an unseen judge and dismissed the court without any judgment being pronounced.
The Bible further tells us that: "At the same time he hoped to get money from Paul, for which reason he continued to send for him and was in his company and conversed with him often" (Acts 24:26).
Felix had been living to accumulate all of the money and possessions that he could get. He was keeping Paul in prison with the hope that Paul's wealthy friends would come up with a bribe to set him free.
Paul was saying that the Christian faith meant seeking God's righteousness, not this world's riches. Felix had been living as if there is nothing more to life than what he was living for. But Paul was saying that there is a judgment and eternity to come. Felix refused to deal with his sin, and missed the opportunity to receive eternal life.
He was so close to salvation but there is no sign that Felix repented even though he lost his job and was succeeded by Festus. He preferred to please the Jews by leaving Paul in prison, instead of making a decision about his eternal destiny. What did Felix gain by rejecting Christ? Nothing except a meaningless life filled with vanity. History tells us he committed suicide, drowning himself in a lake.
Paul's Appeal to Agrippa II
King Agrippa inherited the character flaws of generations of powerful men. Four generations of the Herod family are mentioned in the Bible. Each one left an evil legacy: Herod the Great murdered Bethlehem's baby boys; Herod Antipas was involved in the trial of Jesus and John the Baptist's execution; Herod Agrippa I murdered the apostle James; and Herod Agrippa II was one of Paul judges.
Agrippa II had power over the Temple, controlled the Temple treasury, and could appoint and remove the high priest. He carried on an incestuous relationship with his sister Bernice who was married to her uncle Herod Chalcis.
Agrippa's descendants were the Edomites who were direct descendants of Esau who, of course, had sold his birthright to Jacob and was in conflict with his twin brother for most of his life. Esau's descendants had settled on the east side of the rift valley and Jacob's descendants settled on the west side.
In Deuteronomy God forbade Israel to have a wrong attitude to Edom because Esau was Jacob's brother. This is why Obadiah tells Edom that she should not have treated her brother as she did. But Edom's attitude to Israel was aggressive.
We read in Numbers and Deuteronomy that they refused to allow Moses and the Israelites safe passage through their land. Agrippa II died in AD 100 without children. So the Edomites disappeared. There isn't a single Edomite in the world today, thus fulfilling Obadiah's prophecy.
When Paul appeared before Agrippa, Festus was present in the audience and other prominent leaders. Paul began by complimenting Agrippa's knowledge on all Jewish customs.  He had a Jewish grandmother of royal blood (Mariamne), which allowed the people to accept him-though a bit grudgingly. Paul then told them his encounter with Jesus Christ, including His resurrection:
Wherefore, O King Agrippa, I was not disobedient unto the heavenly vision, but made known openly first of all to those at Damascus, then at Jerusalem and throughout the whole land of Judea, and also among the Gentiles, that they should repent and turn to God, and do works and live lives consistent with and worthy of their repentance (Acts 26:19-20).

I stand here testifying to small and great alike, asserting nothing beyond what the prophets and Moses declared and would come to pass… That the Christ would suffer, that He would be the first to rise from the dead, and would proclaim light to the Jewish people and to the Gentiles" (Acts 26:22-23).

Suddenly Festus shouted, Paul you are mad! Your great learning is driving you insane!  But Paul replied, I am not mad, most noble Festus, but I am uttering the straight, sound truth…. For the king understands these things am talking about, for am sure these events are all familiar to him, for they were not done in secret! King Agrippa, do you believe the prophets? I perceive and know that you do believe.
Agrippa's Procrastination
Agrippa responded to Paul's presentation of the gospel with another surprising question? Do you think you can persuade me to become a Christian in just a short time?  Paul indeed tried, but failed, although he was regarded as a lawful person by the king. A prophecy that one will stand before a king does not mean that the king will be converted.
And Paul replied, whether short or long, I pray to God that both you and everyone here in this audience might become the same as I am, except for these chains (Acts 26:24-27). Paul was more concerned for the salvation of the king and those who were listening to him than for the removal of his chains.
Polycarp, one of the early church fathers, faced martyrdom in a Roman arena with wild beasts. The proconsul urged him to renounce his faith in Christ, but to no avail. Finally the Roman official threatened, "If you despise the wild beasts, I will cause you to be consumed with fire, unless you repent (change your mind)."
Polycarp replied, "You threaten that with fire which burns for a season and after a little while is quenched: for you are ignorant of the fire of the future judgment and eternal punishment, which is reserved for the ungodly. Polycarp had already given up himself to die and meet His Creator; he was only seeking the salvation of his executioner.
Missed Opportunities
Like great-grandfather, like grandfather, like father, like son is a story of Herod Agrippa II. Each son followed his father in weaknesses, mistakes, and missed opportunities to know God.
Each generation had a confrontation with God but failed to realize the importance of the moment. Herod Agrippa's great uncle, Herod Antipas, actually met Jesus during his trial but failed to see Jesus for He who was. Jesus called this Herod a 'fox'. It was the only time Jesus gave a nickname to anybody.
When told that Herod wanted to kill Him, Jesus responded, "Go tell that fox, I will drive out demons and heal people and tomorrow, and on the third day I will reach my goal" (Luke 13:31-2).
Agrippa II heard the gospel from Paul but responded to Paul's presentation of the gospel with a sarcastic remark. He found it humorous that Paul persuaded him to become a Christian.
Like so many before and after, Agrippa II stopped within hearing distance to enter the Kingdom of God. He left himself without excuse because he heard the gospel but decided it wasn't worth responding to personally. Sadly, the choice he made is not uncommon. Many of us choose not to respond to the hope of eternal life because the price is too great to give God control of our lives, yet it is nothing compared to living apart from Him in eternity.
Final Thoughts
God commands men everywhere to repent because He has appointed a day on which He will judge the world in righteousness. No one is exempt. God's appointment is with the entire human race and this judgment is concerned with righteousness.
Jesus said: And when He has come, (the Holy Spirit) He will convict the world of sin, and of righteousness, and of judgment: (John 16:8) When repentance is spoken of in Scripture as the condition of pardon, it is not grace or the condition of justification.
The condition of justification is only by faith. It is by faith alone that we are justified. So repentance means the changing of your views and purpose to accept the will of God in your inner man instead of rejecting it (Acts 2:38).
When Paul was preaching to the Greeks on Mars Hill in Athens, he was taken to the high council of the city which should have had jurisdiction over all the stakes of Athens as a city. The Athenians had built an idol to the unknown god. Paul explained the one true God to these educated men and probably the political class of Greece. He said that:
God overlooked the people ignorance in worshipping idols… but now He commands all men everywhere to repent, because He has appointed a day on which He will judge the world in righteousness by the Man whom He has ordained. He has given assurance of this to all by raising Him from the dead (Acts 17:24-3 NKJV).
From other scriptures, we know that he has delegated the task of judging the human race to his Son, Jesus: compare Matthew 25:31–32; 2 Corinthians 5:10). All human beings whether kings or queens or presidents will be judged by a Human being…His name Jesus Christ the Son of the Living God.