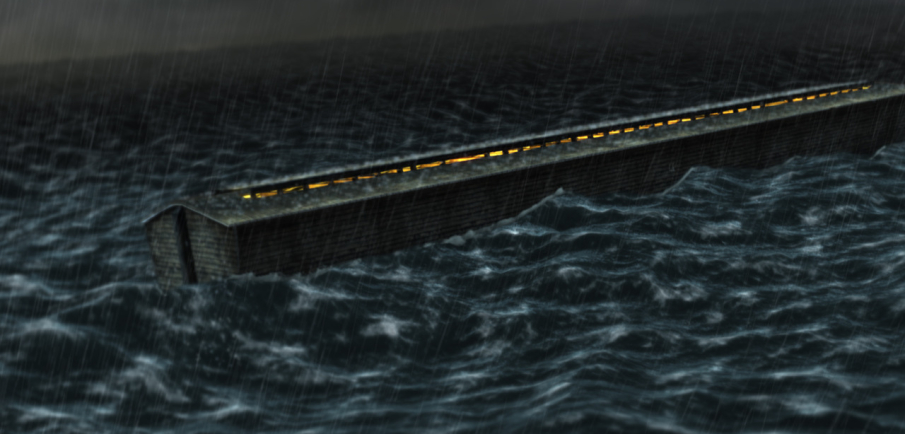 As we make New Year resolutions, I want to call your attention to a text that you will find in Genesis chapter 7:1 "Then the Lord said to Noah, "Come into the ark, you and all your household, because I have seen that you are righteous before Me in this generation."
Many people have been questioned whether the flood was a real event and whether it literally covered the whole earth. The text in Genesis 6-7 does not indicate whether the Flood went right round the globe or just covered the then known world. The Bible's focus is not so much on the material side of this story as on the moral side. Why did it happen? The answer is astonishing: It happened because God regretted that he had made human beings. It broke His heart!
The Lord saw that the wickedness of man was great in the earth, and that every imagination and intention of all human thinking was only evil continually. And the Lord regretted that He had made man on the earth, and He was grieved at heart (Genesis 6:5-6).
This is one of the saddest verses in the Bible. It communicates God's feelings so clearly. God is a Person, and in the deep of His mighty nature He thinks, wills, enjoys, feels, loves, desires and suffers as any other person may. What had happened to cause such a crisis in God's emotions? We are told that between two and three hundred angels in the area of Mount Hermon sent to look after God's people fell in love with women, seducing them and impregnating them. The offspring were a horrible hybrid, somewhere between men and angels – beings not in God's order.
The Bible tells us that when this began to happen, God's Spirit was grieved and this led to His resolve to wipe out the human race, but preserved Noah, a preacher of righteousness, with seven other persons, and also set a definite lifespan of man for which is not more than 120 years. Men lived 500 years and more back then, and they had time to mature in their sins. For 120 years, the exact span of man, God strove with that generation to repent but they ridiculed the idea that He was going to destroy the world.
Noah was Faithful in Building the Ark
So God told Noah to manage one of the earliest recorded projects in the Bible–the building of the ark. It was 510 feet long (155.4480meters), 85 feet wide (25.90800 meters), and 51 feet (15.54480 meters) high. He may not have completed it to budget, but he certainly had to finish it by a specified time–before the flood.
It must have met his performance criteria, as it successfully accommodated a pair of all the animals, and no doubt some his relatives might have said, "What are you going to do with the old homestead?" Noah says, "I don't need it. The storm is coming…the day of grace is closing and worldly wealth is of no value, and that the ark is the only place of safety. All these things that we value now will soon be destroyed. They only run for a time, not for eternity."
The people must have thought Noah had lost his mind. And in the same way, people in the last days will ignore the prophetic warnings. Every time Noah drove a nail into the ark it was a warning to them. Even the carpenters who helped build the ark might have made fun of him, they were like lots of people today that help build a church, and perhaps give money for its support, but will never enter it themselves.
Well, things went on as usual. Every sound of the hammer echoed, "I believe in God." If they had repented as they did at Nineveh, I believe God would have heard their cry and they would have been spared. But there was no cry for mercy.
People might have said, "This old Noah says the world is coming to an end in 120 years, and its 20 years since he started the story, but nothing has happened!" Someone has said that Noah must have been deaf, or he could not have stood the jeers and sneers of his countrymen. He could not get a man to believe him except his own family. Some of the old men could have passed away saying, "Noah is wrong…. Poor Noah…so easily deceived, brainwashed and manipulated!"
I don't think any of us would have had the grace to preach for 120 years without a convert. But Noah was faithful; he just toiled on, believing the Word of God. The first thing that could have alarmed people was when they rose one morning and lo and behold the heavens are filled with fowls of the air. They are flying into the ark, two by two. They come from the desert; from the mountains; and from all parts of the world and they are going into the ark.
And they looked down on the earth, and with great alarm and surprise, they see little insects creeping up two by two, coming from all parts of the world. Then behold! There come cattle and other beasts two by two. It must have been a very strange sight. The neighbors might have inquired, "What does this mean?" They run to their wise men who have told them that there is no sign of a coming storm, and ask them why it is that those birds, animals and creeping things go towards the ark, as if guided by some unseen Hand.
Scoffers Will Come in the Last Days
"Well," the wise men would have said, "we cannot explain it, but give yourselves no trouble. "What has made these creeping insects and these wild beasts of the forest go into the ark, we do not know. We cannot understand it; it is very strange. But there is no sign of anything going to happen. The stars are bright, and the sun shines as bright as ever it did.
Everything moves on, as it has been moving for all time past. You are hearing the children playing in the street. You can hear the voice of the bride and bridegroom in the land, and all is merry as ever…..God is not going to destroy the world. Business was never better in than it is now in this "New World Order Global village." Do you think that if God was going to destroy the world, He would let us go on prosperously as He has? There is no sign of coming storm.
Noah might have preached for the last time by saying: "The door is going to be shut. Come in. God is going to destroy the world. Look at the animals, how they have entered the ark." The communication has come to them direct from heaven." But the people only mocked on and scoffed.  The apostle Peter reminds us:
To begin with, you must know and understand this, that scoffers (mockers) will come in the last days with scoffing, people who walk after their own fleshly desires and say, where is the promise of His coming? For since the forefathers fell asleep, all things have continued exactly as they did from the beginning of creation.

For they willfully overlook and forget this fact, that the heavens came into existence long ago by the word of God, and the earth also which was formed out of water and by means of water, Through which the world that then existed was deluged with water and perished. But by the same word the present heavens and earth have been stored up (reserved) for fire, being kept until the Day of Judgment and destruction of the ungodly people. Nevertheless, do not let this one fact escape you, beloved, that with the Lord one day is as a thousand years and a thousand years as one day.

The Lord does not delay and is not tardy or slow about what He promises, according to some people's conception of slowness, but He is long-suffering (extraordinarily patient) toward you, not desiring that any should perish, but that all should turn to repentance (2 Peter 3:3-9 AMP).
If you are a scoffer who is reading this, remember you can laugh at the Bible, you can scoff at your mother's God, you can laugh at ministers and Christians and call them false prophets (of course some are), but the hour is coming when one promise in the Bible will be worth more to you than the whole world to you. You can imagine that 24 hours after the rain began to fall; Noah's ark was worth more than the entire world.
When The Door was Shut…There was no Hope
Did you ever notice when the 120 years were up, God gave the world seven days grace? If there had been a cry during these seven days, I believe it would have been heard. But unfortunately there was none. At long last…the last day had come, the last hour, the last minute, and the last second! God Almighty came down and shut the door of that ark. No angel, no man, but God Himself shut that door. There must have been a lot of wailing and screaming going up when God shut the door of the Ark; "Noah, Noah, Noah! Let us in."
They left their homes and came to the ark and pounded on the ark. Hear them cry, "Noah! Let us in. Noah! Have mercy on us, "I am your nephew." I am your niece." "I am your uncle." And Noah might have replied saying, "I would like to let you in, but God has shut the door. I cannot open it!
When door was shut, there was no hope. Their cry for mercy was too late. Their day of grace was closed. Their last hour had come and God had pleaded with them and invited them to come in, but they mocked at the invitation. They scoffed and ridiculed the idea of a water deluge. Now it was too late. Jesus said,
When once the Master of the house has risen up and shut the door, and you begin to stand outside and knock at the door, saying, 'Lord, Lord, open for us,' and He will answer and say to you, 'I do not know you, where you are from… (Luke 13:25).
Men say "I don't believe in all these stories of the flood. Whether you believe or not, Christ connected His own return to this world with Noah's flood. Remember, in Noah's day, two sins were predominant: excessive violence and sexual perversion. The Bible also tells us,"The earth was depraved and putrid in God's sight, and the land was filled with violence (desecration, infringement, outrage, assault, and lust for power) (Genesis 6:11).
Jesus said the climate of the time prior to His return would be similar to the climate during Noah's day. "For as in the days before the flood, they were eating and drinking, marrying and giving in marriage, until the day that Noah entered the ark and the flood came and destroyed them all." (Matthew 24:38). We could paraphrase that statement by saying it was business as usual.
God Gave Noah the Rainbow Sign…No More Water But Fire Next Time
The writing is on the wall for anyone who will pay attention. Yet Jesus said it will largely be business as usual. The good news is God gave Noah the rainbow sign that no more water, but unfortunately it will be the fire next time. Since even the heavens will be on fire, and then what will property, stocks, bonds, titles, honor and position in society be worth?  The time is coming again when God will deal in judgement with the world. It may be a little while because we don't know when, but it is sure to come. For Peter says:
The day of the Lord will come like a thief, and then the heavens will vanish (pass away) with a thunderous crash, and the material elements of the universe will be dissolved with fire, and the earth and the works that are upon it will be burned up…..But we look for new heavens and a new earth according to His promise, in which righteousness (uprightness, freedom from sin, and right standing with God) is to abide (2 Peter 3:10-13).
Although the timing of this end of the age is in God's hands, from a human stand point it appears we are standing on the threshold of the final battle. The pieces of the puzzle are all in place. As the sands of time slip through the hourglass of eternity, we are all moving closer to an appointment with destiny.
The question is, "How much time is left for each of us?" The text we've selected has a special application to both natural and spiritual parents and their children. The command of the Scripture was given to Noah not only for his own safety, but that of his household. The home was established long before the church.
A Day of Grace and Mercy
So another question that would be put to each natural or spiritual father and mother is this: Are your children in the ark of God? We shouldn't rest day or night until you get our children in. I believe our children have many more temptations than we had. There is so much evil in the world that our sons and daughters find it easier to believe in the devil than in God. Noah heard from the Lord about the destruction that was coming, so he built an ark and saved his family. The writer of Hebrews says he did this by faith:
By faith Noah, being divinely warned of things not yet seen, moved with godly fear, prepared an ark for the saving of his household, by which he condemned the world and became heir of the righteousness which is according to faith (Hebrews 11:7).
The good news is, this is a day of grace. It is a day of mercy. You will find, if you read your Bible diligently, that God always precedes judgement with mercy and grace. Grace is a forerunner of judgement. He called those people in days of Noah in love. They would have been saved if they had repented in those 120 years. When Christ came to plead with the people in Jerusalem, it was their day of grace; but they mocked and laughed at Him. He then said,
O Jerusalem, Jerusalem, the one who kills the prophets and stones those who are sent to her! How often I wanted to gather your children together, as a hen gathers her chicks under her wings, but you were not willing! (Matthew 23:37).
Forty years afterward, thousands of people begged that their lives might be spared, and eleven hundred thousand perished in that city. Today God is holding up His justice because of His mercy and because a Savoir died.
It is only by grace that we are saved, and that is why Noah found grace in the eyes of the Lord (see Genesis 6:8). No one was ever saved in any other way other than by the grace of our Lord Jesus Christ. Each person is saved by looking to the cross; everyone receives some degree of God's grace, even the most sinful man or woman.
It was A. W. Tozer that wrote, "Don't imagine that when the Day of Judgment comes God will turn off His mercy." Paul said it was the riches of God's goodness, forbearance, and long-suffering that leads us to repentance (see Romans 2:4).
And the apostle Peter reminds us, "The Lord is not slack concerning His promise, as some count slackness, but is long-suffering toward us, not willing that any should perish but that all should come to repentance" (2 Peter 3:9).
Therefore, it's now a loving call "Come with all your household into the ark (Genesis 7:1).