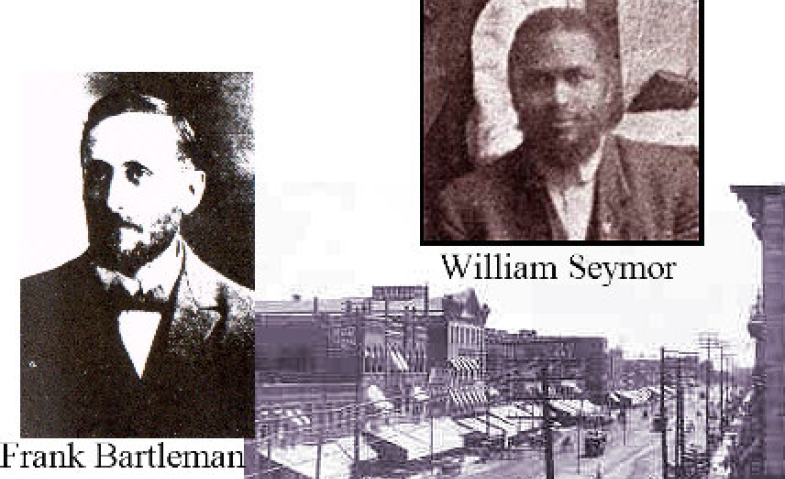 Frank Bartleman was born in eastern Pennsylvania, was converted in 1892, and was licensed to preach by a local Baptist church shortly after that. Although he attended a year at a night school run by his church, and briefly attended Moody Bible Institute, and read many books by religious writers, it appears most of his knowledge and doctrine came directly by personal study of the Bible, as interpreted through the leading of the Spirit and personal experience.
His extensive reports are some of the most important sources for understanding the dynamics of what happened at the little mission church on Azusa Street. Bartleman had long desired to be part of some momentous revival movement. He was a man on a mission, in such of the holy grail of revival. His search would eventually lead him to Los Angeles just in time to be part of the Azusa Street revival.
It was Frank Bartleman's diary and reports in the holiness press that constituted the most complete and reliable record of what happened at Azusa Street. The revival reports of Azusa Street that you are now reading were extracted from Bartleman's diary entries and articles which he had written to various periodicals and published them in a book form around 1925, under the title: How Pentecost Came to Los Angeles. It was because of his reporting of the revival at 312 Azusa Street that Frank Bartleman became one of the key players in the Azusa Street Revival.
Here is his firsthand account of what happened during the Azusa Street Revival:
The false was sifted out from the real by the Spirit of God. The Word of God itself decided absolutely all issues.
The hearts of the people, both in act and motive were searched to the very bottom. It was no joke to become one of that company. No man "durst join himself to them" unless he meant business. It meant a dying out and cleaning up process in those days to receive the baptism. We had a "tarrying" room upstairs for those especially seeking God for the Holy Spirit baptism, though many got in the main assembly room also.
In fact, they often got it in their seats in those days. The Spirit wrought very deeply in the "tarrying" room. An unquiet spirit or a thoughtless talker was immediately reproved by the Spirit. We were on "holy ground." This atmosphere was unbearable to the carnal spirit. They generally gave this room a wide berth unless they had been thoroughly subdued and burned out. Only honest seekers sought it, those who really meant business with God. It was no place to throw fits or blow off steam. Men did not "fly to their lungs" in those days. They flew to the mercy seat. They took their shoes off, figuratively speaking. They were on "holy ground."
The New Testament Church
Bartleman noted that the Azusa Street Revival did not occur in a vacuum. The immediate catalyst for the revival happened in the summer of 1905, when Joseph Smale, pastor of First Baptist Church of Los Angeles, returned from a visit to Wales. He had attended meetings during the great Welsh Revival, during which entire towns experienced an outpouring of the Holy Spirit. Smale witnessed countless people repent of sin and turn toward God, and he prayed for God to do a similar work in Los Angeles.
However, the New Testament Church, begun by Brother Smale, seemed to be losing the spirit of prayer as they increased their organisation. They now tried to shift this ministry on a few of us. I knew God was not pleased with that and became much burdened for them. They had taken on too many secondary interests. It began to look as though the Lord would have to find another body.
My hopes had been high for this particular company of people, but the enemy seemed to be sidetracking them, or at least leading them to miss God's best. They were now even attempting to organize prayer—an impossible thing. Prayer is spontaneous. I felt it were better not to have organized than to lose the ministry of prayer and spirit of revival as a body. It was for this they had been called in the beginning.
They had become ambitious for a church and organisation. It seemed hard to them not to be "like the other nations (churches) around them." And right here they began to fail. As church work increased, they lost sight of the real issue. Human organization and human programs leave very little room for the free Spirit of God. It means much to be willing to be considered a failure, while we seek to build up a purely spiritual Kingdom. God's Kingdom cometh not "by observation." It is very easy to choose second best. The prayer life is needed much more than buildings or organizations. These are often a substitute for the other. Souls are born into the Kingdom only through prayer.
I feared the New Testament Church might develop a party (sectarian) spirit. A rich lady offered them the money to build a church edifice. The devil was bidding high. However, she soon withdrew her offer, and I confess I was glad she did. They would soon have no time for anything but building. It would have been the end of the revival. We had been called out to evangelize Los Angeles, not to build up another sect or party spirit. We needed no more machinery than what was really necessary for the speedy evangelizing of the city.
Surely we already had enough separate, rival church organizations on our hands, each working largely for its own interest, advancement and glory. The New Testament Church seemed to be drifting toward intellectualism. I became much burdened for it. During one meeting—it was so painful after what we had seen—I groaned aloud in prayer. One of the elders rebuked me severely for this. "How the mighty fallen" kept ringing in my ears. A few of the most spiritual had the same burden with me. After this incident, prayer again seemed to prevail in a measure. We had a great meeting in the church one Sunday night, and 100 knelt at the altar.
In Pasadena, before moving to Los Angeles, I would lie on my bed in the daytime and roll and groan under the burden. At night I could scarcely sleep for the spirit of prayer. I fasted much, not caring for food while burdened. At one time I was in soul travail for nearly 24 hours without intermission. It nearly used me up. Prayer literally consumed me. Sometimes I would groan all night in my sleep.
Prayer was not formal in those days. It was God-breathed. It came upon us and overwhelmed us. We did not work it up. We were gripped with soul travail by the Spirit that could no more be shaken off than could the birth pangs of a woman in travail without doing absolute violence to the Spirit of God. It was real intercession by the Holy Spirit.
The Fire Falls at Azusa
In the beginning at Azusa, we had no musical instruments. In fact, we felt no need for them. There was no place for them in our worship—all was spontaneous. We did not even sing from hymnbooks. All the old, well-known hymns were sung from memory, quickened by the Spirit.  "The Comforter Has Come." was possibly the one most sung. We sang it from a fresh, powerful heart experience. Oh, how the power of God filled and thrilled us. Then the songs of Christ's blood were very popular. "The life is in blood." Sinai, Calvary, and Pentecost, all had altogether different, not of human composition. It cannot be successfully counterfeited. The crow cannot imitate the dove.
But they finally began to despise this gift, when the human spirit asserted itself again. They drove it out by hymn books and selected songs by readers. It was like murdering the Spirit, and was most painful to some of us, but the tide was too strong against us. Hymnbooks today are too largely a commercial proposition, and we would not lose much without most of them. Even the old tunes are often violated by change, and new styles must be gotten out of every season for added profit.
There is very little real spirit of worship in them. They move the toes, but not the hearts of men. The spirit of song given from God in the beginning was like the Aeolian harp in its spontaneity and sweetness. In fact, it was the breath of God, playing on human heartstrings, or human cords. The notes were wonderful in sweetness, volume, and duration. In fact, they were humanly impossible. It was indeed "singing in the Spirit."
In the revival in Wales, the great expounders of England had to come and sit at the feet of crude, hard-working miners, and see the wonderful work of God. I wrote for the Way of Faith at this time:
The real thing is happening among us. The Almighty will again measure swords with Pharaoh's magicians. But many will reject Him and blaspheme. Many will fail to recognize Him, even among His professed followers. We have been praying and believing for a "Pentecost." Will we receive it when it comes?" The present worldwide Pentecostal manifestation did not break out in a moment, like a huge prairie fire, and set the world on fire. In fact, no work of God ever appears that way. There a necessary time for preparation. The finished article is not realized at the beginning. Men may wonder where it came from, not being conscious of the preparation, but there is always such. Every movement of the Spirit of God must also run the gauntlet of the devil's forces. The dragon stands before the bearing mother, ready to swallow up her child (Revelation 12:4).
The Counterfeit of the Enemy
So it was with the present Pentecostal work in its beginnings. The enemy did much counterfeiting. God kept the young child well hidden for a season from the Herods, until it could gain strength and discernment to resist them. The fame was guarded jealously by the hand of the Lord from the criticism, jealousy, unbelief, etc. It went through about the same experiences that all revivals have.
Its foes were both inside and out. Both Luther and Wesley experienced the same difficulties in their time. We have this treasure in "earthen vessels." Every natural birth is surrounded by circumstances not entirely pleasant. God's perfect work is wrought in human imperfection. We are creatures of the "fall." Then why expect a perfect manifestation in this case? We are coming back to God.
John Wesley writes of his time:
Almost as soon as I was gone, two or three began to take their imaginations for impressions from God. Meantime, a flood of reproach came upon me from almost every quarter. Be not alarmed that Satan sows tares among the wheat of Christ. It has ever been so, especially on any remarkable outpouring of the Spirit, and ever will be, until the devil is chained for a thousand years. Till then he will always ape and endeavour to counteract the work of the Spirit of Christ."
John Wesley himself once prayed, after the revival had about died out for the time: "Oh Lord, send us the old revival, without the defects; but if this cannot be, send it with all its defects; but if this cannot be, send it with all its defects. We must have the revival!
Adam Clarke, in his Bible commentary, said:
Nature, along with Satan, will always mingle themselves, as far as they can, in the genuine work of the Spirit in order to discredit and destroy it. In great revivals of religion, it is almost impossible to prevent wild-fire room getting in among the true fire.
Dr. Seiss says:
Never, indeed, has there been a sowing of God on earth but it has been oversown by Satan; or a growth for Christ, which the plantings of the wicked one did not mingle with and hinder. He who sets out to find a perfect church, in which there are no unworthy elements and no disfigurations, proposes to himself a hopeless task.
Still another writer says:
In the various crises that have occurred in the history of the Church, men have come to the front who have manifested a holy recklessness that astonished their fellows. When Luther nailed his theses to the door of the cathedral at Wittenberg, cautious men were astonished at his audacity. When John Wesley ignored all church restrictions and religious propriety and preached in the fields and byways, men declared his reputation was ruined. So it has been in all ages.

When the religious condition of the times called for men who were willing to sacrifice all for Christ, the demand created the supply, and there have always been found a few who were willing to be regarded reckless for the Lord. An utter recklessness concerning men's opinions and other consequences is the only attitude that can meet the needs of the present times.
For the Azusa Street part of this study, I borrowed heavily from Frank Bartleman's own account of the revival in his classic work, Frank Bartleman's Azusa  Street, First Hand Account of the Revival, compiled by Roberts Liardon, and now published by Destiny Image Publishers. This book contains important insights on the nature of the revival and can be found in many Christain bookstores or anywhere books are sold.