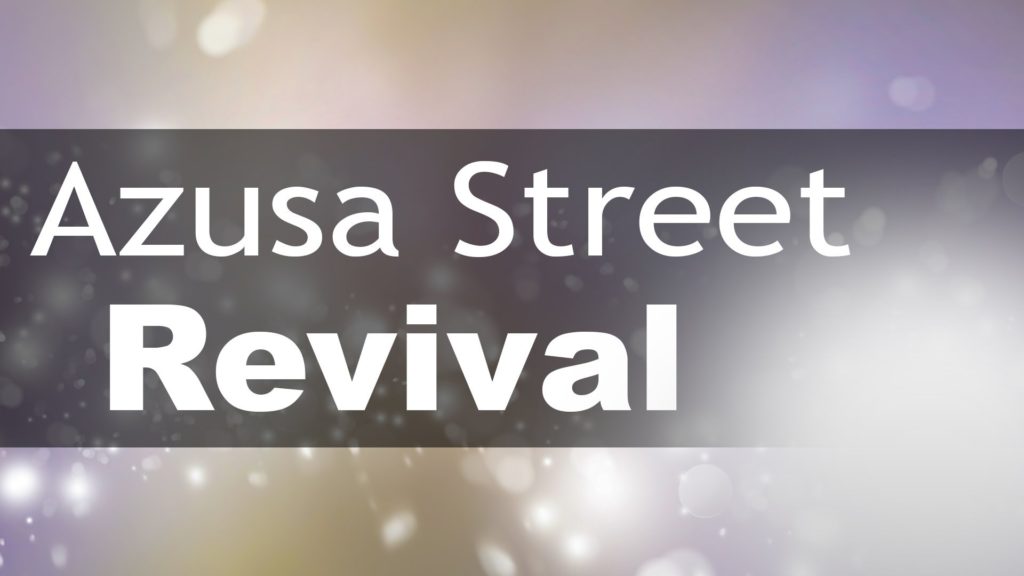 As we've already covered in Part 1 of this study, Frank Bartleman was one of the men God used at Azusa Street Revival. His eyewitness account captured fascinating details about the revival, which give insight into the great chasm between today's biblical Christianity and the then-present state of the church.
Bartleman offered some cautionary advice regarding the history surrounding Azusa Street. He stressed that the early Pentecostal revival was a sovereign move of God that had developed over time. He wrote:
It would be a great mistake to attempt to attribute the Pentecostal beginning in Los Angeles to any one man….Pentecost did not drop down suddenly out of heaven. God was with us in a large measure for a long time before the final outpouring.
After the Flesh no more
We were delivered right there from ecclesiastical hierarchism and abuse. We wanted God. When we first reached the meeting, we avoided human contact and greeting as much as possible. We wanted to meet God first. We got our head under some bench in the corner in prayer, and met men only in the Spirit, knowing them "after the flesh" no more. The meeting started themselves, spontaneously, in testimony, praise, and worship.
The testimonies were never hurried by a call for "popcorn."  We had no prearranged program to be jammed through on time. Our time was the Lord's. We had real testimonies from fresh heart –experience. Otherwise, the shorter the testimonies, the better. A dozen might be on their feet at one time, trembling under the mighty power of God. We did not have to get our cue from some leader; yet we were free from lawlessness. We were shut up to God in prayer in the meetings, our minds on Him.
All obeyed God, in meekness and humility. In honor we "preferred one another." The Lord was liable to burst through anyone. We prayed for this continually. Someone would finally get up, anointed for the message. All seemed to recognize this and gave way. It might be a child, a woman, or a man. It might be from the back seat or from the front. It made no difference. We rejoiced that God was working. No one wished to show himself. We thought only of obeying God.
In fact, there was an atmosphere of God there that forbade anyone but a fool from attempting to put himself forward without the real anointing—and such did not last long. The meetings were controlled by the Spirit, from the throne. Those were truly wonderful days. I often said that I would rather live 6 months at that time than 50 years of ordinary life. But God is just the same today. Only we have changed.
Someone might be speaking. Suddenly the Spirit would fall upon the congregation. God Himself would give the altar call. Men would fall all over the house, like the slain in battle. Or rush for the altar en masse to seek God. The scene often resembled a forest of fallen trees. Such a scene cannot be imitated. I never saw an altar call given in those early days.
God Himself would call them. And the preacher knew when to quit. When He spoke, we all obeyed. It seemed a fearful thing to hinder or grieve the Spirit. The whole place was steeped in prayer. God was in His holy temple. It was for man to keep silent. The Shekinah glory rested there. In fact some claim to have seen the glory by night over the building. I do not doubt it. I have stopped more than once within two blocks of the place and prayed for strength before I dared go on. The presence of the Lord was so real.
Presumptuous men would sometimes come among us, especially preachers who would try to spread themselves in self-opinionation. But their effort was short lived. The breath would be taken from. Their minds would wander, their brains reel. Things would turn black before their eyes. They could not go on. I never saw one get by with it in those days. They were up against God. No one cut them off; we simply prayed—the Holy Spirit did the rest.
We wanted the Spirit to control. He would them in short order. They were carried out dead, spiritually speaking. They generally bit the dust in humility, going through the process we had all gone through the process. In other words, they died out, and came to see themselves in all their weaknesses. Then, in childlike humility and confession, they were taken up of God and transformed through the mighty baptism in the Spirit.
The "old man" died with all his pride, arrogance, and good works. In my own case, I came to abhor myself. I begged the Lord to drop a curtain so close behind me on my past that it would hit my heels. He told me to forget every good deed as though it had never occurred, as soon as it was accomplished, and go forward again as though I had never accomplished anything for Him, lest my good works become a snare to me.
We saw some wonderful things in those days. Even good men came to abhor themselves in the clearer light of God. Often, it was hardest for preachers to die to self. They had so much to die to. So much reputation and good works. But when God got through with them, they gladly turned a new page and chapter. That was one reason they fought so hard. Death to self is not at all a pleasant experience. And strong men die hard.
Burden of Prayer
I found most Christians did not want to take on a burden of prayer. It was too hard on the flesh. I was carrying this burden now in ever increasing volume, night and day. The ministry was intense. It was "the fellowship of His sufferings," a "travail" of soul, with "groanings that could not be uttered" (see Romans 8:26-27) Most believers find it easier to criticize than to pray.
One day I was much burdened in prayer. I went to Brother Manley's tent and fell at the altar, thee unburdening my soul. A worker ran in from a side tent and begged me to pray for him.
I attended another meeting that night and there found a young brother, Edward Boehmer, who had come forth in the Peniel meetings in the spring, with the same burden of prayer on him. We were wonderfully united in the Spirit from that time on. He was destined to become my prayer helper in the future. We prayed together at the little Peniel Mission until 2 A.M. God wonderfully met and assured us as we wrestled with Him for outpouring of His Spirit upon the people. My life was by this time literally swallowed up in prayer. I was praying day and night.
I wrote more articles for the religious press, exhorting the saints to prayer, and went to Smale's again in Los Angeles. Here I found people waiting for the preacher again. I was greatly burdened for the situation and tried to show them they must expect from God. Some resented this, being bound by age-old custom, but others responded to it. They were praying for revival like they had in Wales. This was one of the outstanding features there. In Wales they expected from God. The meetings went on whether the preacher was present or absent. They came to meet God. He met them.
Lost in His Presence
One evening, July 3, I felt strongly impressed to go to the little Peniel Hall in Pasadena to pray. There I found Brother Boehmer ahead of me. He had also been led of God to the hall. We prayed for a spirit of revival for Pasadena until the burden became well nigh unbearable. I cried out like a woman in birth pangs.
The Spirit was interceding through us. Finally, the burden left us. After a little time of quite waiting, a great calm settled down upon us. He seemed to stand directly between us, so close we could have reached out our hand and touched Him. But we did not dare to move. I could not even look. In fact, I seemed all spirit. His presence seemed more real, if possible, than if I could have seen and touched Him naturally. I forgot I had eyes or ears; my spirit recognized Him.
A heaven of divine love filled and thrilled my soul. Burning fire went through me. In fact, my whole being seemed to flow down before Him, like wax before the fire. I lost all consciousness of time or space, being conscious only of His wonderful presence. I worshipped at His feet. It seemed a veritable "Mount of transfiguration." I was lost in the pure Spirit.
For some time He remained with us. Then, slowly, He withdrew His presence. We would have been there yet had He not withdrawn. I could not doubt His reality after that experience. Brother Boehmer experienced largely the same thing. We had lost all consciousness of each other presence while He remained with us. We were almost afraid to speak or breathe when we came back to surroundings.
The Lord had said nothing to us, but only overwhelmed our spirits by His presence. He had come to strengthen and assure us for His service. We knew now we were workers with Him, fellowshippers of His sufferings, in the ministry of "soul travail." Real soul travail is just as definite in the spirit as natural human birth pangs. The simile is almost perfect in its sameness. No soul is ever born without this all true revivals of salvation come this way.
The Opportunity of a Lifetime
I wrote a little tract in June 1906, of which the following is an extract:
Opportunity once passed is lost forever. There is a time when the tide is sweeping by our door. We may then plunge in and be carried to glorious blessing, success, and victory. To stand shivering on the bank, timid or paralyzed with stupor at such a time, is to miss all, and most miserably fail, both for tome and for eternity. Oh, our responsibility!

The mighty tide of God's grace and favor is even now sweeping by us in its prayer-directed course. "There is a river (of salvation), the streams whereof make glad the city of God (Psalm 46:4). It is time to "get together" and plunge in, individually and collectively. We are baptized "by one Spirit, into one body." The opportunity of a life-time—of centuries—is at our door, to be eternally gained or lost. There is no time to hesitate. Act quickly, lest another take thy crown. Oh, Church of Christ, awake! Be baptized with power. Then fly to rescue others, and to meet your Lord.
A.J. Gordon, in his book, The Ministry of Healing (1882), said: "If the anti-Christ is about to make his mightiest and most malignant demonstration, ought not the Church to confront him with might displays of the Spirit's saving power?"
Arthur T. Pierson has said:
The most alarming peril of today is naturalism- the denial of direct divine agency and control. Science is uniting with unbelief, wickedness and worldliness, skepticism and materialism, to rule a personal God out of the universe. This drift toward materialism and naturalism demands the supernatural as it's only corrective. In Enoch's time human sin was fast making atheists, and God "took him," spirit soul, and body, that men might be startled with a proof of a Divine Being and invisible world. In Elijah's day, general apostasy was rebuked by the descent of horses and chariots of fire. And if ever men needed to be confronted with the fruits of power above nature —a living God back of all the forces and machinery He controls, who does answer prayer, guide by His providences, and convert by His grace—it is now.
Oh, our weakness! Oh, our unbelief! May the Lord help us get back to Pentecostal experiences. Nevertheless, when the Son of Man comes, will He really find faith on the earth? (Luke 18:8)
Hear Spurgeon's dying appeal:
The presence of God in the Church will put an end to infidelity. Men will not doubt His Word when they feel His Spirit. For a thousand reasons, we need that Jehovah should come into the camp, as aforetimes He visited and delivered His people from bondage in Egypt.
For the Azusa Street part of this study, I borrowed heavily from Frank Bartleman's own account of the revival in his classic work, Frank Bartleman's Azusa  Street, First Hand Account of the Revival, compiled by Roberts Liardon, and now published by Destiny Image Publishers. This book contains important insights on the nature of the revival and can be found in many Christain bookstores or anywhere books are sold.