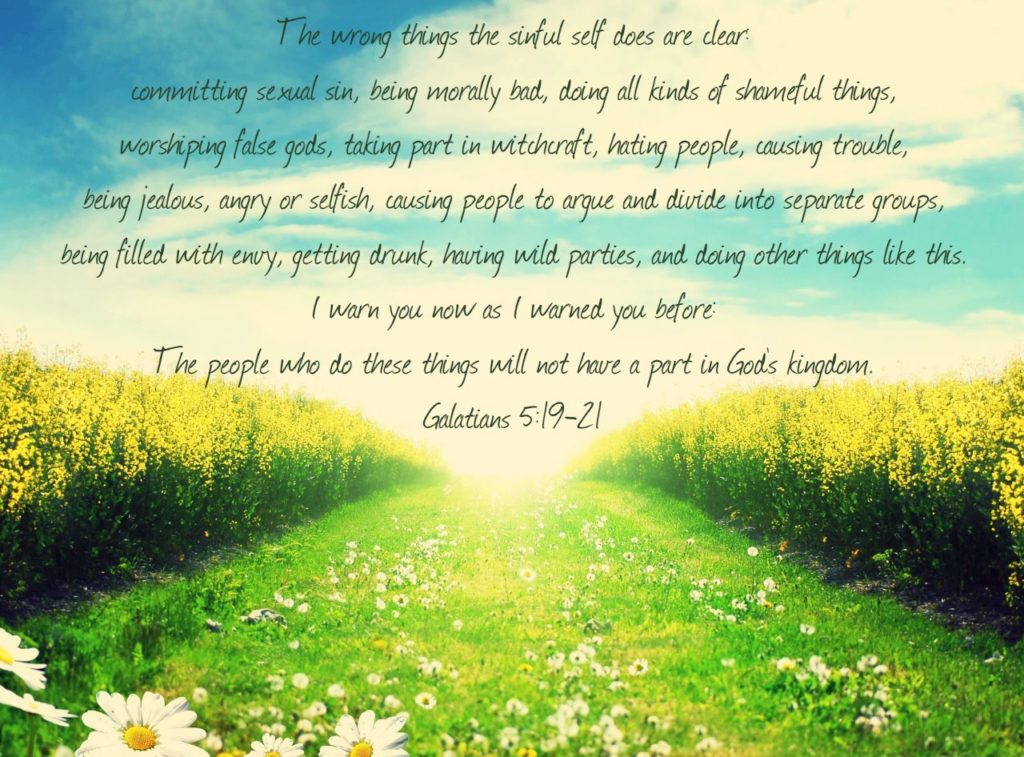 Warning: this is a LONG post.
What is the difference between envy and jealousy? Jealousy is more directed at a person, while envy is directed more at possessions, positions, or what they have. The original sin in Genesis 3 was actually original jealousy – that of Satan himself in the heavenlies before God created man.
Satan is God's creation and he was not created evil; he became evil. The prophet Isaiah was given a glimpse as to what happened. Called 'morning star' ('Lucifer, son of the morning'), Satan fell from heaven after jealousy took over. He said, I will ascend to heaven….I will make myself like the Most High (see Isaiah 14:12–14).
His first effort to seek revenge against God was when he tempted Eve to eat the fruit. When she saw that the fruit was 'good for food and pleasing to the eye … She also gave some to her husband, who was with her, and he ate it' (see Genesis 3:1-6).
It was covetousness and envy that led to their downfall. Eve coveted what she felt she did not have, which led to envy. The devil deceived Eve in the Garden to rebel against God and in turn, Eve seduced Adam to rebel against God. Adam is punished in relation to his work, and Eve in relation to bearing children. The reptile becomes a snake-even today there are very small legs on the underside of a snake.
Their former relationship with God is destroyed. Their relationship with each other is also affected: they hide from each other and God pronounces a curse over them. Then sin brought death and chaos into God's perfect creation and turned Cain against God and against his brother Abel.
It was the first murder that took place within the family, as envy gave way to defiance against God's warning. Somebody has pointed out that the sin committed by the first man caused the second man to kill the third. Here we have Adam's own family. His eldest son kills his middle son, and it was for the same reason that they killed Jesus centuries later. Envy was responsible for the first murder in history and the worst murder in history.
Abel and Cain-Sibling Rivalry
The first human account of jealousy described in the Bible stems from sibling rivalry. When Adam and Eve sinned their sinful nature was passed on to their children. Eve gave birth to Cain, then later gave birth to his brother Abel. Abel kept flocks, Cain worked the soil. In the course of time both of them presented offerings to the Lord.
We learn from the Hebrews 11:4 that it was by faith Abel offered an acceptable sacrifice and his name stands first in the record of those whom the Bible calls believers. He had this witness given to him "that he pleased God" (Hebrews 11:5).
A principle was being established: blood was shed so that their shame could be covered (it began there and continues through to Calvary). God became man and was the perfect man substituting for sinful man. When God himself became man, "He who knew no sin was 'made sin' for us, 'so that in him we might become the righteousness of God" (2 Cor. 5:21).
The LORD looked with favor on Abel and his offering, but on Cain and his offering he did not look with favor. So Cain was very angry and became jealous of his brother Abel (see Genesis 4:4–5).
In bringing the offering, Cain denied that he was a sinful creature under the sentence of divine condemnation. He insisted on approaching God on the ground of personal worthiness. Instead of accepting God's way, he offered to God the fruits of the ground, which God had cursed. He presented the product of his own toil, the work of his own hands, and God refused to receive it. And this is why people remain blind to the gospel of Jesus Christ by trusting in themselves.
To this very day people resent God's way of salvation, namely, that we are saved through the sacrifice of Jesus dying on the cross for us. People are naturally jealous that we are saved through the righteousness of Christ and not our own good works.
Abel had learned from his parents that the only sacrifice worthy of God was a blood sacrifice – the result of a life being taken. God had already covered the sin and shame of his parents by killing animals and providing a skin covering for them. (Gen. 3:21).
There is much more to this story than sibling rivalry. The gospel not only gives the believer a new family; it will divide families. Jesus said, 'A man's enemies will be the members of his own household' (Matt. 10:36).
The historical account of Cain's jealousy of Abel is a lesson on what jealousy can lead to if not brought under control. Jealousy is capable of causing one to do extremely horrible things. When we have feelings of envy, towards our siblings or anyone we must be extremely careful lest Satan seize the moment and exploit it to his advantage. The moment he sees jealousy in us, he is merely waiting for the chance to exploit us, to do as he wishes.
Miriam, Aaron and Moses
The saga of jealousy and envy continues throughout scripture. Miriam was Moses' and Aaron's sister. She was known as a prophetess. She sang and danced with joy when the Egyptians were drowned in the sea.
Miriam also had a problem of jealousy. She desired honour for herself. She wanted to speak with God as Moses did. In addition she was critical of his choice of wife. Miriam was punished with 'leprosy' for seven days until she repented. She was among those who died at Kadesh. The next to drop out of the leadership picture was Aaron.
Once again his problem was jealousy and desire for honour. Miriam and Aaron were together in criticizing Moses. Their excuse was that Moses had married someone of whom they did not approve (he married a Kushite woman who had come out of Egypt with them, and who was not even a Hebrew).
God did not criticize him for doing that, but Miriam and Aaron did. Aaron thus died at Mount Hor, a little further on from Kadesh, when he was over 100 years old. Soon after they expressed jealousy and desire for honour, both Aaron and Miriam died.
Jacob and Esau
Someone said, 'Sibling rivalry is inevitable. The only sure way to avoid it is to have one child.' Yet the rivalry between Isaac and Esau was not personally with each other, but with their parents and then their offspring in future generations.
The Edomites were direct descendants of Esau who, of course, had sold his birthright to Jacob and was in conflict with his twin brother for most of his life. Here began a feud that was to cost countless lives throughout succeeding centuries. Esau's descendants, the Amalekites, were the first enemies to obstruct the flight of Jacob's descendants from Egypt (Exod. 17:8).
In Deuteronomy God forbade Israel to have a wrong attitude to Edom because Esau was Jacob's brother. We read in Numbers that they refused to let their uncle Jacob's children pass through their land (Num. 20:17-20). Doeg, an Edomite, who stood with Saul's servants murdered eighty-five priests and almost caused the death of Christ's chosen ancestor David (I Sam. 21-22). All this was due to Saul's insecurities that led to being jealous of the gifted people around him including David.
Bloody battles were fought between the two nations in the centuries that followed. The last Edomites were known by the name of Herod and it was a descendant of Esau who was King of the Jews when Jesus was born. He killed all the babies in Bethlehem to try to get rid of this descendant of Jacob who was born to be King and Messiah (Matt. 2:16). Satan needs no better medium for his evil plans than a family feud, a "mere quarrel" between two brothers.
Rachel and Leah
Now Laban had two daughters. The older daughter was named Leah, and the younger one was Rachel. There was no sparkle in Leah's eyes but Rachel had a beautiful figure and a lovely face. Since Jacob was in love with Rachel, he told her father, "I'll work for you for seven years if you'll give me Rachel, your younger daughter, as my wife." There was another custom of the land that Laban did not tell Jacob.
The older daughter had to be married first. When it was dark, Laban took Leah to Jacob, and he slept with her. Jacob was enraged when he learned that Laban had tricked him. Sin has a way of coming back to haunt us. The deceiver of Esau was now deceived as well.
Jacob loved Rachel more than Leah and when the LORD saw that Leah was not loved, he opened her womb. Leah gave birth Levi, for out of Levi came the priesthood. He also gave birth to Judah. From Judah came Israel's greatest king, David, son of Jesse; and, most important of all, came God's promised Messiah, our Lord Jesus Christ, born of the seed of David.
When Rachel saw that she bore Jacob no children, she envied her sister, and said to Jacob 'Give me children, or I'll die!' (Genesis 29:17; 30:1) God eventually remembers Rachel and gives her two children and one them ends up being the favorite son of his father to becoming a household slave, until he went all the way up from being a prisoner to being Prime Minister of Egypt.
In between we have the envy and jealousy of his brothers, which brought him low. Little did Joseph know that his brothers were capable of doing what they did when he shared his dream with them. One of my greatest shocks has been to have nobody with whom to share good news to rejoice with you or even bad news to mourn with you (Romans 12:15).
The only people we might be reasonably sure will always rejoice in our successes are your wife or husband if married or your own father and mother if you still have parents! Another important lesson is the witchcraft and the Jezebel spirit is attracted to those who walk in envy and jealousy because they provide it with reasons to launch evil attacks.
Have you ever had something really good about to happen to you and you speak in confidence to someone about it and the next thing you know, the thing never happens after that? For instance you might go on a job interview and you are given an assurance that the job will be yours.
You make a mistake and go home and speak to a relative or a friend, and after that, you get a phone call that the job has been offered to someone else. What happened is that the devil eavesdropped on your good news through someone who carries the witchcraft spirit in his or her bloodline and is filled with envy and jealousy.
Not all Envy is Bad but Motive is Vital
Envy can motivate you to pursue success in life or be a positive motivation to make you do something worthwhile in your life. Solomon wrote that he "observed that most people are motivated to success because they envy their neighbors. But this, too, is meaningless— like chasing the wind" (Ecclesiastes 4: 4 NLT).
In Philippians 2:3 Paul warns us as servants of the Lord: Let nothing be done through selfish ambition or conceit, but in lowliness of mind let each esteem others better than himself. The fact is, the more we aim at personal success, the less secure we become. We are threatened by the possibility that someone else may succeed before we do.
This creates an atmosphere for jealousy and envy to thrive. Instead we ought to be motivated less and less by personal ambition but to simply please the Lord. Even in times of frustration or failure, we should turn our focus from trying to solve the problem to maintaining an attitude that is pleasing to the Lord.
As servants of Christ, we will experience no competition or envy but we would strive to please our Lord who was utterly devoted to His Father's will, honor, praise and glory and received no recognition from men (see John 5:30-31).
For we must all appear and be revealed as we are before the judgment seat of Christ, so that each one may receive his pay according to what he has done in the body, whether good or evil considering what his purpose and motive have been, and what he has achieved, been busy with, and given himself and his attention to accomplishing (2 Corinthians 5:10 AMP).
Again, according to his letter to the Philippians, Paul heard that some preached Christ out of rivalry and jealousy of him; he said he was delighted that the gospel was being preached, whatever the motives of those preaching it. He said he would go anywhere to tell anyone what God had done in Christ.
Let me add that I observed this spirit of envy and jealousy first and foremost in my own life and one of the main things I pray everyday to be delivered from are pride, lust and envy. Pride is the first sin of in most of us, as we imitate our parents Adam and Eve. Lust is probably second. But high on the list of the sins of our human race is envy, which could possibly be seen as a subsection of pride.
We hate to see our fellow human beings having any sort of success. For instance, the British are very proud people and this pride results in envy and jealousy. From envy it is often a short step to servility.
Whereas the Americans think of themselves as individuals created in the image of God. They resent being servants, and when given the opportunity to become their own masters, they seize it with enthusiasm and never look back.
Many people of different backgrounds have been elevated to positions of higher responsibility in areas of business, academia, politics, law and other professions because they knew in America you can compete effectively once given the opportunity.
But in some or even many black circles, pursuing learning is called acting white, and this (needless to say) is a criticism of the black person trying to be an excellent student. Apparently, envy seems to be at work here when Black people criticize their fellow Blacks for "acting white."
If some Black person has acknowledged a real objective standard of intellectual excellence, and has bravely attempted to come up to that standard by his or her pursuit of learning; instead of saying, "You go guy or girl, and encouraging this admirable attempt, much of the black community instead mocks the person as having deserted his people.
He is "acting white" This is defined as envy which is "How dare you try to be smarter and better than the rest of us? You are a traitor to your race, you are acting white. We are going to put you down with the rest of us." This is envy. It might be unconscious envy but it is still the sin of envy.
What about God's Jealousy?
This is possibly the one thing about God of the Bible that the world hates most. We are told that the Lord is a jealous God (Exodus 34:14). The Lord your God is a consuming fire, a jealous God (Deuteronomy 4:24).
Do you think that the Scripture says in vain, "The Spirit who dwells in us yearns jealously?"(James 4:5). God doesn't envy anybody or anything, because it's all His anyway – but He is jealous. Jealousy is an appropriate emotion for God, even if we might not think so at first.
I heard a story of how Oprah Winfrey listened to the preacher in a Baptist church when she was around twenty-eight years old. The preacher was speaking about the omniscience, omnipresence and omnipotence of God. Oprah was apparently enthralled – until he quoted Exodus 34: 14, saying that God is a jealous God. She said 'I was caught up in the rapture of that moment; until he said "jealous."
She said it made her realize that 'God is jealous of me'. She then added, "Something about that didn't feel right in my spirit because I believe that God is love."
It would have been appropriate for Oprah to know that God should be jealous for His people when they follow other gods. He is jealous for His name, His reputation, His people, and His world. These are not popular attributes of God, but we need to understand them if we are to gain a proper perspective of Who He is.
Godly Jealousy
The apostle Paul faced opposition wherever he went – human opposition, largely Jewish in origin, and the satanic opposition that was behind the human element. Both were due to jealousy, for both the Jews and Satan were jealous of losing followers.
In Paul's letter to the Galatians, he describes a godly jealousy to believers who he thought had been deceived by false apostles using the serpent's cunning, and their minds somehow be led astray from their sincere and pure devotion to Christ (see Galatians 1:6-9).
It is clear from Paul's teaching in Colossians and other letters, notably Galatians and Romans, that Christianity is not about giving up abstaining from legitimate bodily pleasures like food but is about giving up the attitudes and practices that displease God, such as pride, lust, envy, quarreling, rivalry and prejudice. It means living consistently in Christ every day of your life.
Jude also focuses on the characters of false teachers and their similarity to the characters of three people in the Old Testament. He starts with Cain, who killed his brother out of jealousy. He tells the readers that the false teachers are motivated in part by jealousy, just like Cain, and so are bound to affect those who listen.
Look into the Mirror-The Word of God
James says that the Bible is like a mirror that can show us what we are like through the people we read about (James 1:23). We can compare ourselves with Bible characters and ask whether we would have behaved in the same way. We are envious of others because the more you have, the more you want, and the more you envy those who have got more. James says,
But if you have bitter jealousy (envy) and contention (rivalry, selfish ambition) in your hearts, do not pride yourselves on it and thus be in defiance of and false to the Truth…. For wherever there is jealousy (envy) and contention (rivalry and selfish ambition), there will also be confusion (unrest, disharmony, rebellion) and all sorts of evil and vile practices (James 3:14 AMP).
James goes on to tell us that strife, discord feuds, conflicts quarrels and fightings originate and arise from our sensual desires that are ever warring in our bodily members.  You are jealous and covet what others have and your desires go unfulfilled; so you become murderers.
To hate is to murder as far as your hearts are concerned. You burn with envy and anger and are not able to obtain the gratification, the contentment, and the happiness that you seek, so you fight and war. You do not have, because you do not ask. Or you do ask God for them and yet fail to receive, because you ask with wrong purpose and evil, selfish motives. Your intention is when you get what you desire to spend it in sensual pleasures (James 4:1-3 AMP).
Like it or not, then, we all have envy and jealousy from time to time. But jealousy is envy that we failed to keep under control – as when the dam bursts, the volcano erupts, the tongue becomes the fire of hell (James 3: 6).
Alexander Solzhenitsyn, who suffered decades of horrendous hardship as a political exile in the Siberian prison system known as the "gulag" wrote in the Gulag Archipelago:
Don't be afraid of misfortune and do not yearn after happiness. It is, after all, the same. The bitter doesn't last forever, and the sweet never fills the cup to overflowing. It is enough if you don't freeze in the cold, and if hunger and thirst don't claw at your sides. If your back isn't broken, if your feet can walk, if both arms work, if both eyes can see, and if both ears can hear, then whom should you envy? And why? Our envy of others devours us most of all. Rub your eyes and purify your heart and prize above all else in the world those who love you and wish you well.
Love endures long and is patient and kind; love never is envious nor boils over with jealousy, is not boastful or vainglorious, does not display itself haughtily (1 Corinthians 13: 4).
Don't let Satan rob you of this privilege of loving others and wishing them well. Don't give him a chance. Learn to recognize envy and jealousy in yourself as soon as possible, and then fear it. Fear jealousy and envy, as you would fear being trapped by a violent bear. Run from it. When you see it in yourself, repent, be honest with God and do all you can to resist it.
Until next time!
Image credit: Heavens Call