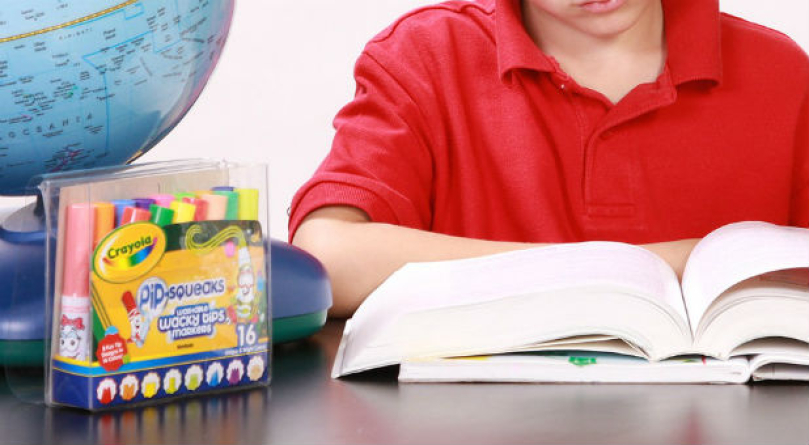 Here are two interesting articles confirming what we've been covering these past few days. This state-sponsored indoctrination has been a major goal of the educational system in the last 150 years.
School Pushes "Total Indoctrination," Comparing Trump to Hitler, Mussolini
A group of moms in Saratoga Springs, New York has decided to fight back against what they call the radical left-wing indoctrination that has infested the local school system.
They call themselves the "Conservative Chicks," and one of their leaders contacted me after reading my new book, The Deplorables' Guide to Making America Great Again.
She realized it was time to take a stand after a teacher at the local high school led a classroom presentation on fascism that included a graphic portrayal comparing President Donald Trump to Hitler and Mussolini.
That's right, folks.
A 10th-grade teacher at Saratoga Springs High School led a discussion on the rise of fascism during World War II by referencing President Trump.
"It's total indoctrination," said Melissa, the parent who contacted me. She asked that I not use her last name. "It's not their place to indoctrinate our children.
It's their job to teach the facts. Healthy debate is one thing, but this definitely crossed the line."
The entire lesson plan was posted on the school district's website. But once I started poking around and asking questions, the lesson was hidden behind a password protected wall.
Trump has absolutely no relation to World War II.There's no reason why he should be included with Stalin, Mussolini or Hitler, They are trying to link him to the leaders of that time. That crosses a line.
Another graphics listed "early warning signs of fascism":
Nationalism
Obsession with national security
Religion and government intertwined
Rampant sexism
Fraudulent elections
Obsession with crime and punishment
"The fact they posted this on the school's website shows just how brazen these teachers are," another concerned parent told me.
"Liberal teachers need to be reminded it's not okay to use their platform to push their agenda on our kids," the parent added.
Supt. Mike Piccirillo defended the lesson—telling me that "teaching about fascism as a political movement in the context of World War II is part of the curriculum."
So how does President Trump factor into World War II?
"The cartoons you referenced were used as examples to introduce a student debate regarding how some media may be portraying our government as exhibiting the early signs of fascism," he said.
The question posed to students was "Do you believe this is fair and/or accurate?"
So at some point, did the teacher explain to the classroom that such comparisons were not only unfair, but also grossly inaccurate?
The superintendent did not answer that question.
"These teachers are really pushing a liberal agenda on the kids," one of the moms told me.
I commend the Conservative Chicks for taking a stand and embracing the call to action in The Deplorables' Guide. 
© Copyright 2017, Charisma Media
In the U.K, Government Now Indoctrinating 4-Year-Olds with Gay Education
Children as young as 4 could be exposed to explicit teaching on same-sex relationships under government plans announced today.
Education Secretary Justine Greening has outlined proposals for a new statutory subject of "relationships education," to be implemented in primary schools across England.
The vague subject could open the door for children to be taught about a "bewildering array" of alternative lifestyles, causing confusion and undermining Christian values.
Questions
At this stage, it does not appear that parents of primary school children will be able to withdraw their children from such lessons.
The government has tabled amendments to the Children and Social Work Bill, which it says will also introduce statutory "relationships and sex education" in all secondary schools in England.
Greening stated that the right of withdrawal from sex education at secondary level will continue and gave assurances for faith schools.
Currently, local authority-maintained secondary schools must offer sex education, but primary schools are not required to do so.
'Confusion'
Deputy Director for Policy and Staffing at The Christian Institute, Humphrey Dobson, said:
Many parents would object if controversial sex education teaching could be imported into the new compulsory subject of relationships education which will be required in all schools, including primary schools.
This could expose young children to concepts that they and their parents fundamentally disagree with for religious or philosophical reasons. For example, it could be used to manipulate children into agreeing with same-sex marriage.
Over-broad language could be used to get pupils to agree with all types of relationship (which isn't right), rather than teaching respect for individual people (which is right).
Forcing teachers to confront 5-year-olds with a bewildering array of alternative lifestyles will simply sow confusion and undermine marriage.
Right of withdrawal
Sex education has become increasingly controversial, with the push for ever more explicit materials to be used at an ever-younger age.
Parents are likely to have strong reservations about some of the materials dealing with subjects like pornography, transsexualism and contraception, especially when they believe their children are too young for this teaching.
In these circumstances, parents have always been able to withdraw their child from the offending element of the lesson.
If there is no opt-out from relationships education in primary schools, what will parents do if the subject is used as a pretext for controversial ideas or materials? Undercutting that right of withdrawal in any way would be highly controversial with parents.
Teachers Sacked
In an editorial today, The Daily Telegraph stated its belief that parents are always the best people to decide on what is appropriate for children.
It warned that teachers who hold to socially conservative values are already under extreme pressure not to go against the grain:
"Teachers know that saying anything that fails to conform to the prevailing sexual orthodoxies (as determined by campaigners and activists) could result in the sack or worse."
"This decision will doubtless be greeted with approbation by MPs, but they also need to understand the limits to the statutory intrusion of the state into every aspect of our lives", it concluded.
New Clause 5
The news follows a separate attempt to rewrite sex and relationships education, via a different amendment to the Children and Social Work Bill.
New Clause 5 suggested that "Relationships Education" be made a national curriculum subject. It was put forward by MPs David Burrowes and Maria Miller
© Copyright 2017, Charisma Media