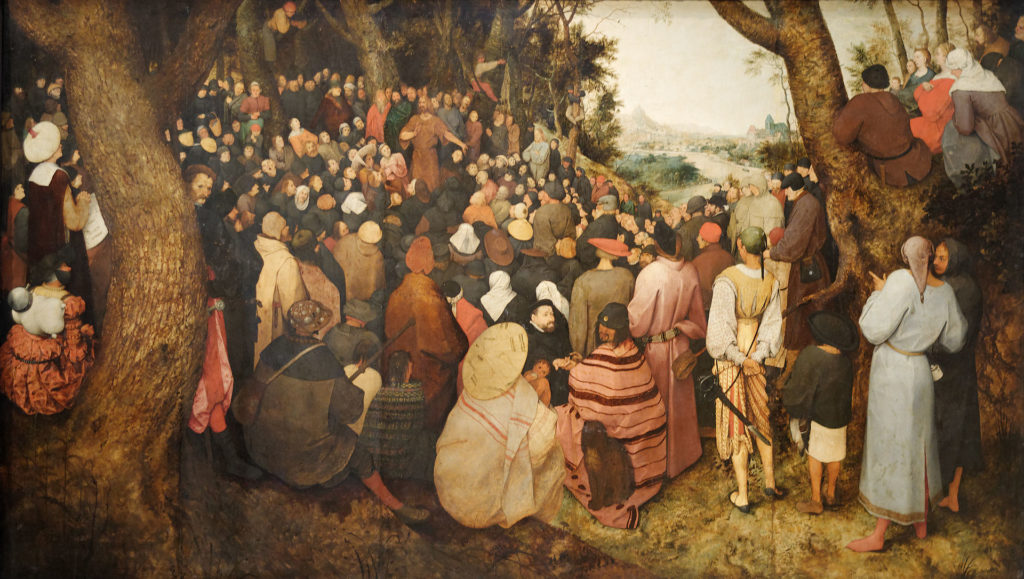 The Bible describes repentance as changing your views and purposes to accept the will of God in your inner man instead of rejecting it. True repentance involves a change of mind or purpose about sin, which is followed by a corresponding change of feeling about sin.
This pattern of repentance can be traced throughout the history of Israel. It is demonstrated in the reformations under the kings of Judah. We hear in the prayers of Ezra, Nehemiah, Daniel, Isaiah, Jeremiah, Ezekiel, as well as in the Minor Prophets.
We find the same emphasis in the New Testament where true repentance always precedes true faith. John the Baptist, Jesus Christ and the apostles preached "believe and repent" The message often preached today is "only believe."
In Luke 3:3 we read: John went into all the country round about the Jordan, preaching a baptism of repentance (of hearty amending of their ways, with abhorrence of past wrongdoing) unto the forgiveness of sin. John told the crowd that came to him for baptism to repent, which means to bear fruits that are deserving and consistent with our repentance, and to have a heart change that abhors sin…. And the multitudes asked him, Then what shall we do?
John replied by saying, "He who has two tunics, let him give to him who has none; and he who has food, let him do likewise" (Luke 3:11). Even the corrupt tax collectors who were notorious for their dishonesty came to be baptized and asked him what they should do. He told them, "Collect no more than what is appointed for you" (Luke 3:13). And the soldiers asked him what they should do. John replied, "Do not intimidate anyone or accuse falsely, and be content with your wages" (Luke 3:14).
John's message required three specific responses: to share what we have with those who don't have; whatever our work in life is, we are do it with excellence and with fairness; and we are to be content with our earnings. This message of repentance applied to the Romans because many of them oppressed the poor and used their laws and power to support their lavish and self-indulgent lifestyles.
In verse 15, we are told as the people were in suspense and waiting expectantly, and everybody reasoned and questioned in their hearts concerning John, whether he perhaps might be the Christ (the Messiah, the Anointed One). John answered them all by saying,
I baptize you with water; but He Who is mightier than I is coming, the strap of Whose sandals I am not fit to unfasten. He will baptize you with the Holy Spirit and with fire.
When Christ came, He began to preach, crying out same wilderness cry, Repent (change your mind for the better, heartily amend your ways, with abhorrence of your past sins), for the kingdom of heaven is at hand. (Matthew 4:17) And when our Lord sent out His disciples, it was with the same message, that men should repent (Mark 6:12).
Again, after His death and resurrection, Christ said to His disciples:
And that repentance [with a view to and as the condition of] forgiveness of sins should be preached in His name to all nations, beginning from Jerusalem. You are witnesses of these things. And behold, I will send forth upon you what My Father has promised; but remain in the city [Jerusalem] until you are clothed with power from on high (Luke 24:47-49 AMP).
After Jesus had been glorified, and the disciples were indeed baptized by Holy Spirit, we find Peter on the day of Pentecost raising the same cry, "Repent!" which is changing your views and purpose to accept the will of God in yourselves instead of rejecting it and be baptized…in the name of Jesus Christ for the forgiveness of and release from your sins; and you shall receive the gift of the Holy Spirit. For the promise [of the Holy Spirit] is to and for you and your children, and to and for all that are far away, [even] to and for as many as the Lord our God invites and bids to come to Himself (see Acts 2:36-39 AMP). When Paul went to Athens, he uttered the same cry,
Therefore God overlooked and disregarded the former ages of ignorance; but now He commands all people everywhere to repent [that is, to change their old way of thinking, to regret their past sins, and to seek God's purpose for their lives] (Acts 17:29-30 AMP).
The letters to seven churches show us five churches of which God, out of whose mouth goes the sharp, two-edged sword, says He has something against them. In each of these the key word of His message is not to the unbelievers but to the church: "Repent!" In the epistles to the Corinthians, Paul tells us,
For the kind of sorrow God wants us to experience leads us away from sin and results in salvation. There's no regret for that kind of sorrow. But worldly sorrow, which lacks repentance, results in spiritual death (2 Corinthians 7:10 NLT).
Godly sorrow which God requires must come from His views of sin. The one who truly repents looks at his own conduct as perfectly hateful. Sorrow according to the will of God, tending to the glory of God, and wrought by the Spirit of God, renders the heart humble, contrite, submissive, disposed to mortify every sin, and to walk in newness of life. And this repentance is connected with saving faith in Christ, and an interest in His atonement. There is a great difference between this sorrow of a godly sort, and the sorrow of the world.
The godly sorrow which leads to repentance is a judgment which the sinner pronounces upon himself, in view of the love of God displayed in the crucifixion and death of Jesus Christ on the cross. This is connected with the abandonment of all confidence in himself and trust in the only Savior of sinners.
Repentance is an ongoing, daily requirement in the life of every disciple of Jesus Christ. The call of discipleship sets the Christian in the middle of daily temptations against sin and the enemy.
Every day and every hour we encounter new temptations, and we must be called to suffer, carry the cross, and follow Christ, denying ourselves. If we refuse to take up our cross and die to ourselves daily through repentance, we forfeit our fellowship with Him and our fellow human beings. This is why Jesus said,
And he who does not take his cross and follow after Me is not worthy of Me. He who finds his life will lose it, and he who loses his life for My sake will find it (Matthew 10:38–39).
The good news is that the grace of God holds back judgment until God in His kindness has given everyone a chance to repent. The apostle Peter reminds us, "The Lord is not slack concerning His promise, as some count slackness, but is long-suffering toward us, not willing that any should perish but that all should come to repentance" (2 Peter 3:9).
The unsaved sinner cannot have any idea about the just punishment of sin, even if he might admit theoretically that sin deserves eternal death. If he believed it, it would be impossible for him to retain his sinful lifestyle. But the truly convicted sinner like me clearly sees that I deserve everlasting punishment from God. So don't ever think that when you repented and came back to the Father's house that mercy began to operate.
It was still the mercy of God that kept you and me from death and certain judgment and if at all it's not the mercy of God, every one of us would have perished eternally long time ago. And it is still the mercy of God that keeps us.
It was A. W. Tozer who wrote, "Don't imagine that when the Day of Judgment comes God will turn off His mercy."
God is so merciful as He has fully shown us at the Cross, and it is knowing that His goodness, forbearance, and long-suffering, leads you to repentance. (Romans 2:4) The Bible says that, "all our righteousness are like filthy rags" (Isaiah 64:6).
It is not our sins or righteous deeds, therefore, but His goodness that leads to repentance, therefore the true way to repent is to believe on the Lord Jesus Christ, Who was put to death because of our offenses, and was raised again for our justification. (Romans 4:25)
Image description: The Preaching of St. John the Baptist by Pieter Bruegel the Elder: Wikipedia