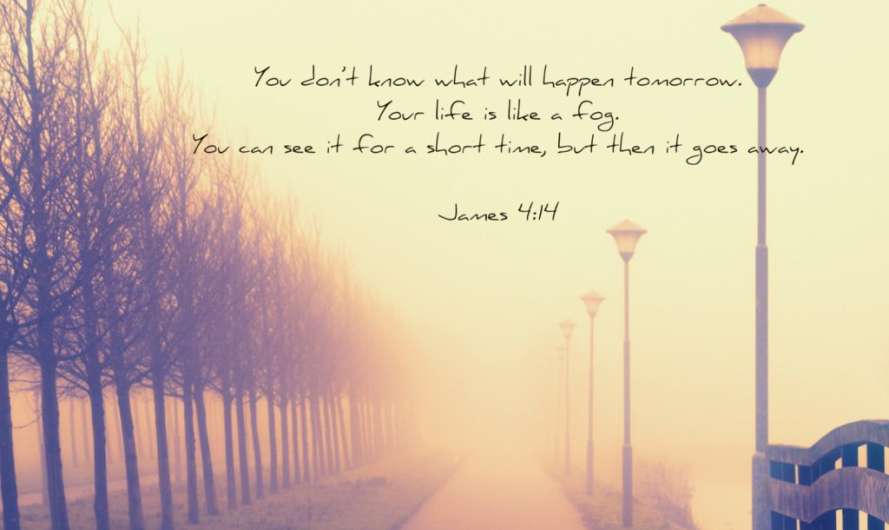 There are only two things that are certain to happen in any life. One is birth. The other is death. It seems the older you get, the faster time goes. Whether we are homeless, rich, poor, slave or free or something in between, the earth is no final resting place. So in a way, we are all homeless-just working our way toward home.
But if you are a Christian and Jesus Christ is your personal Lord and Savior; just honestly ask yourself this question: How much time do I devote to those things that are eternal? If you read the Bible diligently you will find that the primary concern of the Scriptures is directed towards spiritual or eternal life for man.
From Genesis to Revelation, the brevity of life is a theme throughout the Bible. We spend so much time securing our lives here on earth but so little time or thought about where we are going to spend eternity. Apart from God, life is fleeting and empty. We are really but a wisp of vapor (a puff of smoke, a mist) that is visible for a little while and then disappears into thin air which means life is short no matter how many years we live. (See James 4:14)
How tragic that most of us don't grasp the importance of eternity. You wonder why so much our time is spent (if not all) is spent on those things that are temporary! The Lord told the prophet Isaiah to cry out that all flesh is like grass and flowers that wither away. We are mortal, but the Word of God is eternal. (See Isaiah 40: 6-8)
God stated in Genesis 6:3 that the very most, He would allow man to live is 120 years. Moses lived to be 120 years old, Aaron 123, Miriam several years older, and Joshua 110 years of age. It's only in the Millennium that a person dying at 100 will still be thought a child (see Isa. 65:20).
So  Moses had every reason to plead who with God in Psalm 90 to remove the curse which made it necessary for every Israelite over twenty years of age (when they rebelled against God at Kadesh-barnea) to die before reaching the promised land (Num. 14:26-35).
The days of our years are threescore years and ten (seventy years)—or even, if by reason of strength, fourscore years (eighty years); yet is their pride [in additional years] only labor and sorrow, for it is soon gone, and we fly away. Who knows the power of Your anger? [Who worthily connects this brevity of life with Your recognition of sin?] And Your wrath, who connects it with the reverent and worshipful fear that is due You? So teach us to number our days that we may get us a heart of wisdom. (Psalms 90: 10-12 AMP)
Moses knew that seventy years never has been the average span of life for humanity. The 70 year span was not intended to refer to anyone except those Israelites under the curse during that particular forty years. When Jacob, the father of the twelve tribes, had reached 130 years (Gen. 47:9), he complained that he had not attained to the years of his immediate ancestors. However, due to the effects of sin, few of us live to be 100 or 120. Even in the most developed nations, the life expectancy is 77.4 for men and 82.2 for women.
When you look at these figures you can see that compared to eternity we are only given a very brief moment of time to get our priorities in line. To the eternal God, a thousand years are but yesterday when it is past, or as a watch in the night. This gives us real insight into the eternal God and the mortal man. We are to pray to the Lord to teach us to number our days that we may get us a heart of wisdom. Peter also wrote,
Nevertheless, do not let this one fact escape you, beloved, that with the Lord one day is as a thousand years and a thousand years as one day. The Lord does not delay and is not tardy or slow about what He promises, according to some people's conception of slowness, but He is long-suffering (extraordinarily patient) toward you, not desiring that any should perish, but that all should turn to repentance. (2 Peter 3-9 AMP)
The story goes that an economist once read these words and got very excited.
"Lord—is it true that a thousand years for us is just like a minute to you?"
"Yes."
"Then a million dollars to us must just be a penny to you"
"Yes."
"Lord, would you give me one those pennies?"
"All right. Wait here a minute."
Waiting for the 'penny' to obtain wealth for ourselves instead of the kingdom would make no difference in eternity. Here is David praying to the Lord to remind him how brief his time on earth will be. I pray this prayer more often than any other prayer in the Psalms:
Lord, make me to know my end and [to appreciate] the measure of my days—what it is; let me know and realize how frail I am [how transient is my stay here].Behold, You have made my days as [short as] handbreadths, and my lifetime is as nothing in Your sight. Truly every man at his best is merely a breath! Selah [pause, and think calmly of that]!

Surely every man walks to and fro—like a shadow in a pantomime; surely for futility and emptiness he is in turmoil; each one heaps up riches, not knowing who will gather them. And now, Lord, what do I wait for and expect? My hope and expectation are in You. Deliver me from all my transgressions; make me not the scorn and reproach of the [self-confident] fool!…..

I am dumb, I open not my mouth, for it is You Who has done it. Remove Your stroke away from me; I am consumed by the conflict and the blow of Your hand. When with rebukes You correct and chasten man for sin, You waste his beauty like a moth and what is dear to him consumes away; surely every man is a mere breath. Selah [pause, and think calmly of that]!

Hear my prayer, O Lord, and give ear to my cry; hold not Your peace at my tears! For I am Your passing guest, a temporary resident, as all my fathers were. O look away from me and spare me, that I may recover cheerfulness and encouraging strength and know gladness before I go and am no more! (Psalms 39: 4-13 AMP)
The Psalmist realised what a transient creature he was, for the length of his life was like nothing. We should not be deceived into thinking that we have lots of remaining time to live for and glorify Jesus Christ, or to enjoy our loved ones. I read an interesting article about what "time" it is in your life, depending on your age.
If you are 15, the time is 10:25 A.M.
20, the time is 11:34 A.M.
25, the time is 12:42 P.M.
30, the time is 1:51 P.M.
35, the time is 3:00 P.M.
40, the time is 4:08 P.M.
45, the time is 5:15 P.M.
50, the time is 6:25 P.M.
55, the time is 7:34 P.M.
60, the time is 8:42 P.M.
65, the time is 9:51 P.M.
70, the time is 11:00 P.M.
What "time" is it for you, and what would you like to do before the "midnight cry"? I don't know where that puts you, but for me it's about 4:45 P.M. That's very sad, because I sometimes go to bed around midnight!
We should look at life with eternity's values in view! 100 years from now it will not matter whether you had a nice bank account, a portfolio of stocks or mutual funds, a savings account or a retirement account! What will count for an eternity is: What was your relationship with Jesus Christ and what motivated you to serve Him?
The Top Five Regrets Of The Dying
Bronnie Ware was a Personal Care Worker for 8 years looking after the terminally ill. Inspired by what she discovered, she wrote a book about her experiences called The Top Five Regrets Of The Dying: A Life Transformed by the Dearly Departing. She said:
My patients were those who had gone home to die and some incredibly special times were shared. People grow a lot when they are faced with their own mortality and some changes were phenomenal. Each experienced a variety of emotions, as expected -denial, fear, anger, remorse, more denial and eventually acceptance.
Ms Ware recorded the most frequent five regrets in the elderly as:
1. I wish I'd had the courage to live a life true to myself, not the life others expected of me.

This was the most common regret of all. When people realize that their life is almost over and look back clearly on it, it is easy to see how many dreams have gone unfulfilled. Most people had not honored even a half of their dreams and had to die knowing that it was due to choices they had made, or not made. Health brings a freedom very few realize, until they no longer have it.'

2. I wish I hadn't worked so hard.

This came from every male patient that I nursed. They missed their children's youth and their partner's companionship. Women also spoke of this regret, but as most were from an older generation, many of the female patients had not been breadwinners. All of the men I nursed deeply regretted spending so much of their lives on the treadmill of a work existence.

3. I wish I'd had the courage to express my feelings.

Many people suppressed their feelings in order to keep peace with others. As a result, they settled for a mediocre existence and never became who they were truly capable of becoming. Many developed illnesses relating to the bitterness and resentment they carried as a result.

4. I wish I had stayed in touch with my friends.

Often they would not truly realize the full benefits of old friends until their dying weeks and it was not always possible to track them down. Many had become so caught up in their own lives that they had let golden friendships slip by over the years. There were many deep regrets about not giving friendships the time and effort that they deserved. Everyone misses their friends when they are dying.

5. I wish that I had let myself be happier.

This is a surprisingly common one. Many did not realize until the end that happiness is a choice. They had stayed stuck in old patterns and habits. The so-called 'comfort' of familiarity overflowed into their emotions, as well as their physical lives. Fear of change had them pretending to others, and to their selves, that they were content, when deep within, they longed to laugh properly and have silliness in their life again.
All these are noble regrets that some of us might have when our time comes, but the most important thing to remember is that, at the judgment seat of Christ, every one of us will have to give an account of what we did with the life, time, resources, talents and the calling God gave us. A.W.Tozer once said, "No man has any right to die until he has served God in his generation."
For we must all appear and be revealed as we are before the judgment seat of Christ, so that each one may receive his pay according to what he has done in the body, whether good or evil considering what his purpose and motive have been, and what he has achieved, been busy with, and given himself and his attention to accomplishing……And He died for all, so that all those who live might live no longer to and for themselves, but to and for Him Who died and was raised again for their sake. (2 Corinthians 5:10-15)
Source of Image: Heavens Call