Silence in the face of evil is itself evil: God will not hold us guiltless. Not to speak is to speak. Not to act is to act—Dietrich Bonhoeffer
See Video Report Here:
In response to the controversial videos apparently depicting Planned Parenthood officials negotiating the sale of organs from aborted babies, Dr. Alveda King, the niece of Dr. Martin Luther King Jr. King wrote an open letter directed to the Congressional Black Caucus, Concerned Black Clergy and other paralyzed leaders.
In that open letter she expressed her "heavy heart over the deafening silence coming from you" regarding these controversial videos:
Dear CBC, I am writing to you today because my heart is heavy over the deafening silence coming from you regarding a recent video that has gone viral exposing Planned Parenthood's practice of harvesting and selling aborted babies' body parts.

If they or anyone else had been exposed for harvesting and selling animal body parts, there would be such an outrage from the left and right. "Save the whales! Save the dolphins! Save the doggies and cats!" people would declare. But for some reason it seems to be okay to chop up the unborn babies and harvest their body parts.

It's been a week since the video that shocked a nation was released and not a word from the CBC. CBC, I ask you, "Are you so beholding to the abortion lobby that you are totally paralyzed and unable to garner the necessary will to denounce their behavior?"

The National Black Prolife Coalition of which I am a founding member has addressed you before challenging your support of the abortion industry that targets Blacks; those you profess to be protecting and fighting for. You never responded.

But I thought surely this current gruesome behavior on the part of PPH would be the catalyst for change. I thought to myself, "Surely, now the CBC will yank their support of an industry that is involved in the illegal harvesting and selling of body parts of aborted babies. But yet we hear nothing. Your silence is defeating.

My mother Naomi King and I visited the new Center for Civil and Human Rights Museum in Atlanta. There among the treasured artifacts we read "Secrets of Married Happiness," Uncle MLK's handwritten sermon about holy matrimony.

There were many displays throughout the museum, not just about MLK. Yet, like your position of silence, there is nothing there about the helpless mothers and babies who are victims of the abortion mills of our times. Their plight screams of human injustice and human trafficking at their work. Yet you remain silent.

For the record, my Uncle MLK was Prolife. Even though his wife attended the awards ceremony where a plaque was attributed to MLK, he didn't attend. MLK, my Daddy AD King and their father ML "Daddy" King were Prolife. Granddaddy even saved me and one of my children from abortion. Thank God he did.

I became suspicious of the motivation behind PPH awards and grants while investigating the so called MLK acceptance speech for the PPH Maggie Award. My Uncle MLK didn't write the speech, didn't attend the ceremony, didn't believe that abortion was a civil right. Like Mrs. Laura Bush and Mrs. Barbara Bush, Mrs. Coretta Scott King was prochoice in favor of a woman's right to choose abortion. She accepted the Maggie Award instead of her husband.

During her lifetime, in her own words, Planned Parenthood Founder Margaret Sanger said:

While the colored Negroes have great respect for white doctors, they can get closer to their own members and more or less lay their cards on the table… They do not do this with white people and if we can train the Negro doctor at the clinic, he can go among them with enthusiasm and…knowledge, which…will have far-reaching results among the colored people…The minister's work is also important and he should be trained, perhaps by the Federation as to our ideals and the goal that we hope to reach. We do not want word to go out that we want to exterminate the Negro population, and the minister is the man who can straighten out that idea if it ever occurs to any of their more rebellious members."

Yes, Sanger and her Federation targeted and sometimes paid Black leaders – doctors, preachers, lawyers, teachers – with grants and scholarships – to convince them to join her. Does this sound like love and compassion?

Attention CBC (Congressional Black Caucus and Concerned Black clergy). As a post abortive mother, I know first hand the pain abortion can bring. There is no agape love in abortion and trafficking baby body parts. They are hateful and violent deeds.

Matthew 6:24 says, "No one can serve two masters. Either you will hate the one and love the other, or you will be devoted to the one and despise the other. You cannot serve both God and money."

Well, CBC, you cannot serve both Planned Parenthood and your constituents. By serving Planned Parenthood you are not only hating the other or despising the other but your position is helping to kill our people.

It's not too late to put your constituents first, where they belong. Get behind; no take the lead in the investigations of Planned Parenthood. Take the lead in calling for the defunding of Planned Parenthood. It time to stand up for truth.
Source, Priests For Life via Watchman Research Media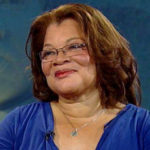 Dr. Alveda C. King is the daughter of the late slain civil rights activist Rev. A. D. King and his wife Naomi Barber King. Alveda is the grateful mother of six children and she is a doting grandmother. During the more than half century of her life, she has worked towards her purpose of glorifying God in the earth by accomplishing many goals.
Currently, Alveda is a minister of the Gospel of Jesus Christ, serving as Director of African American Outreach for Gospel of Life, headed up by Father Frank Pavone of Priests for Life. She also consults with the Africa Humanitarian Christian Fellowship, founded by her mentor, Pastor Allen McNair of Believers' Bible Christian Church in Atlanta, Georgia.
She is a former college professor, holding the Masters of Arts degree in Business Management. Her undergraduate studies in journalism and sociology helped her to become a published author, the most popular works being her bestselling books Sons Of Thunder: The King Family Legacy, and I Don't Want Your Man, I Want My Own. This inspirational collection of Christian testimonies is used at conferences and workshops around the world.