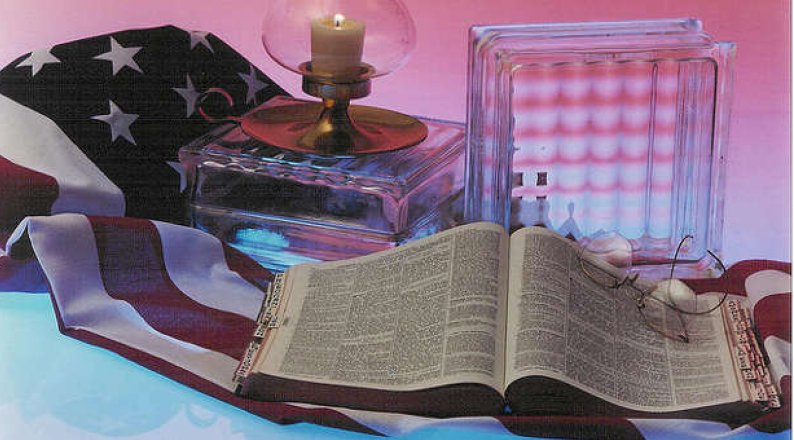 America, like most nations, is not mentioned specifically by name anywhere in Scripture. But many Bible prophecy teachers believe that America's role in the last days is mentioned, although the exact name America is not given.
Others hold the view that America is the world base for trade and economy; therefore it is the Mystery Babylon that heads up world trade. Others say it is the ancient Tarshish, whereas others claim Americans are the lost ten tribes of Israel. Let's briefly evaluate some of the common views given by prophecy teachers. The first one is:
The Mystery of Babylon 
Some have interpreted this to be a direct reference to the Babylon the Great. Jeremiah calls her the least of the nations. They say America has a mother who was directly responsible for her birth, and that nation is England who has been described as the mother of Babylon the Great:
Your mother shall be deeply ashamed; she who bore you shall be ashamed. Behold, the least of the nations shall be a wilderness, a dry land and a desert (Jeremiah 50:12).
Daniel refers to her as a Lion which is national symbol of England. The ancient prophecies describe a system called Mystery Babylon as leading trade and religion. The religious base for the World Church is no doubt the city of 7 hills—Rome-Mystery Babylon—Religion. Within this area lies the sovereign state-the Vatican.
Here is the mind which has wisdom: The seven heads are seven mountains on which the woman sits. And the woman whom you saw is that great city which reigns over the kings of the earth (Revelation 17:9, 18).
There are at least twenty five particular characteristics between Babylon in Jeremiah 50-51 and Revelation 18. But does this apply to America?
The youngest of the nations—Jeremiah 50:12
Born from a mother country (which was Britain for the U.S.)–Jeremiah 50:12
A mighty military and political power—Jeremiah 50:23
An arrogant, proud, and haughty nation—Jeremiah 50:31
People of foreign descent—Jeremiah 50:37
Covetousness reigns as the people live sumptuously, but want more while many in the world are starving—Jeremiah 50:38
A nation with a Godly heritage—Jeremiah 51:7
A nation of great wealth and prosperity—Jeremiah 51:13
Great attainments—Jeremiah 51:53
Space travelers –Jeremiah 51:53
A home for the cults and occult practices—Revelation 18:2
Worldwide immorality –Revelation 18:2
Large in foreign aid—Revelation 18:3
Large importers to satisfy the lust of the people—Revelation 18:3
Center of Christianity –Revelation 18:4
Excessive crime, sexual permissiveness, homosexual freedom, decadence of marriage vows, etc—Revelation 18:5
Proud and boastful people—Revelation 8:7
Other countries' economic strength depends on her economic strength–Revelation 18:9-10
World Trade Center—Revelation 18:11-13
Extravagant tastes—Revelation 18:14
Nation of influential cities—Revelation 18:18
Nation known for her music—Revelation 18:22
Nation known for her crafts (manufacturing capabilities)—Revelation 18:22
Nation known for her food production —Revelation 18:22
Her businessmen and great corporations are known world-wide—Revelation 18:23
To support their conclusion, some Bible teachers claim that Mystery Babylon's trading centre is the United States of America and Wall Street in New York City in particular. What are God's plans for this city? The answer given is found in Revelation 18:9-10, 15-17, 21, & Revelation 14:8
The kings of the earth who committed fornication and lived luxuriously with her will weep and lament for her, when they see the smoke of her burning, standing at a distance for fear of her torment, saying, 'Alas, alas, that great city Babylon, that mighty city! For in one hour your judgment has come……The merchants of these things, who became rich by her, will stand at a distance for fear of her torment, weeping and wailing, and saying, 'Alas, alas, that great city that was clothed in fine linen, purple, and scarlet, and adorned with gold and precious stones and pearls! For in one hour such great riches came to nothing.' Every ship master, all who travel by ship, sailors, and as many as trade on the sea, stood at a distance…Then a mighty angel took up a stone like a great millstone and threw it into the sea, saying, "Thus with violence the great city Babylon shall be thrown down, and shall not be found anymore……And another angel followed, saying, "Babylon is fallen, is fallen, that great city, because she has made all nations drink of the wine of the wrath of her fornication (Revelation 18:4).
Pastor Dimitru Duduman
The Romanian pastor Dimitru Duduman came to America from Communist Romania. He spoke no English and his prophetic messages regarding America were interpreted by his English-speaking grandson.
According to author Price John, God showed Duduman what America would encounter in its future if it didn't repent and turn back to Him. He saw America's cities burning, its people shooting each other and widespread death.
In his many thousand sermons preached across America, based on his message of the coming trouble, interpreted by his English-speaking grandson, he started each by saying: "It will begin with an internal revolution – started by the Communists." You can watch one of his sermons below:
Duduman subsequently wrote a book titled Through the Fire Without Burning, and he is quoted to have said that the "The Heavenly messenger showed him all of California, Las Vegas, New York and Florida,–this is Sodom and Gomorrah! All of this will burn in one day." Here John Price continues:
His words were consistent with Jeremiah's description of roaring young lions in the Daughter of Babylon. Whether caused by allegations of voter fraud and stolen elections, perceived racial injustice, Occupation protestors, bank closings, the collapse of the dollar, shortage of food or some other triggering event, America could quickly erupt in violence, even revolution, in its streets. Americans own millions of firearms. Its government (Department of Homeland Security) recently confirmed that it is buying two billion hollow point bullets, which are prohibited in warfare and not used in target practice. How far is America from Jeremiah's warnings of "violence in the land and of ruler against ruler?
Mark Hitchcock, author of The Late Great United States rejects the view that America is Mystery Babylon. He writes,
While there could be a few interesting parallels between Babylon and New York City, I don't believe this is the best view.
Why? Mark reasons that Babylon in Revelation 17-18 refers to a literal rebuilt city of Babylon in modern-day Iraq on the Euphrates River, which God will destroy at the end of the Tribulation.
……While it is possible that the name Babylon is a code name for Rome, New York, Jerusalem, or some other city, the test contains no indication that the name is meant to taken figuratively or symbolically. A literal Babylon is the best interpretation. Babylon is the most-mentioned city in the Bible, other than Jerusalem. It is mentioned about three hundred times in Scripture, and it is consistently pictured as the epitome of evil and rebellion against God. Babylon is Satan's capital city on earth.
Babylon is the city where people first began to worship themselves in organized rebellion against God (Genesis 11:1-11).
Babylon was the capital city of the first world ruler, Nimrod (Genesis 10:8-10; 11:9).
Nebuchadnezzar, king of Babylon, destroyed the city of Jerusalem and the temple in 586 BC.
Babylon was the capital city of the first of four Gentile world empires to rule over Jerusalem.
Since Babylon was the capital city of the first world ruler and is pictured as Satan's capital city on earth throughout Scripture, it makes sense that in the end times he will once again raise up this city as the capital of the final world ruler.
This city according to Mark Hitchcock will be rebuilt in the last days to serve as the religious and commercial capital for the antichrist's empire. Wickedness will return to this place for its final stand…. The rise of Iraq in recent years on the world political and economic scene by its huge oil revenues, is not accident….The current rebuilding and rise of Babylon in modern Iraq may be a key part of God's plan for the end times.
Dr. David Reagan also contends that the United States is not a fulfillment of Revelation 18: He explains:
There is no doubt that the United States shares many similarities with the corrupt commercial empire depicted in this chapter. The empire is described as one that is in rebellion against God, to the point that it has become "a dwelling place of demons" (Revelation 18:2). It further states that the immorality of this empire has corrupted all the nations of the world. (Revelation 18:3) It is also made clear that this "Babylon the Great" will completely dominate the world economy, and its destruction will result in the collapse of the economies of all nations (verse 9, 11, 17). In the present international context, it certainly sounds like the United States. But, again, the Bible in Revelation 17:9 tells us that seven heads of the beast (the antichrist) are representative, in part, of "seven mountains."
In the first century context, this could only be a reference to Rome, for it is known as "the city of seven hills." This identification is further reinforced by verse 18 which states that the woman riding the beast "is the great city, which reigns over the kings of the earth."Again, there is only one city that could fit that description in the first century context of the passage, and that is Rome.
This is not United States that is fulfilling Revelation 18. The Revelation chapter is describing the last Gentile world empire that will dominate the earth at the time of the Lord's Second Coming. It is the empire of the antichrist.
What Will be the Final Fate of America?
The Bible is silent…. The possible scenarios are likely to be economic collapse, the rapture of the Church due to the many born again Christians who are more than any other nation in the world, destruction from a Russian nuclear attack, internal terrorist attack similar to the one on 9/11, dirty bombs, and the internal collapse due to the moral collapse as America has forgotten its Biblical Christian heritage.
However in my study, I have discovered a consensus and predominant view among prophecy biblical scholars that in the end times America might be absorbed into the Revived Roman Empire, thereby becoming a part of the end-time Western confederacy of nations, which means America will no longer be the leader of nations, but it will be part of the European Union poised to lead the Western world.
This seems only natural in view of all the historic and cultural ties America has with Europe. For instance, in 1782 J. Hector St. John de Crevecoeur, in Letters from an American Farmer wrote:
Whence came all these people? They are a mixture of English, Scotch, Irish, French, Dutch, Germans, and Swedes… What, then, is the American, this new man? He is neither a European nor the descendant of a European; hence that strange mixture of blood, which you will find in no other country. I could point out to you a family whose grandfather was an Englishman, whose wife was Dutch, whose son married a French woman, and whose present four sons have now four wives of different nations. He is an American, who, leaving behind him all his ancient prejudices and manners, receives new ones from the new mode of life he has embraced, the new government he obeys, and the new rank he holds. . . . The Americans were once scattered all over Europe; here they are incorporated into one of the finest systems of population which has ever appeared.
Is America and Britain the Ten Lost Tribes of Israel?
Another common view is what some have termed as British Israelism, which the belief that many of the world's English–speaking peoples like the United States, Great Britain, Canada, Australia and New Zealand, are direct descendants of the ten lost tribes of Israel, and since God looks kindly upon the descendants of Israel, therefore those who claim this relationship often believe that they are favored by God.
Those that hold this view believe that this is the main reason why they've come to possess the richest portions of earthly wealth. Most of these people who believe in British Israelism maintain that when the Assyrians conquered Samaria, Israel's capital in 721 BC, the northern tribes of Israel were captured and enslaved by the Assyrians.
So these northern tribes never returned from their captivity and they contend that these "the ten lost tribes" of Israel made their way to Northern Europe, the British islands and some migrated as far as North and South America, Australia, New Zealand, South Africa, and around the world.
These theological doctrines and teachings have been attributed to Mr. Herbert M. Armstrong (1892- 1986) founder of Worldwide Church of God who taught that the people of the United States, the British Commonwealth nations, and European northwestern nations are the lost ten tribes of Israel. His interpretation is very complicated and tedious and he concludes that England descended from Ephraim and the United States from Manasseh.
Some prophecy teachers reject his interpretation and have claimed that he takes passage after passage out of context. Again Mark Hitchcock rightly notes:
The northern tribes have been not been lost. Many of them have been dispersed, but not lost. God knows where every man, woman, and child of them is located. Those who doubt that God will literally appoint 144,000 Jewish males during the end times are lacking a biblical view of God. (See Revelation 7:4-7) Even though tribal identities may be forgotten by mankind, God has never lost track of them—who or where they are. And in our time we are witnessing the initial stages of the final re-gathering of the Jewish people to their ancient homeland…These ten tribes are not, nor have they ever been lost. And they are not in any way related to the United States. The United States is not the ten lost tribes of Israel, nor the tribe of Manasseh. Israel is still Israel and will fulfill its central role in the events of the end times, just as the Bible predicts.
What about the Tarshish View?
According to some interpreters Tarshish is a cryptic hidden reference to England and her young cubs are America, Canada, Australia, New Zealand, South Africa etc. The eagle wings on top of the lion has been described as America her daughter. America's national symbol is the Eagle with outstretched wings. The prophet Ezekiel also describes it as Tarshish who give births to "young lions or cubs."
Sheba, Dedan, the merchants of Tarshish, and all their young lions will say to you, 'Have you come to take plunder? Have you gathered your army to take booty, to carry away silver and gold, to take away livestock and goods, to take great plunder (Ezekiel 38:13)?
But the problem with this interpretation is no one knows the true identity of Tarshish. It could be one of any number of Phoenicia's western ports where Jonah bought a ticket and went on board, hoping to escape from the Lord by sailing to Tarshish (Jonah 1:3) The major Phoenician cities were on the coastline of the Mediterranean.
It was a trading culture that spread across the Mediterranean from 1550 BC to 300 BC. Other archeologists indicate that Tarshish was most likely ancient Tartessus. It prospered from trade with the Phoenicians and Carthaginians, and it was probably destroyed by the Carthaginians around 500 B.C.
The exact site of the town is not known, but archeological evidence suggests it may have been near present-day Sevilla in Spain. But apart from that Tarshish is used in Scripture as a symbol of the areas west of Israel. Therefore, the most likely interpretation of Ezekiel's scripture is that the nations of Western Europe will speak out against the prophesied Russia-led invasion of Israel in the end times.
We should study the Scriptures
We've seen some of the arguments and interpretations in prophecy, concerning the greatest nation in history. I think we should all be open minded and be like the Berean believers who searched the Scriptures day after day to see if Paul and Silas were teaching the truth (Acts 17:10-11). Let us study the Scriptures and ask the Holy Spirit to reveal the truth to us and then draw our own conclusions.
Regardless of the true identity of Babylon, it will still be destroyed in one hour as the Bible predicts in Revelation 18:8-10. Therefore regardless of America's final destiny, our hope as believers is in Jesus Christ who promised never to forsake us no matter what we face.