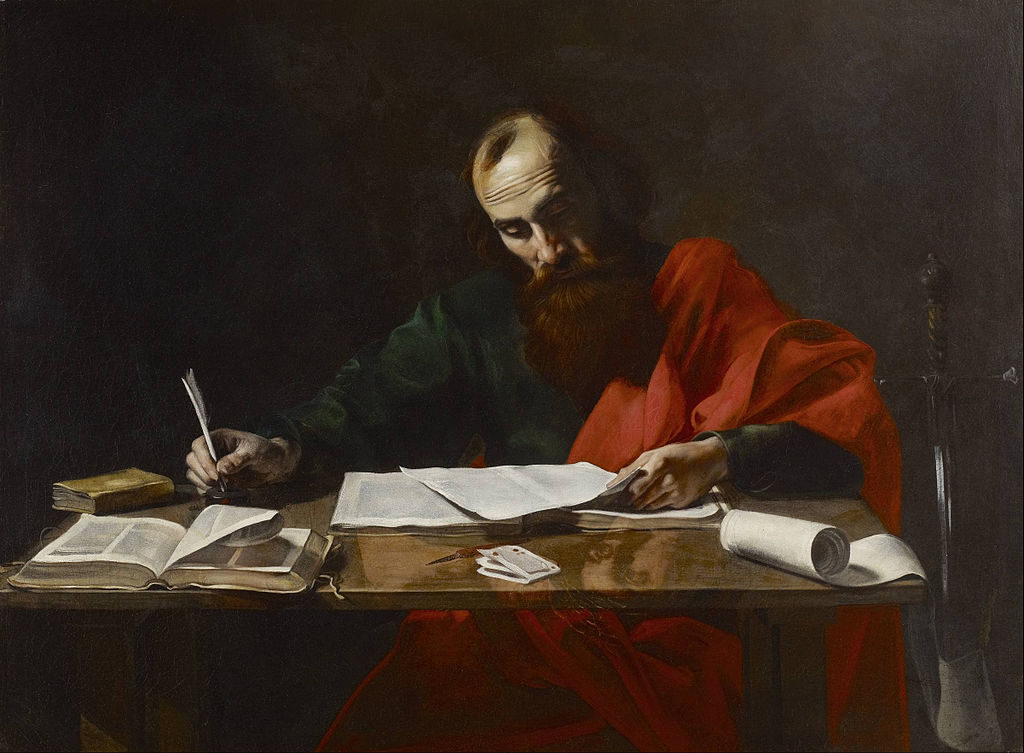 Paul Writing His Epistles, painting attributed to Valentin de Boulogne, 17th century. Public Domain
The Bible tells us that after Jesus had risen from the dead, He appeared again to the disciples, this time at the Tiberias Sea (the Sea of Galilee). He then found Peter had gone back to his old trade of fishing. When Simon Peter realized that it was the Master, he threw on some clothes, for he was stripped for work, and dove into the sea.
The other disciples came in by boat for they weren't far from land, a hundred yards or so, pulling along the net full of fish. When they got out of the boat, they saw a fire laid, with fish and bread cooking on it. Jesus said, "Bring some of the fish you've just caught." Simon Peter joined them and pulled the net to shore—153 big fish! And even with all those fish, the net didn't rip.
Jesus said, "Breakfast is ready." Not one of the disciples dared ask, "Who are you?" They knew it was the Master. Jesus then took the bread and gave it to them. He did the same with the fish. This was now the third time Jesus had shown himself alive to the disciples since being raised from the dead.
After breakfast, Jesus asked Simon Peter the same question three times, "Simon, son of John, do you love me more than these?" "Yes, Master, you know I love you."Jesus said, "Feed my lambs." The last time Jesus asked him this question, Peter replied that Jesus knew everything; of course he loved Him (see John 21:15–17).
Peter's ministry to the sheep was to be motivated by his love for the Master. In his first letter to the churches in the northern part of Asia Minor, Peter reiterated the Lord's words in describing what a kind of servant Jesus expects to find when He comes back:
I warn and counsel the elders among you (the pastors and spiritual guides of the church) as a fellow elder and as an eyewitness [called to testify] of the sufferings of Christ, as well as a sharer in the glory (the honor and splendor) that is to be revealed (disclosed, unfolded): Tend (nurture, guard, guide, and fold) the flock of God that is [your responsibility], not by coercion or constraint, but willingly; not dishonorably motivated by the advantages and profits [belonging to the office], but eagerly and cheerfully; Not domineering [as arrogant, dictatorial, and overbearing persons] over those in your charge, but being examples (patterns and models of Christian living) to the flock (the congregation). And [then] when the Chief Shepherd is revealed, you will win the conqueror's crown of glory. (1 Peter 5:1-4 AMP)
The above Scripture tells us that the overseers–the pastors, the shepherds, the elders, the apostles are appointed by Jesus to take care of the flock not grudgingly and motivated by the advantages of getting something out of it, but because of the love you have for the Lord Jesus Christ. Having a rich relationship with God, one full of love, faith, and obedience to the Master, should motivate us to do good works, not to seek riches.
Another important lesson is never to let the question of money deter you from "declaring…the whole purpose and plan and counsel of God." (Acts 20:27) Pastors and preachers are to be examples to the flock because actions teach even more impressively than sermons.
Paul in giving instructions to Timothy told him to: Take heed to yourself and to the doctrine. Continue in them, for in doing this you will save both yourself and those who hear you. (1Timothy 4:16)
When Jesus concludes His teaching in Matthew 24-45-51, He speaks about those He has set over His household to give His people the food in due season.
Who then is a faithful and wise servant, whom his master made ruler over his household, to give them food in due season? Blessed is that servant whom his master, when he comes, will find so doing. Assuredly, I say to you that he will make him ruler over all his goods. But if that evil servant says in his heart, 'My master is delaying his coming,' and begins to beat his fellow servants, and to eat and drink with the drunkards, the master of that servant will come on a day when he is not looking for him and at an hour that he is not aware of, and will cut him in two and appoint him his portion with the hypocrites. There shall be weeping and gnashing of teeth.
This readiness to meet the Lord when He returns should be one of the great motivations of the Christian life and that is why every Christian must strive to be perfect in motive.
No outward actions are acceptable to God, including religious practices, unless they are done from the heart to please God and with the right motives. Nothing should be done through selfish ambition or conceit, but in lowliness of mind, we are to esteem others better than ourselves. (See Philippians 2:3-4)
Therefore, we should not be drawn to do any kind of work or service in the hopes of wealth or fame, but rather out of love and obedience to the Lord Jesus Christ. For the Bible also tells us:
For we must all appear and be revealed as we are before the judgment seat of Christ, so that each one may receive [his pay] according to what he has done in the body, whether good or evil [considering what his purpose and motive have been, and what he has achieved, been busy with, and given himself and his attention to accomplishing]. (2 Corinthians 5:10 AMP)
Success in ministry is not how big your Church is, or how many people you preach to. Success is knowing the Lord intimately and being faithful to the call allotted to you by the Lord Jesus Christ. The most important thing is that we have to be controlled, compelled and constrained by His love in us to preach the Gospel.
As Paul explains "For the love of Christ controls and urges and impels us, because we are of the opinion and conviction that [if] One died for all, then all died." (2 Corinthians 5:14) Jesus said "If anyone loves Me, he will keep My word." Love for Jesus is the only fruitful motivation for service.
We have to remember that the most important thing for any believer in ministry, career or business is a personal and intimate relationship with Jesus Christ. The Bible tells us, when Jesus went to visit Mary and Martha, Martha was too preoccupied with too much serving.
She got upset with Mary who chose to sit at the feet of Jesus. Then she said to the Lord, "Is it nothing that my sister has left me to serve alone?" And He responded to her, "Martha, Martha, you are worried and troubled about many things. But one thing is needed, and Mary has chosen that good part, which will not be taken away from her" (Luke 10:41–42).
The whole question of meaning, fulfillment, and purpose in life springs from knowing and loving God intimately. Success in life is measured by love and faithfulness whether we are being recognized by man or not. The apostle Paul prayed to be conformed to the image of the Lord's death and his prayer was answered (See Philippians 3:1-21).
He died with all his unfaithful friends having deserted him and some of the churches he had given his life to serving had already gone into apostasy (see Galatians 1:6-9). Yet Paul lived for eternity instead of the temporary. The letters he wrote from prison are still bearing more fruit for eternal life than all of the efforts of all who are in ministry today. But would they have been remembered if Paul had not been so faithful, even to the end, even unto death? Probably not. The question is:
Is What you're Living for Worth Christ Dying for?
Leonard Ravenhill once asked the question, Is what you're living for worth Christ dying for? In his book, Live before You die, Missionary and evangelist Daniel Kolenda tells a story of an American soldier in the Vietnam War who was about to step on a landmine that was hidden from his sight. His fellow soldier, who could see the impending disaster about to happen to his comrade, stood up from behind his protective barricade and shouted a life-saving warning to his friend.
At that moment the brave young man received a gunshot wound that ended his life. A couple of years later, at an honorary memorial service in the United States, the soldier whose life had been saved from the landmine had a chance to meet the wife and son of his deceased friend. The son, who was only seven years old, had never gotten a chance to really know his father.
The soldier could tell that this boy's heart was broken, so he knelt down next to him and put his hand on the child's soldier. "I want you to know" the soldier said, "Your father saved my life." The little boy looked up at him with tears streaming down his cheeks. "Sir," he said, "were you worth it?"