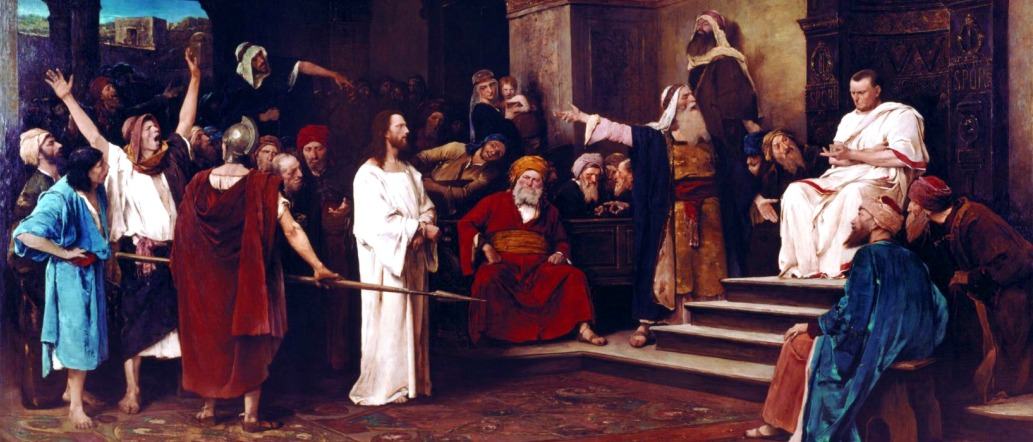 The Old Testament Passover Lamb, a type of Christ, was examined for 72 defects. The true Lamb of God, our Lord Jesus Christ, was absolutely without fault. No wonder Pilate said to the chief priests and to the people, "I find no fault in this Man." In Genesis 22, the Bible tells us when Abraham was about to sacrifice his son Isaac, God provided Himself a Lamb, Who in the fullness of time would take away the sin of the world.
It was this Lamb that was slain to redeem us back to God again. Jesus said, "Your forefather Abraham was extremely happy at the hope and prospect of seeing my day (My incarnation); and he did see it and was delighted." (John 8:56 AMP)
I heard a preacher saying that on one of his last visits to Israel, a taxi driver who took him to the airport turned to him and said, Why did we kill Him-Yeshua? The whole of Israel is talking about Him. He was a good man, He worked miracles, He did nothing bad-why did we kill Him? Was He the Messiah? This is exactly what Scripture says, there will come a time when they will recognize He is the Messiah and will cry out for forgiveness—and the Lord will hear them! (See Zechariah 13:9)
It should be noted that they are well produced documentaries that contain extreme views that may have provoked cynicism in some Christians who have watched them. For instance some have called the New Testament the most dangerous anti-Semitic tract in history. In fact a growing number of Christian theologians are declaring that the Scriptures in the Gospels (particularly John's gospel) that claim the Jews conspired with the Romans to crucify Jesus are not accurate and should therefore be removed from the New Testament. We don't intend to argue about these extreme cases, but we are setting out to explore what the Bible actually teaches concerning this subject.
Firsthand accounts from the New Testament writers John and Matthew indicate that the Jewish religious leaders conspired with the Roman leaders to crucify Jesus Christ. These two gospel accounts were written by two writers who were one of the twelve apostles and therefore had enough time to reflect on the three years they had spent living close to the Lord.
The gospel according to Matthew records that at the Feast of Passover the governor was in the habit of releasing one prisoner for the people. And that time they had a notorious prisoner whose name was Barabbas. So when they had gathered for this one purpose, Pilate said to them, Whom do you want to set free for you Barabbas or Jesus Who is called the Christ? (See Mathew 27:17-18)
At first Pilate hesitated to give the religious leaders permission to crucify Jesus. He perceived that it was because of envy and jealousy that they had handed Him over to him and his conscience also bothered him that Jesus was an innocent Man. According to Roman law an innocent man could not be put to death. We should also remember that while Pilate was seated on the judgment bench, his wife sent him a message, saying, Have nothing to do with that just and upright Man, for I have had a painful experience today in a dream because of Him. (See Matthew 27:19) John records that:
Pilate entered the Praetorium again, called Jesus, and said to Him, "Are You the King of the Jews?" Jesus answered him, "Are you speaking for yourself about this, or did others tell you this concerning Me?"Pilate answered, "Am I a Jew? Your own nation and the chief priests have delivered You to me. What have You done?"Jesus answered, "My kingdom is not of this world. If My kingdom were of this world, My servants would fight, so that I should not be delivered to the Jews; but now My kingdom is not from here."Pilate therefore said to Him, "Are You a king then?"Jesus answered, "You say rightly that I am a king. For this cause I was born, and for this cause I have come into the world, that I should bear witness to the truth. Everyone who is of the truth hears My voice." Pilate said to Him, "What is truth?" And when he had said this, he went out again to the Jews, and said to them, "I find no fault in Him at all. (John 18:33-38)
Pilate kept on insisting that he found Jesus not guilty of any offense but the Jewish leaders insisted that He should be crucified. The religious leaders had arrested Jesus of blasphemy which according to their law He ought to die because He called Himself the Son of God, but that charge was meaningless to the Romans. So the religious leaders had to accuse Jesus of crimes that would convince the Roman government that He deserved to die, crimes such as claiming to be a King, causing riots, and encouraging non-payment of taxes.
All these charges were not true but the religious leaders were determined to kill Jesus. The Bible tells us that Pilate had told the religious leaders take Jesus away and judge Him by their own law. (John 18:31-32) The Jewish leaders replied that only the Romans are permitted to execute someone. This fulfilled Jesus' prediction about the way He would die. (See Luke 18:31-33)
Meanwhile, the leading priests and the elders persuaded the crowd to ask for Barabbas to be released and for Jesus to be put to death. Pilate said to them, then what shall I do with Jesus Who is called the Christ? They all replied, let Him be crucified! And he said, Why? What has He done that is evil? But they shouted all the louder, Let Him be crucified! (Matthew 27:20-22)
John records that when Pilate heard all these shouts of crucify Him…crucify Him… he was more frightened than before. He took Jesus back in to the judgment hall again and said to Jesus that he had power to release Him or crucify Him. Jesus answered,
You would not have any power or authority whatsoever against (over) Me if it were not given you from above. For this reason the sin and guilt of the one who delivered Me over to you is greater. Upon this, Pilate wanted (sought, was anxious) to release Him, but the Jews kept shrieking, If you release this Man, you are no friend of Caesar! (See John 19:8-13 AMP)
When the Jews threatened to report Pilate to Caesar, Pilate became afraid. History indicates that the Jews had already threatened to lodge a formal complaint against Pilate for his stubborn flouting of their traditions. This compliant would have led to Pilate losing his job, and the Roman government couldn't afford to large number of troops in all the regions under their control, therefore Pilate had to do whatever he could to maintain peace and order.
But the chief priests and the elders prevailed on the people to ask for Barabbas, and put Jesus to death. Pilate the Roman governor agrees to release to the crowd a murderer named Barabbas and to impose the death sentence on Jesus instead.
So when Pilate saw that he was getting nowhere, but rather that a riot was about to break out, he took water and washed his hands in the presence of the crowd, saying, I am not guilty of nor responsible for this righteous Man's blood; see to it yourselves. And all the people answered, Let His blood be on us and on our children! So he set free for them Barabbas; and he had Jesus whipped, and delivered Him up to be crucified. (Mathew 27:20-26)
In his book Blessing or Curse You can Choose, Derek Prince writes,
These words, His blood be on us and on our children… combined two forms of curse: a self-imposed curse on themselves; a relational curse on their descendants. The objective record of history confirms the outworking of both. Within one generation the Roman armies had destroyed Jerusalem, and either killed or sold into slavery the entire population. Since that time, for nineteen centuries, a dark strand of bloodshed and tragedy has been interwoven in the destiny of the Jewish people. Time after time, in pogrom after pogrom, Gentile rulers have turned loose against defenseless Jews violent, depraved men of the caliber of Barabbas—the one whom they had chosen.
Luke also records that when Jesus was about to be crucified, a large crowd followed Him, including grief stricken women. But Jesus turned and said to them:
Daughters of Jerusalem, don't weep for me, but weep for yourselves and for your children. For the days are coming when they will say, 'Fortunate indeed are the women who are childless, the wombs that have not borne a child and the breasts that have never nursed.' People will beg the mountains, 'Fall on us,' and plead with the hills, 'Bury us." For if these things are done when the tree is green, what will happen when it is dry? (Luke 23:27-31)
Jesus knew that in only about 40 years, Jerusalem and the Temple would be destroyed by the Romans.
The Book of Acts
The book of Acts provides the basic history of the spread of Christianity from Jerusalem to Rome following the death and resurrection of Jesus Christ. Let's briefly examine what the apostles had to say about this very controversial subject. In Acts 1:8 we read, "But you shall receive power when the Holy Spirit has come upon you; and you shall be witnesses to Me in Jerusalem, and in all Judea and Samaria, and to the end of the earth."
This witness for Christ starts in Jerusalem further into Judaea and Samaria, and then finally it spreads from there to Europe and the heart of the Roman Empire. But after the Holy Spirit's coming on the day of Pentecost, Peter's part of the sermon to the religious leaders says,
Therefore let the whole house of Israel recognize beyond all doubt and acknowledge assuredly that God has made Him both Lord and Christ (the Messiah)—this Jesus Whom you crucified. (Acts: 2:36)
The second time was when Peter and John were going to the Temple one afternoon in the three o'clock prayer service. Peter prayed for crippled beggar and he began to walk. So Peter saw this as an opportunity to address the crowd:
Men of Israel, why do you marvel at this? Or why look so intently at us, as though by our own power or godliness we had made this man walk? The God of Abraham, Isaac, and Jacob, the God of our fathers, glorified His Servant Jesus, whom you delivered up and denied in the presence of Pilate, when he was determined to let Him go. But you denied the Holy One and the Just, and asked for a murderer to be granted to you, and killed the Prince of life, whom God raised from the dead, of which we are witnesses. (Acts 3:12-15)
Peter goes on to tell his Jewish brothers that they had acted in ignorance, they were not aware of what they were doing, as did your rulers also. He told them that:
God had fulfilled what was foretold by all the prophets about the Messiah, and that they should repent therefore and be converted, that your sins may be blotted out, so that times of refreshing may come from the presence of the Lord, and that He may send Jesus Christ, who was preached to you before, whom heaven must receive until the times of restoration of all things, which God has spoken by the mouth of all His holy prophets since the world began…. Yes, and all the prophets, from Samuel and those who follow, as many as have spoken, have also foretold these days. You are sons of the prophets, and of the covenant which God made with our fathers, saying to Abraham, 'And in your seed all the families of the earth shall be blessed. 'To you first, God, having raised up His Servant Jesus, sent Him to bless you, in turning away every one of you from your iniquities. (Acts 3: 17-26)
The Scriptures tells us that while Peter and John were speaking to the people, they were confronted by the priests, the captain of the Temple guard, and some of the Sadducees. These leaders were very disturbed that Peter and John were teaching the people that through Jesus there is a resurrection of the dead. They put them in prison until the following day. Then on the next day the council of all the rulers and elders and teachers of religious law met in Jerusalem.
Annas the high priest was there, along with Caiaphas, John, Alexander, and other relatives of the high priest. They brought in the two disciples and demanded, "By what power, or in whose name, have you done this?" then Peter because he was filled with the Holy Spirit said to them:
Rulers of the people and members of the council (the Sanhedrin), if we are being put on trial here today and examined concerning a good deed done to benefit a feeble (helpless) cripple, by what means this man has been restored to health, Let it be known and understood by all of you, and by the whole house of Israel, that in the name and through the power and authority of Jesus Christ of Nazareth, Whom you crucified, but Whom God raised from the dead, in Him and by means of Him this man is standing here before you well and sound in body……. And there is salvation in and through no one else, for there is no other name under heaven given among men by and in which we must be saved. (Acts 4:8-10)
In Acts 5, the apostles were performing many miraculous signs and wonders among the people to the point Peter's shadow fell on some who were sick and they were all healed. But the high priest and the Sadducees were filled with jealousy and indignation and arrested the apostles and put them in jail. But during the night an angel of the Lord opened the prison doors and led them out saying:
Go, take your stand in the temple courts and declare to the people the whole doctrine concerning this Life (the eternal life which Christ revealed). Acts 5:17-20)
So Peter and the apostles obeyed the angel's command and began teaching in the Temple. When the leading priests heard that the apostles who were jailed are teaching the people, they again arrested the apostles and brought them before the high council, where the high priest confronted them saying:
We definitely commanded and strictly charged you not to teach in or about this Name; yet here you have flooded Jerusalem with your doctrine and you intend to bring this Man's blood upon us. (Act 5:28)
They rulers realized Peter and the apostles were laying the blood of Jesus upon them and they told them not to preach in that name. But Peter and the apostles replied:
We must obey God rather than men. The God of our forefathers raised up Jesus, Whom you killed by hanging Him on a tree (cross). God exalted Him to His right hand to be Prince and Leader and Savior and Deliverer and Preserver, in order to grant repentance to Israel and to bestow forgiveness and release from sins. And we are witnesses of these things, and the Holy Spirit is also, Whom God has bestowed on those who obey Him. (Act 5:28-32)
Another of those Holy Spirit filled apostles was a Jewish man known as Stephen. He was preaching when he was seized and brought before the religious rulers. Towards the end of Stephen's defense before the Jewish high council, he presented a review of the Jews' own history to his Jewish brothers by making powerful applications that exposed the evil intents of his listeners. Listen to his concluding remarks before he was martyred:
You stubborn and stiff-necked people, still heathen and uncircumcised in heart and ears, you are always actively resisting the Holy Spirit. As your forefathers were, so you are and so you do! Which of the prophets did your forefathers not persecute? And they slew those who proclaimed beforehand the coming of the Righteous One, Whom you now have betrayed and murdered. (Acts 7:51-52)
Following Stephen's sermon to the Sanhedrin, they stoned him to death for his blasphemous remarks, and Paul agreed to his execution. He even took care of the coats of the men who threw the stones. In fact after Stephen was buried; Saul was going everywhere to destroy the church. He went from house to house, dragging out both men and women to throw them in to prison. But it seems Stephen's death had a lasting impression on Saul (Paul) of Tarsus, who would move from being a persecutor of Christians to being one of the greatest preachers of the gospel the church has ever known.
His personal encounter with Jesus Christ changed his life forever and from then on he preached that Jesus was indeed the Messiah. In his first sermon to the Jews in the Synagogue in Antioch (Acts 13) he also began with an emphasis on God's covenant with Israel, something he would later reiterate in his letter to the Roman Christians. In that message Paul also emphasized the resurrection but when his message was scorned, he responded by saying:
Brethren, sons of the family of Abraham, and all those others among you who reverence and fear God, to us has been sent the message of this salvation [the salvation obtained through Jesus Christ. For those who dwell in Jerusalem and their rulers, because they did not know or recognize Him or understand the utterances of the prophets which are read every Sabbath, have actually fulfilled these very predictions by condemning and sentencing Him. And although they could find no cause deserving death with which to charge Him, yet they asked Pilate to have Him executed and put out of the way. And when they had finished and fulfilled everything that was written about Him, they took Him down from the tree and laid Him in a tomb. But God raised Him from the dead. (Acts 13: 26-30)
Conclusion
From the gospel writers and the book of Acts we can conclude that there were reports from eyewitnesses in the New Testament and they all agree that some Jewish people didn't like Jesus, especially the leaders who were jealous and envious of Him. But most of the Jewish people were followers of Jesus.
The other factor to be considered was the Romans, who saw Jesus as a political threat to their government. The Jewish high priest Caiaphas had also been considered a corrupt political puppet of Rome. In fact after Jesus had raised Lazarus from the death, Caiaphas, the chief priests and Pharisees called a meeting of the council and said,
What are we to do? For this Man performs many miracles. If we let Him alone to go like this, everyone will believe in Him and the Romans will come and suppress and destroy and take away our holy place, temple, city, civil organization and our nation. In this meeting Caiaphas who was the high priest that year declared, You know nothing at all!….Its expedient…that one man should die on behalf of the people instead of the whole nation perishing.
The Lord can use anyone to prophesy even when he doesn't know the implications of what he's saying or when he doesn't even know the Lord. Caiaphas prophesied that Jesus was to die for the nation, and not only for the nation but also for the purpose of uniting into one body the children of God who have been scattered far and wide. So from that day on they took counsel and plotted together how they might put Him to death. (See John 11: 47-53 AMP)
So who was to blame? There was an actual conspiracy between corrupt leaders on both sides-the Romans and the Jews. The few Jewish leaders involved didn't represent the majority of their people. That's why the chief priests and scribes plotted to kill Him by trickery but not during the feast lest there be an uproar among the people. (See Matthew 26: 3-5)
Now the question is: Who were these people who would cause an uproar? Of course these were Jews, like the five thousand Jesus miraculously fed and those who sat at the Sermon on the Mount, and all the multitudes the Bible says followed Him constantly. It was a handful of Romans who tried Jesus and killed him. Crucifixion was a Roman form of execution. Since Jewish law only allowed stoning, Jesus would have been stoned, not crucified, if the Jews killed him. Besides, Jesus Himself said:
Behold, we are going up to Jerusalem, and all things that are written by the prophets concerning the Son of Man will be accomplished. For He will be delivered to the Gentiles and will be mocked and insulted and spit upon. They will scourge Him and kill Him. And the third day He will rise again. (Luke 18:31-33 NKJV)

And I, if and when I am lifted up from the earth on the cross, will draw and attract all men Gentiles as well as Jews to Myself. He said this to signify in what manner He would die. (John 12:32-33 AMP)
Ultimately, we are all to blame. It is our need of a Saviour that caused Jesus to die. However He gave His life willingly as the Passover Lamb. (See John 10:17-18)
Those who are committing the sin of anti-Semitism claiming that the Jews suffer because they called for Christ's blood after they had rejected Him as their Messiah should understand that, yes some did call for Him to be crucified, but the Scriptures tell us that it was the Lord's good plan to crush Him and cause Him grief. (See Isaiah 53:10-11)
The sinless servant of the God offered Himself for our sins. He suffered for our sake, bearing our sins to make us all acceptable to God both Jews and Gentiles. The people who crucified Jesus were guilty, so are all of us, but Jesus forgave them at the cross—just like he forgives all of us if we repent and turn to Him.
Next time we shall ask, and seek to answer, this question: "Has God Rejected His own People the Jews?"
Christ before Pilate, Mihály Munkácsy, 1881: Source of Image