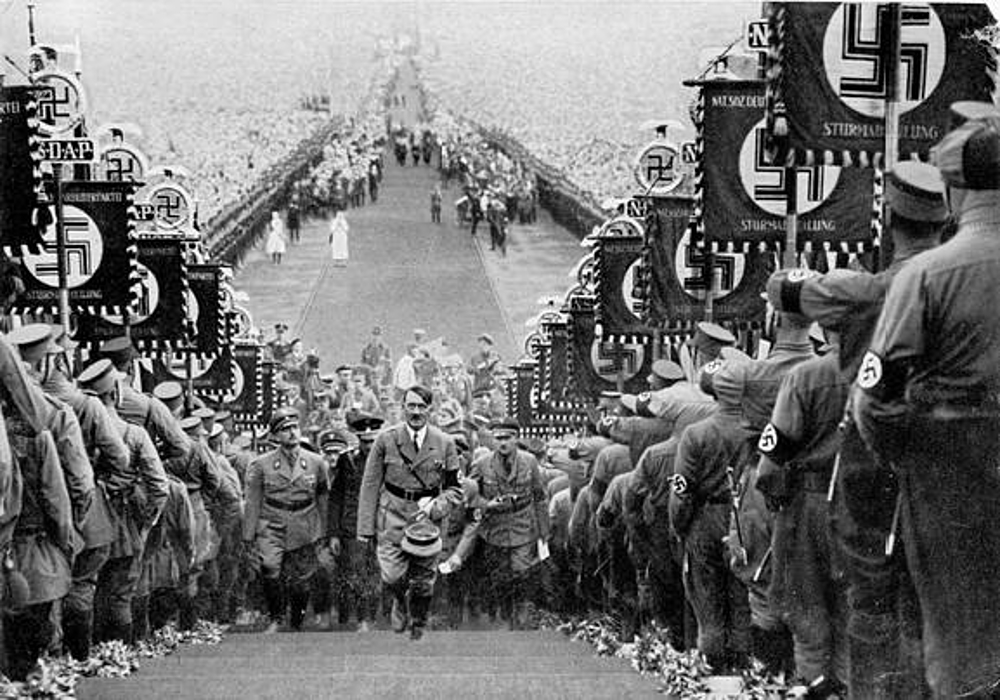 Warning: This is a very long post.
Hitler arriving at a Nazi Party rally in Nuremberg in 1934. This photo was prominently displayed at the Holocaust Museum in Jerusalem for many years. One person commented that it looked to him like "Satan rising from Hell."
Disclaimer: I need to start off by reiterating that America and Britain or any other Western nation is not Nazi Germany.
Growing Parallels Between the West Today and Nazi Germany in the 1930's
The Bible says prophecies should be constructive, up-building, stimulating and encouraging (1 Corinthians 14:3). But this is not a prophecy or a warning, and it's not a way for the writer to gain some sort of recognition or power. I believe we can only advance our knowledge and understanding of the world we live in by studying and learning some valuable lessons from history.
Many people rightly condemn the Nazis because their brutal extermination of millions of Jews and others they considered undesirables, but the spirit of Nazism was much more than killing Jews. It was because men had forgotten God, His commandments and the Church forgot to preach the whole truth of the Gospel message which opened the Church to spiritual deception.
Our Lord Jesus Christ and the Apostle Paul warned that the last days will be of great deception. It was this spirit of deception and delusion that affected the German Church in the 1930s as the National Socialists came to power. That is why these things happened in Germany.
What worries many observers today are the growing parallels between the West and Nazi Germany. Many historians are concluding that there are similarities to what happened in Nazi Germany and what is happening in the West today. They are warning that every day the West is moving closer to Nazi-style totalitarianism. For instance Von Campe an ex-Hitler youth's says that "every day brings the American nation closer to Nazi-style totalitarian abyss." He is seeing spiritual parallels among Americans and his childhood Germany. He further explains that:
The silence from our pulpits regarding the moral collapse of American society from within is not very different from the silence that echoed from the pulpits in Germany toward Nazi policies. Our family lived through the Nazi years in Germany, an experience typical of millions of Europeans regardless of what side they were on. We paid a high price for the moral perversions of a German government, which excluded God and His Commandments from their policies. America must not continue following the same path to destruction, but instead heed the lessons of history and the warning I am giving…. Christians don't understand their mission.
There are many other examples of what prophets have been saying to America or the West in general but I would point you to two sources in particular. One is a book entitled "Storm Warning, The Coming Persecution of Christians and Traditionalists, in America" published in 1999 and its authored by Don McAlvany. The second is an outstanding book authored by Dr. Erwin W. Lutzer that was published in 2010. It is titled, "When a Nation Forgets God: 7 Lessons We Must Learn From Nazi Germany."
In this article we'll skimp through McAlvans' book and see what history might be teaching us. During his years of research McAlvany has uncovered a number of ominous parallels between Nazi Germany and the West (America) which should be contemplated.
But before we look at his research; I need to make this very clear, I am not saying that the American government or other Western governments have become like Hitler and I am not comparing any institution in America or Britain with the Third Reich and I am not "anti government." In fact I believe that you don't have a right to criticize the government if you cannot pray for it. The apostle Paul admonishes us to….
First of all that supplications, prayers, intercessions, and giving of thanks be made for all men, for kings and all who are in authority, that we may lead a quiet and peaceable life in all godliness and reverence. For this is good and acceptable in the sight of God our Savior. (1Timothy 2:1-3 NKJV)
History proves again and again that once country is in a moral, cultural, and spiritual decline as Germany was in the 1930's, that country loses its freedom. This has happened on all the great empires of old. Where is the mighty and splendor of Babylon, Egypt, Assyria, Persia, or ancient Greece? What could the Roman Empire do when its time came to fall? My conclusion is that some of these parallels between the West and Nazi Germany are happening and some are not.
In my opinion, the real problem is that we have forgotten God and His commandments that is why these things are happening. Of course I don't have space to list all the comparisons between what happened in Nazi Germany and now, those who are interested can read the books of these many credible writers and publishers and draw their own conclusions. But, here are some of the emerging similarities that Don McAlvany and a few others have noted:
The Economy, Inflation and debt: Someone was absolutely right when he said that "there are two ways to conquer and enslave a nation. One is by the sword, the other is by debt." In the 1920's and early 1930's, German's Weimar Republic saw rampant inflation and debt accumulation, monetary, economic, social, political, moral and spiritual decline on a scale unprecedented in Germany history. The West since 1980 has experienced quite the same thing.
German was the most populated country with the Jews in any country in Western Europe when Hitler came to power. In fact a small part of them were architects of its Constitution, a fact that Hitler exploited. The German republic had just come from a severe economic hardship it experienced after World War 1. The massive inflation in 1923 and the depression of 1929 worsened Germany's problems. The eyes of the angry people wanted a savior from their economic problems. Hitler's success in the first few years rested not only on his foreign policy, which brought so many bloodless conquests, but on German's economic recovery, which brought admiration from even among economists abroad.
Unemployment was reduced by putting the unemployed back to work by means of greatly improved public works and giving stimulus packages to private corporations. Government credit was furnished by the creation of special unemployment bills, and tax reliefs were given to firms which raised their capital expenditures and increased employment.
He made Germans feel important and made sure they were well cared for by the state. He gave them huge tax breaks and introduced social benefits and made sure that even in the last days of the war not a single German went hungry. During his 12 year constant warfare, he never once raised taxes for working class people. The German soldiers were also offered more than double the salaries and benefits to what the Americans and British received.
Another example that has been widely circulated on the Internet was given by an elderly woman named Kitty Werthmann. She told audiences what life was like in Austria during the late 1930s:
In 1938, Austria was in deep Depression. Nearly one-third of our workforce was unemployed. We had 25 percent inflation and 25 percent bank loan interest rates…. Farmers and business people were declaring bankruptcy daily. Young people were going from house to house begging for food. Not that they didn't want to work; there simply weren't any jobs…. The Austrian people were really hurting and they were desperate for answers. When Hitler came to them with "solutions," they were ready to embrace him with open arms…. We looked to our neighbor on the north, Germany, where Hitler had been in power since 1933. We had been told that they didn't have unemployment or crime, and they had a high standard of living. Nothing was ever said about persecution of any group—Jewish or otherwise. We were led to believe that everyone in Germany was happy. We wanted the same way of life in Austria. We were promised that a vote for Hitler would mean the end of unemployment and help for the family. Hitler also said that businesses would be assisted, and farmers would get their farms back. Ninety-eight percent of the population voted to annex Austria to Germany and have Hitler for our ruler. We were overjoyed and for three days we danced in the streets and had candlelight parades. The new government opened up big field kitchens and everyone was fed.
Preoccupation with death. Abortion and euthanasia were rampant in Germany in the 1920s and 1930s. Many old sick, crippled, retarded were killed. This finally led to the extermination of Jews and Christians and unfortunately most Germans barely took note of it. Why? Because it was a natural progression of this preoccupation with death in Germany. Today in the West we kill babies via abortion and violent murders are increasing on a fast rate.
We are being exposed to human beings created in the image of God killing fellow human beings all around the world. In fact, in times of war or call it terrorism if you want, the whole effort of the mainstream media becomes one of filling people's hearts with hate and murder. There seems no place for the spirit of the gospel of love and brotherhood. People will be expected to do all they can to hate, curse, or kill their enemies in wartime, certainly not to love them.
The truth is that the gospel is just the same in peace or in war. Jesus Christ is the same yesterday and today and forever and every life is eternally precious in His sight (see Hebrews 13:8). In fact you cannot put any monetary value on any human life, for God loved the entire world so much that He gave His only Son Jesus Christ to die on our behalf. But we are still killing each other to the point that the film which glorifies death has been named the highest-earning movie ever.
Thousands of laws, Rules, and Regulations were passed in Nazi Germany, to regulate and control every aspect of German people's lives. There were so many that virtually anyone could be labeled as a criminal and have their property seized, jailed, or executed at the command of the Nazis. Highly complex financial, currency, cash reporting, and privacy laws were passed which almost no one understood. Christians who sent money out of the country to missionaries had their assets seized and were often jailed under Nazi money-laundering laws. Raids on homes in the middle of the night by the Gestapo became commonplace along with widespread property seizures.
The same thing is happening in America which is being called a nation of criminals by one reporter who says for decades, Washington has been adding to the number of federal laws and regulations that all carry criminal penalties. It is been reported that the number is so high, and no one is actually sure how many there are.
According to some experts, anyone could be convicted of some sort of federal crime and it so easy for anyone to violate one of these laws and never know it. One congressman told CBN News that "We have made it dangerous just to be alive in America." One neurosurgeon said now that the healthcare bill has been ruled constitutional by the Supreme Court, Americans should expect to hear more about death panels and bureaucrats deciding who lives and who dies like the Nazis did after they took the health care system in Germany.
Environmentalism and Animal rights. The Germans in the 1930s were preoccupied with environmentalism and animal rights, with the Nazis passing all sorts of laws, rules, and regulations to protect the environment. Today the Environmental Protection Agency (EPA) is trying to regulate more than 6 million sources of CO2. There some environmentalists that believe that humans are not more important than any other species on this planet. Therefore they should be killed. Many groups and hundreds of industries are now taking the EPA to court to block it from regulating carbon dioxide. Some states are even accusing the EPA of relying on flawed science to write regulations regarding global warming.
Occultic Dimension to the Third Reich. Hitler's movement was not just a political movement; it was also a supernatural, occultic movement and was in strong opposition to Bible-based Christianity and Orthodox Judaism. The religious foundation of the Nazi Third Reich was from the Eastern religions that are the foundation of the present-day New Age movement, which now permeates the Liberal Eastern Establishment and energizes or provides the occultic dynamic behind the New World Order. This preoccupation with the occult is one of the major factors in the growing Establishment's hatred for Evangelical Christians in America and the West in general, and will be one of the major factors in the coming globalist persecution of American Christians—which is now beginning to accelerate.
Ignoring the German Constitution. Hitler completely ignored the German Constitution, just as some politicians and courts are doing today. Wherever Hitler wanted to something, he would just do it. He just wrote notes instructing people to carry out whatever he wanted. This is similar to Executive Orders which are have been issued by American presidents in the last 20-30 years. According to Don, most of these Executive Orders, new laws, thousands of new regulations are unconstitutional as Hitler's notes, orders, and edicts in the 1930s.
Rejection of Their Heritage. The German people, before and during the Nazi's rise to power, began to reject their Christian Biblical heritage, their history, their national heroes and their traditions. The Nazis accelerated this obliteration of their history and heritage as they came to power. And this is precisely what the liberals, socialists, and the globalist have been doing in recent years. Our heritage, history, heroes, and traditions are being denigrated and obliterated.
Gun laws. The Nazis passed gun laws to disarm the German people so that they could control them and set up their dictatorship. Laws are being put in place to disarm the American people. This is a major element in the New World Order agenda and has been accomplished in many other countries in the West. History teaches us that genocide against disarmed victims in every nation was enabled by forcible disarmament.
Aaron Zelman (1946–2010) was the head of Jews for the Preservation of Firearms Ownership (JPFO), which is the organization that aimed at educating the Jewish community about the dangers of being forcibly or voluntarily disarmed. He did a comparison of the Nazi's 1928 and 1938 gun control laws and those passed in the U.S. in 1968, and found them to be almost identical—as if they had been copied
Redefinition of Marriage. Hitler used homosexuals, drug addicts, and criminal elements to destabilize the country and advance the Nazi political machine. In the West today, marriage is being redefined to civil partnerships, thereby completely destroying the bedrock and foundation of society which is marriage between one man and one woman. In his recent article Brendan O' Neil explained how homosexuality has moved from being a crime to being celebrated as a way of life in modern Western nations just in the space of less than 50 years…..
Everywhere from popular culture to the political sphere, the criminals are now those who criticize gay sex, not those who have it – as witnessed in such acts of authoritarianism as the imposing of a one-month prison sentence on a Swedish pastor who preached against homosexuality, the arrest of a preacher in Dundee for saying homosexuality was a sin, the banning of an advert in London that offended gays, the sending of American experts to Africa to preach about the virtues of homosexuality (in a similar way that Christian colonialists used to preach to Africans about the virtues of the Bible, including, er, anti-homosexual views), and so on. Gay-friendliness has become probably the key barometer of decency in the modern West; and those who fail the test can expect censorship or some other form of punishment.
The Church was Deceived, Divided and Persecuted: The German Christians were strongly nationalistic and patriotic. The German Christian church was officially founded in 1932 and the organization straightaway became an instrument in supporting the Hitler regime and the Nazi propaganda in joining the church and state. To achieve this, their goal was to unite the regional churches of the German Evangelical Church into a German Reich church. They thought that by wedding the church to the state, they would restore the church and Germany to her former glory. They didn't agree with him on everything, but they believed that if the church's prestige were restored, they might be able to influence him in the right direction.
The Nazis first saw it as important to keep a good relationship with the Church, because they were worried that many Germans were committed Christians and if at all there was a conflict between the Church and the state, many German Christians would put their faith before the Nazi state. So when the Church started opposing Hitler, he created new laws and then accused the leaders of breaking these laws, furthermore he also divided the churches by encouraging other churches to work with the Nazis in creating "socialist family values and to work for the greater good of the German people." In his book When a Nation Forgets God, Dr. Lutzer gives an eyewitness account of how some members of the church reacted to the Nazism of their times:
I lived in Germany during the Nazi Holocaust. I considered myself a Christian. We heard stories of what were happening to the Jews, but we tried to distance ourselves from it because, what could anyone do to stop it? A rail road track ran behind our small church and each Sunday morning we could hear the whistle in the distance and then the wheels coming over the tracks. We became disturbed when we heard the cries coming from the train as it passed by. We realized that it was carrying Jews like cattle in the cars! Week after week the whistle would blow.

We dreaded to hear the sound of those wheels because we knew that we would hear the cries of the Jews en route to a death camp. Their screams tormented us. We knew the time the train was coming and when we heard the whistle blow we began singing hymns. By the time the train came past our church we were singing at the top of our voices. If we heard the screams, we sang more loudly and soon we heard them no more. Years have passed and no one talks about it anymore. But I still hear that train whistle in my sleep. God forgive me; forgive all of us who called ourselves Christians yet did nothing to intervene.
Many Churches in Germany and throughout Europe were mostly silent while Jews were persecuted, deported and murdered. It was only a few Christians in the Christian Professing Church who believed that the German church had ceased to be the church of Jesus Christ, and therefore they must break away and form a new church which could be called the Confessing Church because it proclaimed the gospel of Jesus Christ.
The State supported the Church: The churches were nationalized under Hitler. A strong section of the church also believed that Nazi regime was the answer to all their prayers. It was all about the economy. Nothing else seemed to matter, under no circumstances were the Christians allowed to sit down and reflect how all this could be handled.
The church did not heed the lone voices crying in the wilderness. The government said the churches needed repairs, so a "church tax" was created. Pastors were put on government salary, and therefore they were subject to state authority. This led to the silencing of pastors because they feared they would lose their funding if they spoke out. The church in Germany appeared to be too preoccupied with the problems of the nation and the economy to see what was happening before its eyes.
Today, it is the same thing, most of the church in Europe (Catholic, Protestant and Evangelicals) are supported through taxes. As a matter of fact I have heard an elder of a local Evangelical church saying "the government has been so good to us." Is it a coincidence that this same spirit of idolatry has cursed the European church and hindered God to bring revival in our churches? Some are even saying that in some state church circles in Europe, some pastors are often known as "the little gods" but not servants.
The Nazi controlled the media, radios, movies and entertainment. Newspapers in Germany were being told what to publish and how to write the news and editorials. Any well thinking person can tell the uniformity of the information we are getting from all the big news networks. Don says the Propaganda Ministry must be alive and well somewhere in America and the West today under the watchful care of the Establishment.
Tom Chivers of the Daily Telegraph noted that the ancient traditions of the recently concluded Olympic Games in London were bloody silly dances and Nazi propaganda. He noted that the Olympic torch procession was in fact invented by the Nazis and has nothing to do with ancient Greece. The notorious Olympic rings signal was also created by the Nazis. Vulgar and sexual performances from all kinds of celebrities have led to the path of cultural degradation in the West that many of us don't care anymore.
Aldous Huxley a British Socialist and one England's ruling elite predicted that "sex will be encouraged from early childhood and recreational sex will be an integral part of society and a social activity, rather than a means of reproduction. The few women who can reproduce will be conditioned to use birth control, even wearing a 'Malthusian belt' that resembles a cartridge and holds 'the regulation supply of contraceptives as a popular fashion accessory."
People will be kept too preoccupied with work and trivial affairs to think or complain. Marriage, natural birth, parenthood, and pregnancy will be considered too obscene to be mentioned in casual conversation. Pornography and the official promotion of every kind of sexual perversions will be the new normal that will serve a political purpose. He wrote:
As political and economic freedom diminishes, sexual freedom tends to compensate by increasing. And the dictator (or the elite) will do well to encourage that freedom. In conjunction with the freedom to day dream under the influence of dope, movies and the radio, it will help to reconcile his subjects to the servitude which is their fate.
Control of Education and Schools. History tells us that laws making education in public schools compulsory have been found in the most totalitarian regimes where state-sponsored indoctrination was a major goal of the educational system. One of Hitler's first legislative acts on taking office was to establish the Reich Ministry of Education and give it the control of all schools, including the private schools.
Prior to 1933 the German public schools had been under the jurisdiction of the local authorities and the universities under that of the individual states. Now all were brought under iron rule of the Reich Minister of Education. It is important to remember that the law was on Hitler's side. He told the parents, "Your child belongs to us already…who are you? You will pass on. Your descendants now stand in the new camp. In a short time they will know nothing else but this new community.
Today those who are hostile toward Christianity are the ones in positions of leadership in the education sector. They know all too well what they have accomplished by capturing the minds of the youth for many generations, and they almost rejoice in their victory. Children attend school five days a week and they are exposed to books, games, and movies that all present values opposed to what Christian parents try to instill in them.
There is no denial that the state is becoming increasingly hostile to Christian schools and home schools, (see examples here, here and here), but regardless of the evidence that the state school system is extremely anti-Christian, most Christians, churches, and pastors continue to defend the system. In fact, very few church leaders recognize that parents have a right to home school their children or that there is any scriptural basis for homeschooling or starting Christian schools. Even if Christians knew what was really going on, do we really care? Most of us draw our conclusions from what the herd deems to be acceptable. We have a dependence on something that appears to be free.
Alliance with Corporations. William Shirer, Anthony Sutton, Edwin Black and many others have written extensively about the incredible financial and logistical support Hitler and the Nazis received from Germany's industrial giants and corporate leaders during Hitler's rise to power and throughout his reign of terror. Nazi Germany was in fact a fascist regime with an unholy alliance between big business and the socialist government. This is significant because that is exactly what is happening in America and most of the West today—big business and the government are collaborating to move America and the rest of the world into the New World Order.
Reichstag Fire and the Beginning of the Nazi Dictatorship. Virtually all historians of the period including William Shirer agree that the burning of the Reichstag which was blamed on the communists by the Nazis was the event which signaled the beginning of Nazi dictatorship.That same year Hitler formed the Gestapo, justifying it to the German people as necessary to maintain "homeland security" in a speech in which he declared: "An evil exists that threatens every man, woman and child of this great nation, we must take steps to ensure our domestic security and protect our homeland. The public were panicked by the Nazi propaganda machine and stampeded into handling dictatorial power to Hitler and the Nazis.
This is what Don McAlvany had to say about the Reichstag fire when he wrote his book about 16 years ago:
There could be very important lessons in the Reichstag fire for Americans in the wake of terrorist attacks. If Congress supported by the public are stampeded by some crisis or catastrophe real or staged into passing a host of counter-terrorism, gun control, people-control initiatives, America could become a Nazi-style police state (with most of our Bill of Rights freedoms cancelled) in all the name of fighting terrorism…..
Sounds familiar!
Hegel said "We learn from history, we learn nothing from history." And Santayana said: "Those who do not learn from the lessons of history are doomed to repeat the mistakes of history. What do we learn from this? The lesson is regardless of who planned and executed the fire, Hitler and the Nazis took advantage of the situation and passed all kinds of laws at the expense of the people's freedom and civil rights.
Don quotes Douglass Reed, who was a British reporter, writing about the Burning of Reichstag:
When Germany awoke; a man's home was no longer his castle. He could be seized by private individuals, could claim no protection from the police, could be indefinitely detained without preferment of charge, his property could be seized, his verbal and written communications overheard and perused; he no longer had the right to foregather with his fellow countrymen; and his newspapers might no longer freely express their opinions. The Reichstag fire produced exactly the result that Hitler had anticipated. The Germany of the Weimar Constitution went up in flames, and from the ashes [like the phoenix] rose the Third Reich.
Surveillance System. Totalitarian regimes want total control and tracking of their citizens. Adolf Hitler and the Third Reich set up a control system that tracked the entire population using index cards. All this was done with the help of IBM produced punch cards, sorted by IBM machines which were leased to the Nazis. These were used to confiscate their property, to be put into concentration camps where they had to receive tattoos, to be deported and finally their extermination.
Today the people who are controlling the system are desperate to know everything about their fellow human beings, not because they think we are all dangerous, but because they are interested in power, and they will do anything to attain that power. Using RFID even in clothes would make easier to get their utopian dream of controlling other people.
In 2012, "60 Second Idea," in association with the BBC, promoted the ideas of science fiction writer and Global warming expert Elizabeth Moon who believes that if she were "an empress of the Universe" she would insist on every individual having a unique ID permanently attached- bar-code if you will; an implanted chip to provide an easy, fast inexpensive way to identify individuals…Point the scanner at someone and there it is. Anonymity would be impossible as would mistaken identity making it easier to place responsibility accurately, not only in war but also in non-combat situations far from the war."
John W. Whitehead calls it a matrix that has "enslaved us by technology and the Internet of things" and no one seems to bother:
The Matrix is everywhere. It is all around us. Even now, in this very room. You can see it when you look out your window or when you turn on your television. You can feel it when you go to work… when you go to church… when you pay your taxes. It is the world that has been pulled over your eyes to blind you from the truth.
Separation of Government from its People and from each other: This is how Milton Mayer described it his book: They thought they were free:
What no one seemed to notice…. The ever widening gap, after 1933, between the government and its people…..What happened here was the gradual habitation of the people, little by little, to being governed by surprise; to receiving deliberated in secret; to believing that the situation was so complicated that the government had to act on information which the people could not understand, or so dangerous that, even if the people could understand it, it could not be released because of national security. And their sense of identification with the Hitler, their trust in him, made it easier to widen this gap and reassured those who would have otherwise have worried about it.

This separation of government from people, this widening of the gap, took place so gradually and so insensibly, each step disguised (perhaps not even intentionally) as a temporary emergency measure or associated with true patriotic allegiance or with real social purposes. And all the crises and reforms (real reforms, too) so occupied the people that they did not see the slow motion underneath, of the whole process of government growing remoter and remoter.
Today, whether we realize it or not technology has divided and separated us from each other. Like a frog in boiling water, our society's unhealthy obsession with television, computers and cell phone media has dumbed us down that the goose is cooked and the frog is boiled and we don't seem to care. It is been said by one historian that people are "willfully ignorant" Alexander Solzhenitsyn is quoted in Persecution: It Will Never Happen Here as saying:
Are we prepared to learn from the past? Are people living in freedom able to learn from those living in need? Can the lesson they have learned be taught to the free world? Yes it can, but who wants to learn? Our proud skyscrapers point heaven ward and they say: it will never happen here. But it will happen…. Tragically the free West will only believe it when it is no longer free. To quote a Russian proverb, "When it happens you will know it is true, but then it too late.
Conclusion
This long message is written from a deep burden that unless the Church embraces the cross and seeks God for a revival or Great Awakening, the conditions that gave rise to Nazi Germany are unraveling before our eyes. The present state of decline in the spiritual, economic, political, financial, cultural, and social problems being experienced by America, Europe and other nations is due to one fact: We have forgotten God and His commandments. The moment we began ignoring God and allowing society to be secularized, we lost our freedoms.
Many groups have been warning us about certain groups, who have been announcing their intentions to turn this world into a godless New World Order and impose a world government on an enslaved humanity. We thought those that were warning us were conspiracy theorists.
All of those Christians who suffered persecution under the Nazis and the communists have been warning that they see the signs of a similar great persecution in the West. The only hope we have is to repent and ask God to send a revival or Great Awakening.
At the same time the Germany people should not be manipulated into paying a guilt offering for all the atrocities that were done by their leaders. Other prophets believe that God has a special purpose for Germany which is to bring a spiritual awakening to all of Europe. Yes, Germany just like other nations will fulfill a higher purpose in the end times and the Lord Jesus will be glorified.
In the meantime, we are all going to humble ourselves before God and plead His mercy, grace and forgiveness. Every believer should be on his knees before God asking Him to have mercy on our respective nations and to pour out His Spirit as He promised.
The devil using human agents is going to take advantage of all the chaos that is going on in Europe against the Jewish people, the nation of Israel, the believers in United States, United Kingdom and the rest of the world. As Christians we have to prepare for it. I think a call to repentance as recorded by the prophet Zephaniah 2:1-3 applies to all of us now:
The time for repentance is speeding by like chaff whirled before the wind! Therefore consider, before God's decree brings forth the curse upon you, before the time to repent is gone like the drifting chaff, before the fierce anger of the Lord comes upon you—yes, before the day of the wrath of the Lord comes upon you! Seek the Lord inquire for Him, inquire of Him, and require Him as the foremost necessity of your life, all you humble of the land who have acted in compliance with His revealed will and have kept His commandments; seek righteousness, seek humility inquire for them, require them as vital. It may be you will be hidden in the day of the Lord's anger.
The history of Nazi Germany reveals where the all events in the West are leading. God is a God of mercy and a God of judgment. The judgment punishes the sin, while mercy saves we the sinners. The Word of Lord says:
Yes, in the way of Your judgments, O LORD, we have waited for You; The desire of our soul is for Your name. And for the remembrance of You. With my soul I have desired You in the night, Yes, by my spirit within me I will seek You early; for when Your judgments are in the earth, The inhabitants of the world will learn righteousness (Isaiah 26:8-9).
Just like there was still time for the people to repent when the Babylonians would come and destroy Jerusalem, there is also still time for us to humble ourselves so that we can be hidden from this impending distress. How can God's people be protected? The Bible gives us answer:
If My people who are called by My name will humble themselves, and pray and seek My face, and turn from their wicked ways, then I will hear from heaven, and will forgive their sin and heal their land. (2 Chronicles 7:14 NKJV)

Seek the LORD while He may be found, call upon Him while He is near. Let the wicked forsake his way, and the unrighteous man his thoughts; Let him return to the LORD, And He will have mercy on him; and to our God, for He will abundantly pardon (Isaiah 55: 6-7).
Image description: Hitler arriving at a Nazi Party rally in Nuremberg in 1934. This photo was prominently displayed at the Holocaust Museum in Jerusalem for many years. One person commented that it looked to him like "Satan rising from Hell."