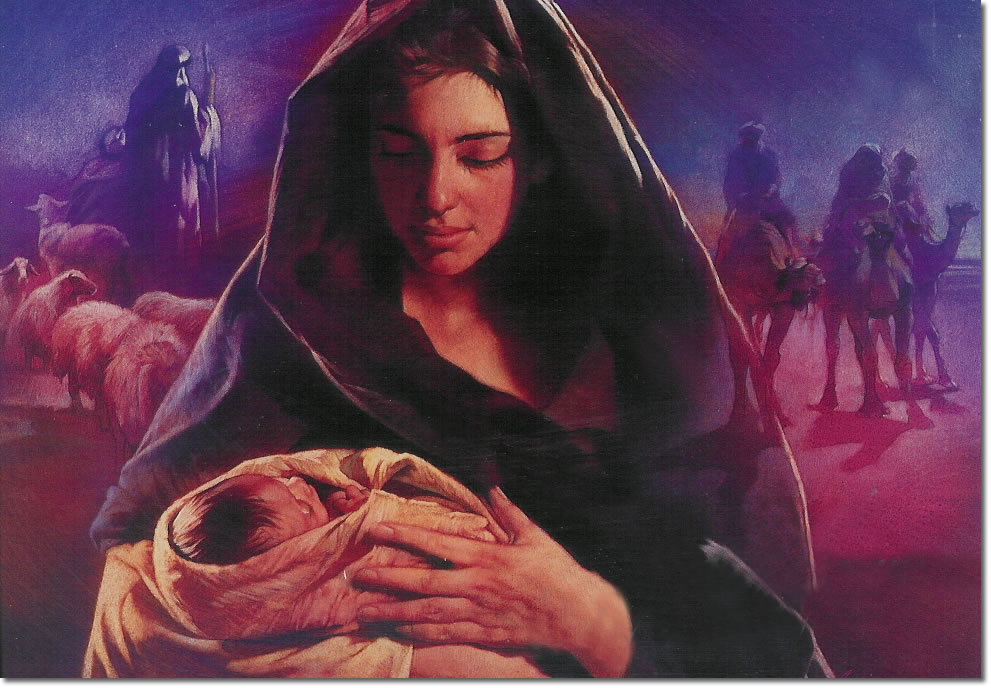 God created a special sinless blood in a very special and involved manner. 800 years before Christ, the Old Testament prophet Isaiah predicted that: Therefore the Lord Himself shall give you a sign: Behold, the young woman who is unmarried and a virgin shall conceive and bear a son, and shall call his name Immanuel (God with us) (Isaiah 7:14 AMP).
In the Old Testament, the rules provided for a Jewish lady after giving birth to a son or a daughter was:
When the days of her purifying are completed, whether for a son or for a daughter, she shall bring a lamb a year old for a burnt offering and a young pigeon or a turtledove for a sin offering to the door of the Tent of Meeting to the priest; and he shall offer it before the Lord and make atonement for her, and she shall be cleansed from the flow of her blood. This is the law for her who has borne a male or a female child (Leviticus 12:6-7).
Did Mary observe this law as required in the Old Testament? The Gospel of Luke tells us that she fulfilled this law:
Then it was time for their purification offering, as required by the law of Moses after the birth of a child; so his parents took him to Jerusalem to present him to the Lord. The law of the Lord says, "If a woman's first child is a boy, he must be dedicated to the LORD."So they offered the sacrifice required in the law of the Lord—"either a pair of turtledoves or two young pigeons" (Luke 2:22-24).
The medical profession tells us that the mother's blood does not pass the placenta, therefore had Mary's sinful blood flowed in Jesus' veins there would be no salvation. She is described as a chosen human vessel to incubate God's Son and bring Him into the world.
Jesus Himself prophetically tells us that: Sacrifices and offerings You have not desired, but instead You have made ready a body for Me…… Behold, here I am, coming to do Your will, O God—to fulfil what is written of Me in the volume of the Book (Hebrews 10:5-7).
The life principle which flowed in the veins of this Child, was a sinless blood; it was human blood-as the life of heaven is not blood but the spirit; His DNA was made up of earthly chromosomes from his earthly mother and perfectly created chromosomes from His heavenly Father. Therefore our Lord Jesus Christ was fully human and yet fully divine.
Throughout His life He showed us both sides of His deity. The human side of Him was subject to temptation, remember temptation is not sin. For we do not have a High Priest Who is unable to understand and sympathize and have a shared feeling with our weaknesses and infirmities and liability to the assaults of temptation, but One Who has been tempted in every respect as we are, yet without sinning (Hebrew 4:15). The Bible also tells us he learned obedience through His sufferings:
In the days of His flesh Jesus offered up definite, special petitions for that which He not only wanted but needed and supplications with strong crying and tears to Him Who was always able to save Him out from death, and He was heard because of His reverence toward God His godly fear, His piety, in that He shrank from the horrors of separation from the bright presence of the Father. Although He was a Son, He learned active, special obedience through what He suffered (Hebrews 5:7-8 AMP).
Jesus' Family Misunderstood and Doubted Him
When Jesus was young, Joseph and Mary must have given Him similar treatment to that which they gave to their six or more children. Probably when Mary called the children for dinner, she called their names-Yeshua, James, Simon, Joses, Jude, Judas, and Salome to come for dinner.
The Bible tells us when Jesus grew, He became strong in spirit, filled with wisdom, and the grace of God was upon Him. His parents went to Jerusalem every year to the Passover Feast. When Jesus was twelve years old, they attended the festival as usual. After the celebration was over, they went home to Nazareth, but Jesus stayed behind in Jerusalem. His parents didn't miss him at first, because they assumed he was among the other travelers.
But when he didn't show up that evening, they started looking for him among their relatives and friends. When they couldn't find him, they went back to Jerusalem to search for him there. Three days later they finally discovered him in the Temple, sitting among the religious teachers, listening to them and asking questions. All who heard him were amazed at his understanding and his answers. His parents didn't know what to think. "Son," his mother said to him, "why have you done this to us? Your father and I have been frantic, searching for you everywhere (Luke 2:45-52).
Now when his parents were looking for Him, He didn't even offer an apology. When a Jewish boy reaches 12 years of age he is able to perform a "Bar Mitzvah." From that time on he is considered a man. At this age he becomes responsible for his own choices or behavior. He's reached an age of accountability.
Up to that age of 12 the parents are punished when a boy does something wrong, but from then on he is responsible for his own choices and keeping God's commandments. This sheds further light on the reply Jesus made when Mary found him in the temple. He actually said: But why did you need to search?" He asked. "Didn't you know that I must be in my Father's house?" But they didn't understand what He meant.
Amazingly when they returned to Nazareth, he was obedient to them. And his mother stored all these things in her heart. The story reveals that Yeshua knew who He really was, even at the age of 12, but Mary had never told Him who He was. In fact the Bible doesn't record Jesus calling Mary "mother." It seems that Jesus almost dissociated Himself from His mother until the cross.
An example was when a wedding was held at Cana in Galilee. Jesus was there with Mary and His disciples. They ran out of wine and Mary went to Jesus and said: They have no more wine."Jesus said to her, Dear woman, what is that to you and to Me? What do we have in common? Leave it to Me. My time (hour to act) has not yet come (John 2: 3-4 AMP).
At another time, Jesus is speaking at a public meeting when He is told His mother and brethren were outside, apparently wishing to talk to Him. But He replied to the man who told Him, Who is My mother, and who are My brothers? And stretching out His hand toward [not only the twelve disciples but all His adherents, He said, Here are My mother and My brothers. For whoever does the will of My Father in heaven is My brother and sister and mother! (Mathew 12-46-50)
One time Jesus entered a house, and the crowds began to gather again. Soon He and his disciples couldn't even find time to eat. When His family heard what was happening, they tried to Him away saying, "He is out of His mind" (Mark 3: 20).
As Jesus was teaching about the unclean spirits as recorded in the Gospel of Luke chapter 11, a certain woman in the crowd took the opportunity to express her thanks to Mary who brought Jesus into the world. She raised her voice and said to Him, Blessed (happy and to be envied) is the womb that bore You and the breasts that You sucked! But He said, Blessed (happy and to be envied) rather are those who hear the Word of God and obey and practice it! (Luke 11:27).
When a person moves into a born again relationship with Jesus, fellow believers (including relatives) often become more close to them than to non-born again relatives. The Bible tells us that His immediate family didn't know what to make of Him because they did not believe in Him either:
After this, Jesus traveled around Galilee. He wanted to stay out of Judea, where the Jewish leaders were plotting his death. But soon it was time for the Jewish Festival of Shelters, and Jesus' brothers said to him, "Leave here and go to Judea, where your followers can see your miracles! You can't become famous if you hide like this! If you can do such wonderful things, show yourself to the world!" For even his brothers didn't believe in him. Jesus replied, "Now is not the right time for me to go, but you can go anytime. The world can't hate you, but it does hate me because I accuse it of doing evil. You go on. I'm not going to this festival, because my time has not yet come." After saying these things, Jesus remained in Galilee (John 7:1-9).
Imagine living with someone for 30 years and they suddenly go around saying they are the Messiah who the prophets wrote about, what would you think of that person if at all his identity is not revealed to you? It can't be easy and we shouldn't blame them. After all even His disciples, some of whom were possibly His cousins deserted Him on the eve of the Crucifixion. When the real clash came with the powers of darkness, we saw everyone of the disciples fail in that hour-in spite of all their surrenders, their vows and devotion to their Master.
When Jesus was dying on the cross and shedding His blood on the cross for His mother Mary and others who will put their faith and trust in Him, He saw His mother, and the disciple whom He loved standing near, said to His mother, Dear woman, See, here is your son! Then He said to the disciple, See, here is your mother! And from that hour, the disciple took her into his own keeping, (own home) (John 19:26-27).
As Jesus' earthly brothers didn't believe in Him, He handed Mary His mother over to John his beloved disciple. But in spite of this unbelief and disdain, two of His brothers James and Jude became one of the writers of the New Testament.
It is recorded that when Jesus died on the cross, his brother James was so deeply upset and full of regret about what he had said about Him and how he had teased Him that he said he would never eat food again. He would have fasted until he died, except that three days later Jesus appeared to His disciples and to James personally. From that moment on, James called himself a bond-slave of Jesus Christ.
Mary Was Chosen by God
Apart from Mary being mentioned as one of those who were at the prayer meeting before the Day of Pentecost; that is the last we hear of Mary in the Gospels. You never hear her name again. She prophesied that all generations would call her blessed but not "virgin" Mary because she had other children with Joseph after Jesus. He was the son of Mary and the brother of James, Joseph, Judas, and Simon. And his sisters live right here among us. They were deeply offended and refused to believe in him (see Mark 6:3).
Mary was chosen by God to the woman who would bring Yeshua into the word to fulfill His divine mission of salvation to all humanity. The angel said to her that you will become pregnant after the Holy Spirit has come upon you and the power of the Most High will overshadow you like a shining crowd; and so the holy (pure, sinless) Thing (Offspring) which shall be born of you will be called the Son of God (Luke 1:30-33). Mary believed these words and acknowledged her role when she cried out with a loud cry, and then exclaimed:
My soul magnifies and extols the Lord, and my spirit rejoices in God my Savior, for He has looked upon the low station and humiliation of His handmaiden. For behold, from now on all generations of all ages will call me blessed and declare me happy and to be envied! For He Who is almighty has done great things for me—and holy is His name to be venerated in His purity, majesty and glory!

And His mercy (His compassion and kindness toward the miserable and afflicted) is on those who fear Him with godly reverence, from generation to generation and age to age. He has shown strength and made might with His arm; He has scattered the proud and haughty in and by the imagination and purpose and designs of their hearts. He has put down the mighty from their thrones and exalted those of low degree.

He has filled and satisfied the hungry with good things, and the rich He has sent away empty-handed without a gift. He has laid hold on His servant Israel to help him, to espouse his cause, in remembrance of His mercy, even as He promised to our forefathers, to Abraham and to his descendants forever (Luke 1:44-55 AMP).