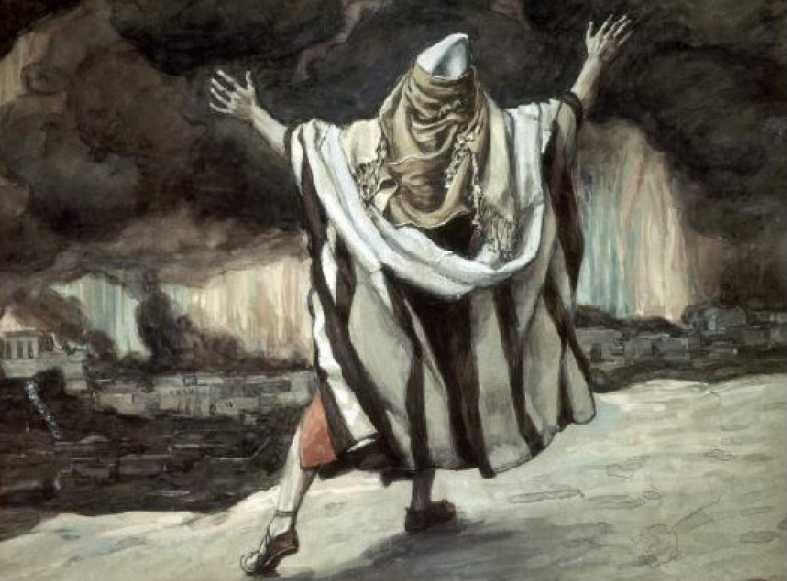 One of the greatest intercessors in the Bible was the patriarch Abraham. Before the Lord decided to destroy Sodom and Gomorrah, he interceded that those two cities would be spared. Because of his intimate friendship with the Lord, he wasn't left in dark on what the Lord intended to do. The Bible tells us that God asked "Should I hide my plan from Abraham?" (Genesis 18:7)
When God told Abraham that He planned to destroy Sodom and Gomorrah, Abraham asked God if He planned to destroy the righteous people along with the wicked to the point that he lowered the number of people to be spared from fifty righteous people to only ten.  Abraham persisted to drive the numbers lower; knowing only Lot and his relatives could be saved. Who knows if Abraham had continued to beseech the Lord one more time, may be the city would have been spared even if one righteous person was found there (see Genesis 18: 24-33).
Because of Abraham's intercession, God sent angels to protect, direct, guide and deliver him. In the desperate days that we are living in now, we can expect God in his faithfulness to send angels on our behalf because the Lord knows how to deliver the godly out of temptations…. (2 Peter 2:9). The Bible also tells us angels are ministering spirits sent forth to minister for those who will inherit salvation (Hebrews 1:14).
As Christians we have to plead in intercession for other people and our relatives on the basis of God's mercy and love. Through the Lord's mercies we are not consumed, because His compassions fail not (Lamentation 3:22). All of us are recipients of God's mercy. If God did not extend His mercy and grace on us, withholding judgment, some of us would have perished long time ago. Even today God is holding up His justice because of His mercy and because a Savior died.
It is only by grace that we are saved, and that is why Noah found grace in the eyes of the Lord (Genesis 6:8). No one was ever saved in any other way than by the grace of our Lord Jesus Christ. Everyone from the righteous Abel was saved looking forward to the cross, and everyone receives some degree of God's grace, even the most sinful man like Hitler.
A.W Tozer wrote that "don't imagine that when the Day of Judgment comes God will turn off His mercy." It is the riches of His goodness, forbearance, and longsuffering, that leads us to repentance. (Romans 2:4) The apostle Peter reminds us:
The Lord is not slack concerning His promise, as some count slackness, but is longsuffering toward us, not willing that any should perish but that all should come to repentance." (2 Peter 3:9 NKJV)
The Lord said that the cities of Israel, Tyre, Sidon, and Sodom which were destroyed by God for their wickedness, would have repented of their sins long ago. The people of Bethsaida, Korazin, and Capernaum saw the Lord and experienced all these miracles but they didn't believe, repent of their sins, and turn to God. So Jesus said that they would suffer even a greater judgment than Sodom because if these miracles were done in wicked Sodom, it would still be here today. (See Matthew 11: 20-24 NKJV)
Which means to whom more is given more is required. The West has been given a greater level of spiritual authority over other nations, so there will be no excuse on judgment day if they don't repent and believe when there is still time. Leonard Ravenhill was right when he said,
Sodom had no Bibles, we have millions, Sodom had no Churches, we have thousands, Sodom had no preachers, we have ten thousand plus thousands, Sodom had no Bible schools, we have at least two hundred and fifty, Sodom had no prayer meetings, we have thousands, Sodom had no gospel broadcasts, as a nation we are richly blessed with Christian broadcasts. Sodom had histories of God's judgements to warn it of danger. We have volumes of them. Sodom perished in spite of all these disadvantages.

America (or the West in general) is living only by the mercy of God. The only reason we are not smoking in the fire-wrath of a holy God is mercy—m-e-r-c-y, prolonged mercy….. One thing that and one thing alone that keeps us from complete decay in this hour –the Church, the true Church, the blood washed remnant (that has not bowed its knees to the Baal of materialism and that cannot be intimated by the threats and scorn of scientific humanism)
After Abraham left off interceding, Sodom perished. While Abraham "stood yet before the Lord," men had a representative before God. While Lot abode in Sodom (backslidden though he was), God still had a feeble representative with men….When Lot went out of Sodom and when Abraham made his final appeal; for the ten righteous men and found them not—then the fire of the Lord fell (Genesis 19:24).
Sodom perished because it had not a remnant. America (and the West) still has a remnant." We should remember Israel's events and lessons are types and shadows of things to come in the church. In regards to both Israel and the Church, God is working towards restoration. This is what Peter is saying:
Repent therefore and be converted, that your sins may be blotted out, so that times of refreshing may come from the presence of the Lord, and that He may send Jesus Christ, who was preached to you before, whom heaven must receive until the times of restoration of all things, which God has spoken by the mouth of all His holy prophets since the world began (Acts 3:19-21).
We are to repent. God calls us to repent so that we can experience His presence. The only power to obey is in the presence of God and His voice speaking to us. And if we repent times of refreshing will come and God will restore all things, so that His name will be glorified and this gospel of the kingdom will be preached in all the world as a witness to all the nations, and then the end will come (Matthew 24:14).
Image credit: Abraham Sees Sodom in Flames: Wikipedia