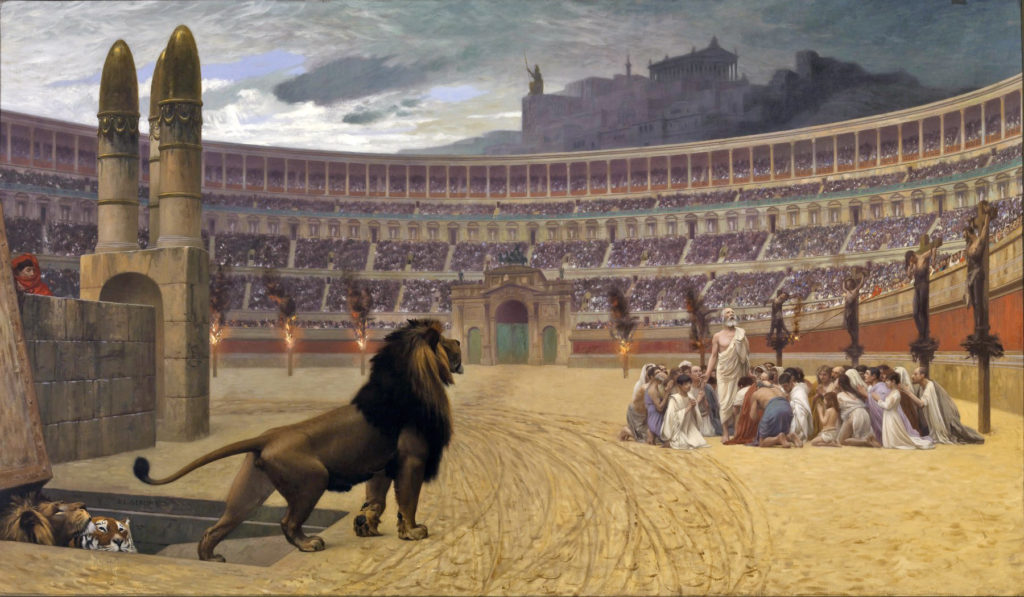 You cannot be informed about every scenario of persecution that might happen. Why? Because there so many technological devices that are available today to track individuals, in so many ways which wasn't possible in the last 50-70 years. Besides people don't value human life anymore that is why talking about the reducing the population doesn't bother people anymore.
The late Dimitru Duduman was asked how he handled the fear when he was going to be arrested or beaten by the Romanian secret police. He acknowledged that he had some fear prior to an arrest, but when the event actually happened, that the Holy Spirit took his fear from him, gave him a supernatural peace, and also gave him words to say.
During Pastor Martin Niemoller's trial in Nazi Germany on February 7, 1938, an officer gave him a word that sustained him through his trials. It is reported that in the morning of that fateful day, a green-uniformed guard escorted Niemoller from his prison cell and through a series of underground passages toward the courtroom.
Niemoller was overcome with terror and loneliness. What would become of him? Of his family? His church? What were the tortures that awaited him and his colleagues? The guard looked without any sensation or emotion; he totally looked undisturbed and silent as a stone.
But as they left the tunnel to move upwards the final flight of stairs, Niemoller heard a small voice like a whisper. At first he didn't know where it came from, for the voice was so low that he couldn't tell where it was coming from. Then he realized that the officer was breathing into his ear the words of Proverbs 18:10:
The name of the Lord is a strong tower; the righteous runs into it and is safe.
Niemoller's fear was gone, and the power of that Scripture sustained him through his trial and his darker years in Nazi concentration camps. The officer never knew how those words were to be anchor to his soul in the days ahead. Another account is from the "Hiding Place" the classic story of Corrie Ten Boom, she emphasizes that there is no need to fear death before it comes:
 Father sat down on the edge of the narrow bed. "Corrie,"he began gently, "when you and I go to Amsterdam—when do I give your ticket?

            "Why, just before on the train."

"Exactly. And our wise Father in heaven knows we're going to need things, too. Don't run out ahead of Him, Corrie. When the time comes that some of us will have to die, you will look into your heart and find the strength you need—just in time.
Although praying, fasting, and memorizing Scripture are important, a person cannot depend upon these or other preparations to help him endure. His strength must come from the Holy Spirit.  Richard Wumbrand was  asked which Scripture verses helped and strengthened him the most during his persecution and his answer was:
No Bible verse was of any help…..When you pass through suffering you realize that it was never meant by God that Psalm 23 should strengthen you. It is the Lord who can strengthen you, not the Psalm which speaks of Him so doing. It is not enough to have the Psalm. You must have the One about Whom the Psalm speaks.
Two main points of Satan's character are deceit and fear. Remember fear is false evidence appearing real. The devil will misinform, confuse, and deceive believers in every way possible. But the Holy Spirit, who is the Spirit of Truth, can expose all his lies, if we seek His guidance.
It is natural for finite man to fear…Satan knows this and plays on our fear, especially the fear of the unknown but Christ tells us to get our priorities straight:  And do not fear those who kill the body but cannot kill the soul. But rather fear Him who is able to destroy both soul and body in hell. (Matthew 10:28)
The point is; make sure your trust is in the Lord and not your own preparedness. Pattern your preparedness according to the guidance of the Lord. Listen to what the Lord puts in your heart—don't use only your reasoning power.
Now when they bring you to the synagogues and magistrates and authorities, do not worry about how or what you should answer, or what you should say. For the Holy Spirit will teach you in that very hour what you ought to say. (Luke 12:11-12 NKJV)