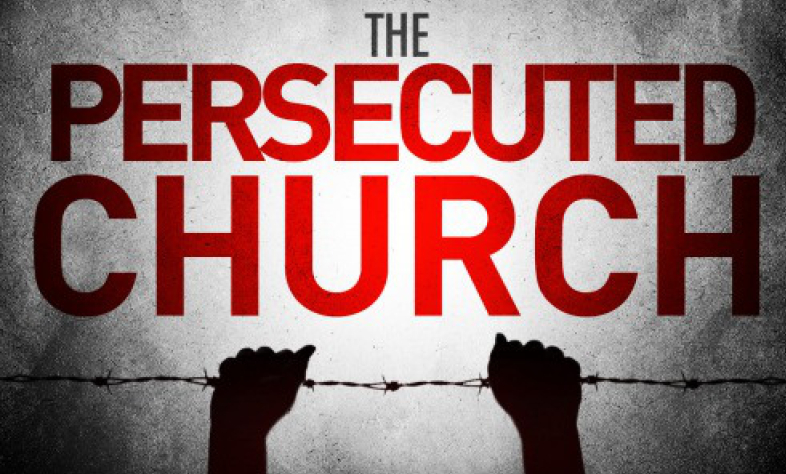 When Jesus was giving His progression of events regarding the last days, He again used that key word "Then" they will deliver you up to tribulation and kill you, and you will be hated by all nations for My name's sake. (Matthew 24:9) There is worldwide hostility towards Christians and anti-Semitism is increasing around the world.
Voice of Martyrs (VOM) reports that more martyrs for Jesus Christ died in the 20th century than in all previous 19 centuries combined. This century will most likely prove to be more repressive and bloody. The precedent has already been set for designating Christianity a terrorist organization and a promoter of hate speech. The world is more anti-Christian than ever since the first centuries in Rome.
Everyone one of us must endure some suffering in this life. It may be physical suffering, sickness, death of a loved one, rejection by friends or relatives and many more. Whatever the cause of that suffering, we all try to avoid it as much as possible. That is the reason why Christians often avoid talking about this subject, although the Bible clearly teaches that Christians will be subject to all causes of suffering common to all men, plus the added persecution that comes with following Jesus Christ.
Today Christian brothers and sisters in the Middle East, North Korea and countries are being persecuted, imprisoned, tortured, and killed by the puppet regimes being put in power by Western governments. It is now a verifiable fact in many conflicts involving Muslims; the West's intervention has led to persecution of Christians from Nigeria to the so called recently West supported "Arab Spring" which has become a nightmare. This has in some cases, decimated the indigenous Christian population, all in the name of this New World Order.
When you read and study the New Testament, you will find three words used which all embrace trouble. They are suffering, tribulation and affliction, these words differ but each of them practically means trouble of some kind. The Lord made it very clear to His disciples that tribulation belonged to the world, and they could not hope to escape it, or that they should not expect to be carried through this life on flowery beds on ease. He told them to have peace, and to be of good cheer; because he had overcome the world and its tribulations, so they might do the same. That is the encouragement from the Lord.
These things I have spoken unto you, that in me ye might have peace. In the world ye shall have tribulation: but be of good cheer; I have overcome the world. (John 16:33 KJV)
Paul taught the same lesson again and again throughout his ministry, when he and Barnabas had preached the Gospel and made disciples. He established and strengthened the souls and the hearts of the disciples, urging, and warning and encouraging them to stand firm in the faith and telling them that:
It is through many hardships and tribulations that we must enter into the kingdom of God. (Acts 14: 21-22)
Paul describes the troubles of life by comforting us that life's troubles cannot be compared with the final glory of heaven, which shall be the reward of all who endure. For I reckon that the sufferings of this present time are not worthy to be compared with the glory which shall be revealed in us. (Romans 8:18 KJV) Paul further made it clear that the afflictions which come to the children of God in this world are light afflictions compared with the weight of glory that awaits all that are patient, submissive, and faithful in all their troubles.
For our light affliction, which is but for a moment, is working for us a far more exceeding and eternal weight of glory, while we do not look at the things which are seen, but at the things which are not seen. For the things which are seen are temporary, but the things which are not seen are eternal. (2 Corinthians 4:17-18 NKJV) Paul, in urging patience in tribulation, tells us what to do when tribulation and suffering comes:
Therefore, having been justified by faith, we have peace with God through our Lord Jesus Christ, through whom also we have access by faith into this grace in which we stand, and rejoice in hope of the glory of God. And not only that, but we also glory in tribulations, knowing that tribulation produces perseverance; and perseverance, character; and character, hope. Now hope does not disappoint, because the love of God has been poured out in our hearts by the Holy Spirit who was given to us. (Romans 5: 1-5 NKJV)
There might be great suffering for God's people in the years ahead as prophesied by the Lord Jesus, Jeremiah and Daniel, but we have a great promise of hope for the future. The suffering we go through makes this world undesirable and we long for our heavenly home. This is the world where trouble never comes. But the path of tribulation leads to that place and those who are in heaven went there through tribulation of some kind.
What does Jesus promise for those who remain faithful in spite of persecution and lawlessness? "He who endures to the end shall be saved" (Matthew 24:13). You can only learn endurance by enduring. Endurance is the way God prepares us for what lies ahead. Scripture tells us: My brethren, count it all joy when you fall into various trials, knowing that the testing of your faith produces patience.  But let patience have its perfect work, that you may be perfect and complete, lacking nothing. (James 1:2-4)