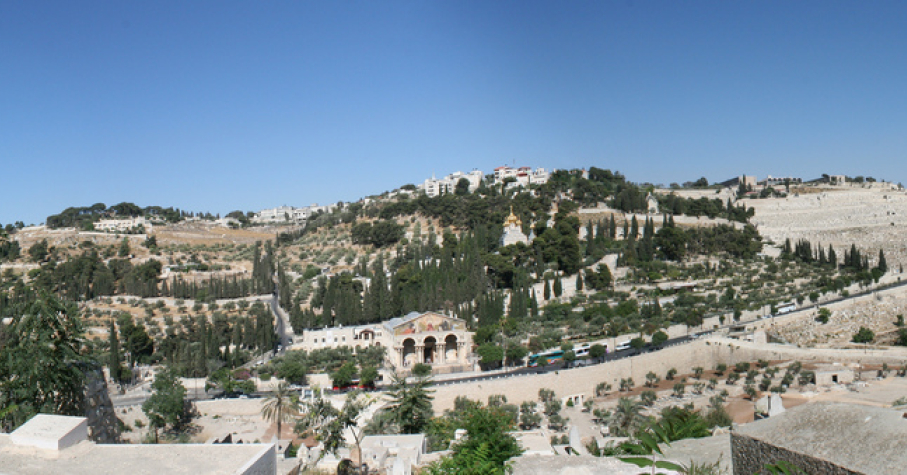 Continuing with His discourse and a sense of progression regarding the last days, Jesus said, the world will be characterized by wars and rumors of wars (Matthew 24:6). We've seen two kinds of wars: political wars and ethic wars.  It is undeniable that World War 1 and World War II were both essentially political wars fought by world powers to establish their dominion. But what has been forgotten "apart from the genocide of the Jews, racism remains one of the great neglected subjects of World War II.
Jesus said, For nation will rise against nation, and kingdom against kingdom. (Matthew 24:7) The word nation in Greek is ethnos, from which we get the word ethnic. The nations will be afflicted with internal political strife that will lead to civil wars.  Before World War I began in 1914, there was an ethnic war between the Turks in the Middle East and Christian Armenians. The Turks massacred one million Christian Armenians. This was not a political a war; it was an ethnic war.
Today ethnic wars are breaking out everywhere. Along with war, there will be famines, pestilences and earthquakes. All these represent the beginning of birth pangs of the coming kingdom.  Today there is also famine in many areas of the world and wherever there is famine; pestilences are more likely to follow. Earth quakes have also increased in frequency and intensity in the last fifty to hundred years.
It was after World War 1, that the League of Nations was formed to ensure that another 10 million people would not die in another global conflict. But the League of Nations was powerless to prevent World War II. This war brought more suffering to humanity than any other event in the 20th century. Nearly 60 million people died throughout the six years of that war that included atomic bombs, cities completely destroyed and the Jewish Holocaust.
The atrocities perpetrated by fascist Germany against the Jews, minorities, and other independent-minded individuals before and during World War II triggered shock and horror across the world. When the war ended, the victorious nations met to adopt measures intended to prevent a repetition of these murderous acts and to forward peace. The result was the founding of the United Nations in 1945 which has also failed to prevent the numerous wars taking place throughout the world.
Out of this nightmare of war sprung the dreaded atomic age. Aleksander Solzhenitsyn described it as a "godless embitterment" that could have moved ostensibly Christian States to employ poison gas, a weapon so obviously beyond the limits of humanity. The same kind of defect, the flaw of a consciousness lacking all divine dimension, was manifested after World War II when the West yielded to the satanic temptation of a nuclear umbrella."
This was indeed a godless embitterment considering the infamous words of Bob Lewis, co-pilot of the Enola Gay, following the detonation of a first nuclear weapon. My God what have we done? What had they done, indeed?
Scientists tell us there is enough nuclear explosive material in existence on earth to destroy the entire human race fifty times over. As Solzhenitsyn had noted that it was equivalent to saying:
Let's cast off worries, let's free the younger generation from their duties and obligations, let's make no effort to defend ourselves, to say nothing of defending others-let's stop our ears to the groans emanating from the East, and let us live instead in the pursuit of happiness….. If danger should threaten us, we shall be protected by the nuclear bomb; if not, then let the world burn in Hell for all we care….. The pitifully helpless state to which the contemporary West has sunk is in large measure due to this fatal error: the belief that the defense of peace depends not on stout hearts and steadfast men, but solely on the nuclear bomb…Today's world has reached a stage which, if it had been described to preceding centuries, would have called forth the cry: "This is the Apocalypse!"Yet we have grown used to this kind of world; we even feel at home in it.
History tells us that evil governments did wipe out 170,000,000 innocent non-military lives in the 20th Century alone:
Governments murdered four times as many civilians as were killed in all the international and domestic wars combined.

Governments murdered millions more people than were killed by common criminal.
The United States has reportedly bombed the following countries since World War II:
China: 1945-46; 1950-53

Korea: 1950-53

Guatemala: 1954; 1967-69

Indonesia: 1958

Cuba: 1959-60

Vietnam: 1961-73

Congo: 1964

Laos: 1964-73

Peru: 1965

Cambodia: 1969-70

Granada: 1983

Libya: 1986;2011

El Salvador: 1980s

Nicaragua: 1980s

Panama: 1989

Iraq: 1991-2001; 2003-09

Sudan: 1988

Afghanistan: 1988; 2003-09

Yugoslavia: 1999.
From 1945 to the present time, the United States has bombed nineteen different countries under the guise of defending America's sovereignty, interests and promoting democracy.It's estimated that America has more than 150 military bases around the world. Why all these bases? The precise answer according to one source is:
The function of the military is to ensure that the powers that be stay in power, that the structures of injustice that cause poverty not be changed. This rather than any concern for freedom or justice is the primary reason for the build-up of the American military presence around the world…. Cain's sin of killing Abel has now reached its logical conclusion. We are prepared to destroy the whole world for our own selfish purposes.
Dostoevsky also warned that:
Great events could come upon us and catch us intellectually unprepared. This is precisely what has happened. And he predicted that "the world will be saved only after it has been possessed by the demon of evil." Whether it really will be saved we shall have to wait and see: this will depend on our conscience, on our spiritual lucidity, on our individual and combined efforts in the face of catastrophic circumstances. But it has already come to pass that the demon of evil, like a whirlwind, triumphantly circles all five continents of the earth.
Look at the governments that disarmed and killed their citizens as shown on the JPFO Genocide Chart. It is very sad because people that have been given the responsibility to preserve life are instead taking those very lives they sworn to protect because of money, power, greed and racism.
What should we do as Christians? We are to: "Watch therefore, and pray always that you may be counted worthy to escape all these things that will come to pass, and to stand before the Son of Man." (Luke 21: 36) We are not to be led by fear. Jesus says,  See that you are not troubled; for all these things must come to pass, but the end is not yet…. All these are the beginning of sorrows….(Matthew 24:6-8)