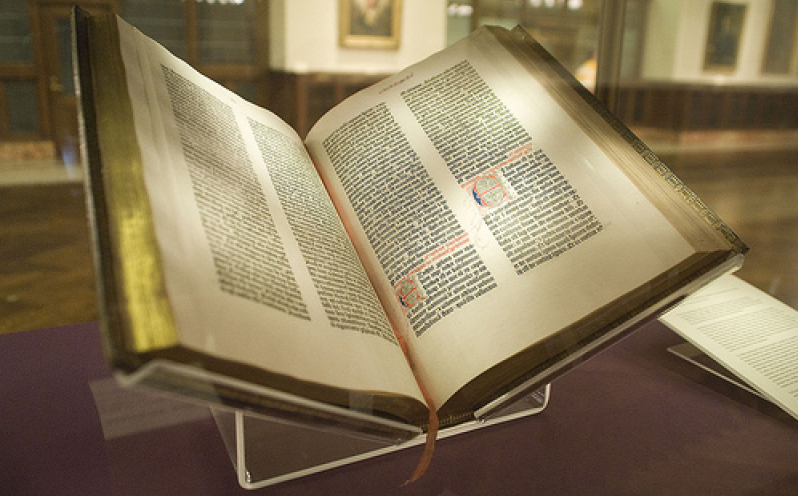 People who have doubts about God's ability to reveal the future to us through the His Holy Word the Bible need to look at the record of Jesus Christ. Jesus really did say and do what the Bible reports, beginning with His claims about His own Divinity:
He said, "I am the way and the truth and the life. No one comes to the Father except through Me. If you know Me, you will also know My Father. … The one who has seen Me has seen the Father" (John 14:6-8). He also said, "I tell you the truth, before Abraham was born, I am" (John 8:58). Here, Jesus claimed not only to have pre-existed Abraham but also that His pre-existence was eternal, as would have been the case had He said, "I was." More significantly, "I AM" was a name for God.
He further identified Himself as the God of the Old Testament when proclaiming, "I am the light of the world" (Psalm 27:1 says, "The Lord is my light and my salvation") and "I am the good shepherd."(Psalm 23:1 says, "The Lord is my shepherd.") When responding to the high priest as to His deity, Jesus said, "I am and you will see the Son of Man seated at the right hand of the Power, and coming with the clouds of heaven" (Mark 14:62).
The apostle Peter in preaching to the religious to the people and religious leaders in the Book of Acts explained to them the Messiah God had sent to the earth.
And now, brethren, I know that you acted in ignorance [not aware of what you were doing], as did your rulers also. Thus has God fulfilled what He foretold by the mouth of all the prophets, that His Christ (the Messiah) should undergo ill treatment and be afflicted and suffer…. Indeed, all the prophets from Samuel and those who came afterwards, as many as have spoken, also promised and foretold and proclaimed these days. You are the descendants (sons) of the prophets and the heirs of the covenant which God made and gave to your forefathers, saying to Abraham, And in your Seed (Heir) shall all the families of the earth be blessed and benefited.  It was to you first that God sent His Servant and Son Jesus, when He raised Him up [provided and gave Him for us], to bless you in turning every one of you from your wickedness and evil ways. (Acts 3:17-26 AMP)
There are over two hundred passages in the Old Testament that prophesied about Christ, and every one of them has come true.   Here are just a few of them and I humbly suggest that you read and meditate on these Scriptures yourselves.
SEED OF A WOMAN
Prophecy
I will put enmity between you and the woman, and between your seed and her Seed; he shall bruise your head, and you shall bruise his heel. (Genesis 3:15 NKJV)
Fulfillment
But when the fullness of the time had come, God sent forth his Son, born of a woman, born under the law. (Galatians 4:4 NKJV (Also Luke 2:7; Revelation 12:5)
PROMISED SEED OF ABRAHAM
Prophecy
Seeing that Abraham shall surely become a great and mighty nation, and all the nations of the earth shall be blessed in him? (Genesis 18:18 KJV; Also Genesis 12:3)
Fulfillment
You are the sons of the prophets and of the covenant which God gave to your fathers, saying to Abraham, And in your posterity shall all the families of the earth be blessed. (Acts 3:25; See Matthew 1:1; Luke 3:34)
PROMISED SEED OF ISAAC
Prophecy
And God said, Sarah thy wife shall bear thee a son indeed; and thou shalt call his name Isaac: and I will establish my covenant with him for an everlasting covenant, and with his seed after him. (Genesis 17:19 KJV)
Fulfillment
The book of the generation of Jesus Christ, the son of David, the son of Abraham. Abraham begat Isaac; and Isaac begat Jacob; and Jacob begat Judas and his brethren. (Matthew 1:1-2 KJV)
PROMISED SEED OF JACOB
Prophecy
I shall see him, but not now: I shall behold him, but not nigh: there shall come a Star out of Jacob, and a Sceptre shall rise out of Israel, and shall smite the corners of Moab, and destroy all the children of Sheth. (Numbers 24:17 KJV)
Fulfillment
Which was the son of Jacob, which was the son of Isaac, which was the son of Abraham, which was the son of Thara, which was the son of Nachor. (Luke 3:34 KJV)
HE WILL DESCEND FROM THE TRIBE OF JUDAH
Prophecy
The sceptre shall not depart from Judah, nor a lawgiver from between his feet, until Shiloh come; and unto him shall the gathering of the people be. (Genesis 49: 10 KJV)
Fulfillment
Nahshon was the son of Amminadab, Amminadab was the son of Admin, Admin was the son of Arni, Arni was the son of Hezron, Hezron was the son of Perez, Perez was the son of Judah. (Luke 3:33; See Matthew 1:2-3)
THE HEIR TO THE THRONE OF DAVID
Prophecy
Of the increase of his government and peace there shall be no end, upon the throne of David, and upon his kingdom, to order it, and to establish it with judgment and with justice from henceforth even forever. The zeal of the LORD of hosts will perform this. (Isaiah 9:7; See Isaiah 11:1-5; 2 Samuel 7:13)
Fulfillment
This is a record of the ancestors of Jesus the Messiah, a descendant of David and of Abraham. (Matthew 1:1; See Luke 1: 32-33)
PLACE OF BIRTH
Prophecy
But thou, Bethlehem Ephratah, though thou be little among the thousands of Judah, yet out of thee shall he come forth unto me that is to be ruler in Israel; whose goings forth have been from of old, from everlasting. (Micah 5:2 KJV)
Fulfillment
Now when Jesus was born in Bethlehem of Judaea in the days of Herod the king, behold, there came wise men from the east to Jerusalem,  Saying, Where is he that is born King of the Jews? for we have seen his star in the east, and are come to worship him. (Matthew 2:1-2 KJV; See Luke 2: 4-7)
TIME OF BIRTH
Prophecy
Know therefore and understand, that from the going forth of the commandment to restore and to build Jerusalem unto the Messiah the Prince shall be seven weeks, and threescore and two weeks: the street shall be built again, and the wall, even in troublous times. (Daniel 9:25 KJV)
Fulfillment
And it came to pass in those days, that there went out a decree from Caesar Augustus that all the world should be taxed. (And this taxing was first made when Cyrenius was governor of Syria.) And all went to be taxed, every one into his own city. And Joseph also went up from Galilee, out of the city of Nazareth, into Judaea, unto the city of David, which is called Bethlehem; (because he was of the house and lineage of David:) To be taxed with Mary his espoused wife, being great with child. And so it was, that, while they were there, the days were accomplished that she should be delivered. And she brought forth her firstborn son, and wrapped him in swaddling clothes, and laid him in a manger; because there was no room for them in the inn. (Luke 2: 1-7 KJV)