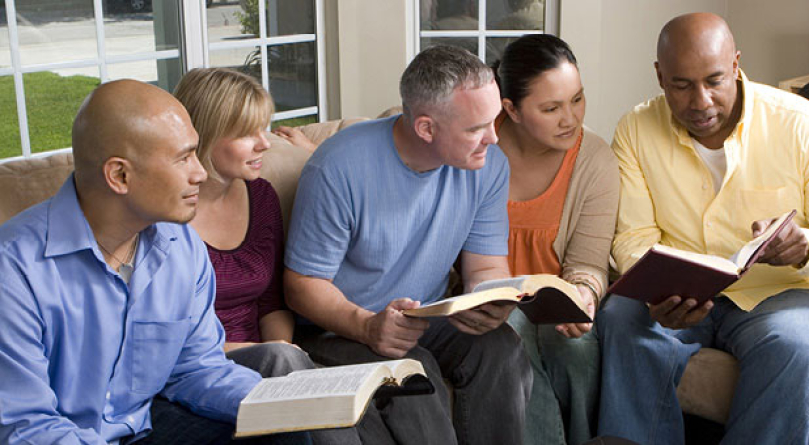 The Church is where koinonia (fellowship) takes place and God's children use their gifts to build one another up. It takes commitment to join yourself to a group of believers, but before you do that you need to pray and seek God for His direction in regards to the group of committed believers He wants you to join.
Without true koinonia- which is the sharing of your life with God's people, you can never be all that God intends you to be. In 1 Corinthians 12:13-27, Paul compares individual believers to the various parts that make up a single body. He explains that no part can function effectively on its own. And the eye cannot say to the hand, "I have no need of you"; nor again the head to the feet, "I have no need of you." (1 Corinthians 12:21)
We achieve wholeness by entering into a committed relationship with other believers so that we can together function as a single body. John says that is the evidence that we are walking in the light when we have fellowship (koinonia) with one another, and the blood of Jesus cleanses us from all sin (1 John 1:7) Therefore if at all we are not walking in true koinonia, we are not walking in the light and we don't experience the continuous cleansing blood of Jesus which alone keeps us pure and free from sin.
The cross is both vertical and horizontal. The vertical one represents our relationship with God; the horizontal represents our relationship with our fellow human beings. The first step we take is by confessing our sins to God and receiving His forgiveness. The second step is to put things right with our fellow human beings by confessing our sins to them.
The Holy Spirit through the apostle James tells us to: Confess your trespasses to one another, and pray for one another, that you may be healed. The effective, fervent prayer of a righteous man avails much. Many Christian groups are poisoned by sins, bitterness, and resentment that have never been resolved. John Wesley recorded in his journal that one of the most successful of the early Methodist societies grew out of a group of about ten people who agreed to meet weekly and confess their sins to one another.
Our responsibility for regular fellowship with a group of committed believers is stated again in Hebrews 10:24-25: And let us consider one another in order to stir up love and good works, not forsaking the assembling of ourselves together, as is the manner of some, but exhorting one another, and so much the more as you see the Day approaching.
First we are to stir, stimulate or encourage one another for good deeds. We do all this by not forsaking one another especially as we see the day approaching. What day? The day of the Lord is predicted in the Old Testament by (Isaiah 13:6-12; Joel 2:28-32; and Zephaniah 1:14-18) Now concerning how and when this will happen, Paul says that the day of the Lord's return will come unexpectedly, like a thief in the night, but before all this happens Christians are to comfort edify, and encourage one another with the Word of the God:
But concerning the times and the seasons, brethren, you have no need that I should write to you. For you yourselves know perfectly that the day of the Lord so comes as a thief in the night. For when they say, "Peace and safety!" then sudden destruction comes upon them, as labor pains upon a pregnant woman. And they shall not escape. But you, brethren, are not in darkness, so that this Day should overtake you as a thief.  

You are all sons of light and sons of the day. We are not of the night nor of darkness.Therefore let us not sleep, as others do, but let us watch and be sober. For those who sleep, sleep at night, and those who get drunk are drunk at night. But let us who are of the day be sober, putting on the breastplate of faith and love, and as a helmet the hope of salvation.

For God did not appoint us to wrath, but to obtain salvation through our Lord Jesus Christ, who died for us, that whether we wake or sleep, we should live together with Him. Therefore comfort each other and edify one another, just as you also are doing. (1 Thessalonians 5:1-11 NKJV)