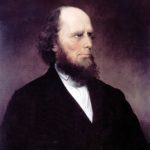 Charles Grandison Finney (1792-1875) was a practicing lawyer who combined his oratorical skills as an attorney with his love for Christ. He is regarded as the one of greatest revivalists that ever lived after the Lord Jesus used Him to lead more than half a million people to Christ.
In addition to being an evangelist, Finney was involved with the abolitionist movement and passionately denounced slavery from the pulpit. In 1835, he moved to Ohio where he became a professor. At Oberlin College, Charles Finney, joined the faculty in 1836 to teach theology and later became the college president from 1851 to 1866. He used his charisma to lead his large audiences to Jesus Christ at the college and to convert people to abolitionism.
Oberlin College assumed a number of roles in promoting abolitionism. The college was among the first American colleges to co-educate blacks and women with white men. It opened its classrooms to blacks, hired abolitionist instructors, and sheltered black fugitives. As a young man Finney was a third-degree Freemason, but after his conversion he dropped the group as a satanic movement.
He was also active in anti-Masonic movements. Charles T. Torrey, who was called "the father of the Underground Railroad "was also credited in leading the slave movement at Oberlin College by helping 100,000 fugitive slaves escape northward to freedom. Torrey died a martyr's death in a Maryland jail while serving time for having abetted escaped slaves.
Charles Finney is best known for messages on revival that ignited America's Second and Third Great Awakening in 1800's. On the same evening of his conversion without asking for it or even knowing that was any such thing, Finney received the mighty baptism of the Holy Spirit. It was this baptism that brought to him the overwhelming convicting power of the Holy Spirit that poured through him wherever he talked to anyone about the condition of their soul and their need for salvation through Jesus Christ.
It was this baptism of the Holy Spirit that made him what many consider to be the greatest revivalist that ever lived. Although he loved practicing law, Finney now lost all taste for it, and any secular business. All he wanted to do now preach the Gospel and win souls to Christ. Nothing else mattered to him. This is how he described his encounter with the Holy Spirit:
After dinner we [Finney and Squire Wright] were engaged in removing our books and furniture to another office. We were busy in this, and had but little conversation all the afternoon. My mind, however, remained in that profoundly tranquil state. There was a great sweetness and tenderness in my thoughts and feelings. Everything appeared to be going right, and nothing seemed to ruffle or disturb me in the least. Just before evening the thought took possession of my mind, that as soon as I was left alone in the new office. I would try to pray again—that I was not going to abandon the subject of religion and give it up, at any rate; and therefore, although I no longer had any concern about my soul, still I would continue to pray. By evening we got the books and furniture adjusted; and I made up, in an open fireplace, a good fire, hoping to spend the evening alone. Just at dark, Squire Wright, seeing that everything was adjusted, bade me goodnight and went to his home. I had accompanied him to the door; and as I closed the door and turned, my heart seemed to be liquid within me. All my feelings seemed to rise and flow out; and the utterance of my heart was "I want to pour my whole soul out to God." The rising of my soul was so great that I rushed into the room back of the front office, to pray.

There was no fire, no light, in the room; nevertheless it appeared to me as if it were perfectly light. As I went in and shut the door after me, it seemed as if I met the Lord Jesus Christ face to face. It did not occur to me then, not did it for some time afterward, that it was wholly a mental state. On the contrary it seemed to me that I saw Him as I would see any other man. He said nothing, but looked at me in such a manner as to break me right down at his feet. I have always since regarded this as a most remarkable state of mind; for it seemed to me a reality, that He stood before me, and I fell down at his feet and poured out my soul to Him. I wept like a child, and made such confessions as I could with my chocked utterance. It seemed to me that I bathed His feet with my tears; and yet I had no distinct impression that I touched Him, that I recollect.

I must have continued in this state for a good while; but my mind was too much absorbed with the interview to recollect anything that I said. But I know, as soon as my mind became calm enough to break off from the interviews, I returned to the front office, and found that the fire that I had made of large wood was nearly burned out. But as I turned and was about to take a seat by the fire, I received a mighty baptism of the Holy Ghost. Without any expectation of it, without ever having the thought in my mind that there was any such a thing for me, without any recollection that I had ever heard the thing mentioned by any person in the world, the Holy Spirit descended upon me in manner that seemed to go through me, body and soul. I could feel the impression, like a wave of electricity, going through and through me. Indeed it seemed to come in waves and waves of liquid love, for I could not express it in any other way. It seemed like the very breath of God. I can recollect distinctly that it seemed to fan me, like immense wings. No words can express the wonderful love that was shed abroad in my heart. I wept aloud with joy and love; and I do not know but I should say, I literally bellowed out unutterable gushings of my heart. These waves came over me, and over me, and over me, one after the other, until I recollect I cried out, I shall die if these waves continue to pass over me." I said, "Lord, I cannot bear any more"; yet I had no fear of death.
He further wrote:
When Christians humble themselves and consecrate their all afresh to Christ and ask for this power, they will often receive such a baptism that they will be instrumental in converting more souls in one day than in all their lifetime before. While Christians remain humble enough to retain this power, the work of conversion will go on until whole communities and regions of the country are converted to Christ. The same is true of preachers and ministers."Now why is there this lack of power in the Church of Jesus Christ today? Again Finney says: "Suppose any of the apostles, or those present on the Day of Pentecost, had failed through apathy, selfishness, unbelief, indolence, or ignorance to obtain this outpouring of power. Would it have been uncharitable, unjust, unreasonable, or unscriptural to have considered them disqualified for the work to which Christ had appointed them?

Sources:
Charles Finney, Experiencing the Presence of God, (Published and Updated by Whitaker House, New Kensington USA 2000)

Charles G. Finney, Power, Passion & Prayer-Finney's Greatest Sermons on Revival through Prayer. Rewritten and Updated by Robert A. Engelhardt (Published by Bridge-Logos Publishers 2004)