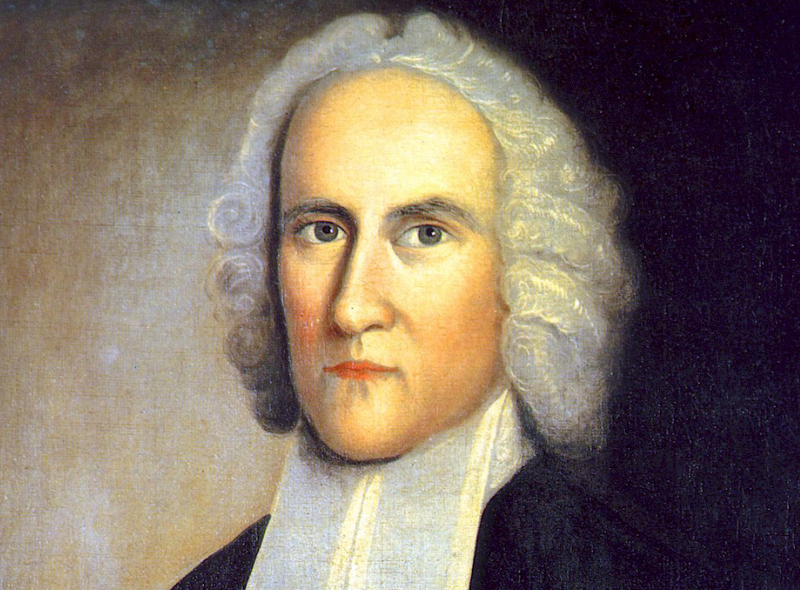 As it was with Jonathan Edwards, so it is with all great intercessors. They come into that holy and elect mind and heart by a thorough self-dedication to God, by periods of God's revelation to them, making distinct marked eras in their spiritual history, ears never to be forgotten, in which faith mounts up with wings as eagles, and has given it a new and fuller vision of God, a stronger grasp of faith, a sweeter, clearer vision of all things heavenly and eternal, and a blessed intimacy with, and access to God.
Here is conscience summary of the Edwards from the pen of Leonard Ravenhill:
Jonathan Edwards, achieved greatness as an American preacher-evangelist, principal of a college, mystic, and revivalist. For us to see Jonathan Edwards ascend his pulpit today, a candle in one hand and his sermon manuscript in the other would cause a titter in the congregation. His tongue must have been like a sharp two-edged sword to his attentive hearers. His words must have been as painful to their hearts and consciences as burning metal on flesh. Nevertheless, men gave heed, repented, and were saved.
His famous sermon, Sinners in the Hands of an Angry God was taken from Deuteronomy 32:35.
To me belongeth vengeance and recompence; their foot shall slide in due time: for the day of their calamity is at hand, and the things that shall come upon them make haste.
He preached this sermon with power from on high, and Eleazer Wheelock who was with Edwards, reported that before Edwards was done, these "thoughtless" people were "bowed down with an awful conviction of the sin and danger." The people were consumed with conviction as the Holy Spirit revealed their hearts to them. Knowing the terror of the Lord" (a thing seemingly forgotten in our day both by pulpit and pew)" Edwards smoldered with holy wrath. Impervious to any consequences of such severity, he thundered these words from his pulpit:
The bow of God's wrath is bent, and His arrows made ready upon the string. Justice points the arrow at your heart and strings the bow. It is nothing but mere pleasure of God (and that of an angry God without any promise or obligation at all) that keeps the arrow one moment from being made drunk with your blood. To utter truth like that with tears and tenderness takes an anointed and therefore fearless and compassionate man.
But in the hearts and minds of the hearers there must also have been some prevenient grace at work. Apart from this, men would have rebelled at this stern sweep of power on their souls. As it was, before Edwards' spiritual hurricane, the crowd collapsed. Some fell to the earth as if pole-axed. Others, with heads bowed, clung onto the posts of the temple as if afraid of failing into the nethermost depths of hell.
As pastor of the one New England's largest, wealthiest, and most socially-conscious congregations, Edwards had a rare perception of the needs of his flock. He also had a heart of great tenderness for spiritual health. Let's go to the woods where Edwards is alone with his God. Let's creep up behind that old gnarled tree and listen to his broken prayer:
I feel an urgency of soul to be….emptied and annihilated, to lie in the dust and annihilated, to lie in the dust and be full of Christ alone, to love Him with a holy and pure love, to trust in Him, to live on Him, and to be perfectly sanctified and made pure with a divine and heavenly purity. Significantly, he was convicted of his own wickedness. He could preach with great sincerity, because God had already worked it in his own heart….
I have had very affecting views of my own sinfulness and vileness; very frequently to such a degree as to hold me in a kind of loud weeping, sometimes for a considerable time together; so that I have often been forced to shut myself up. I have had a vastly greater sense of my wickedness, and the badness of my heart, than ever I had before my conversion….

I know not how to express better what my sins appear to me to be than heaping infinite upon infinite, and multiplying infinite by infinite. Very often, for these many years, these expressions are in my mind, and in my mouth, Infinite upon infinite….Infinite upon infinite!" When I look into my heart, and take a view of my wickedness, it looks like an abyss infinitely deeper than hell.

I have greatly longed of late for a broken heart, and to lie low before God…it is affecting to think how ignorant I was, when a young Christian, of the bottomless, infinite depths of wickedness, pride, hypocrisy and deceit, left in my heart.
In one of the revivals, Edwards recognized a certain amount of deception among some of the people: an action that would grow as the revival did. He made it very clear that with the acceptance of Jesus and the presence of the Holy Spirit, a life ought to be quite changed.
If a person confessed Christ, but continued unabated in sinful ways, Edwards was apt to note that as a false confession and would not count the person among the number saved.
To him, as it is written in James, there had to be outward signs of a changed life from inward salvation. The work of the Holy Spirit went beyond convicting the sinner of the need for repentance and Christ. Edwards wrote that for the people it was a "dreadful thing" to think of being outside of Christ when hell awaited them daily.
The Spirit also burrowed into the hearts of believers. An example of the powerful work of the Holy Spirit is the story of an elderly woman in her 70s, who had spent most of her adult life under the solid teaching of Solomon Stoddard. Reading about Christ's suffering for sinners; she seemed to see it for the first time. She wondered how Stoddard could have missed such a wonderful concept, and then realized she had heard him many times.
She understood how ungrateful she had been to sin against God and such a loving Savior, even though everyone vouched for her as one of the pious and good women in the town. But she was so overcome with the conviction in her heart through the Holy Spirit that her family thought she was dying.
The revival reached its peak in April 1735. Edwards recorded an average of four conversions daily during this portion of time. Entire families were saved, and at least as many more repented of backsliding and committed themselves anew to the Lord.
Edwards wrote a book A Faithful Narrative of the Surprising Work of God in response to the requests for more information. The book made it into the hands of two elderly men of God in London, who re-published it there, in what was practically the capital of the world at that time. Publishing the Narrative was a fateful decision, for God would use it as a spark for His Spirit elsewhere. With that London publication, events in New England gained worldwide attention.
Iain H. Murray wrote that it "was possibly the most significant book to precede the great evangelical awakening on both sides of the Atlantic." The book went through twenty printings and influenced groups of men who desired just such an action of God—including John Wesley, who wrote of it in his journal, and George Whitefield, who would put feet to his faith.
Sources:
Sinners in the Hands of Angry God. (Bridge Logos Publishers 2003)
E. M. Bounds, The Weapon of Prayer, (Published and Compiled by Baker Books 1931)
Leonard Ravenhill, Sodom Had no Bible Christian Life Books Originally published by Bethany House Publishers 1971)